Czechs have been marking 17 November, commemorating the courage of students and citizens who stood up to two different totalitarian regimes: against the Nazi oppressors in 1939 and the Communists 50 years later. Students, teachers and representatives of Charles University as well as colleagues from other schools and regular citizens, all took part.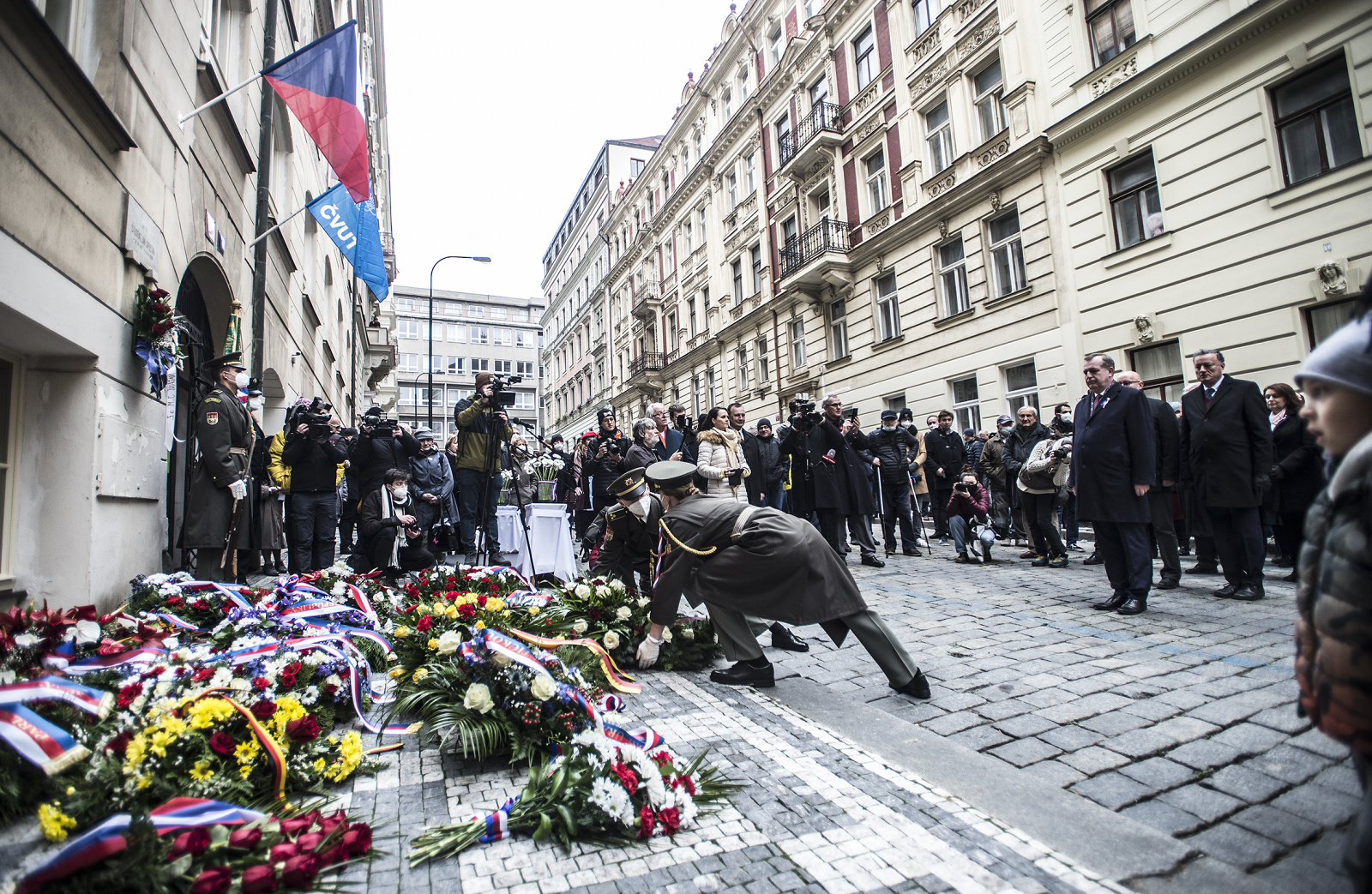 CU's T. Zima, M. Bárta, J. Konvalinka and M. Králíčková honoured the memory of students who lost their lives in the fight for freedom in 1939.
"Both days [revealed] the courage of students. And today, it is students who are shaping our universities, which are dedicated to sustainable development and equal opportunities," said Charles University Rector Tomáš Zima, speaking at the podium at Albertov, following the Czech national anthem. "We need to focus on what unites us rather than what divides us. The complex issues that lie ahead can only be resolved in the future if we tackle them together. I am proud that at important moments in history and most recently during the Covid-19 pandemic, our students and educators have been prepared, determined and brave," he emphasized. Zima also recalled that in 1941, members of the Central Union of Czechoslovak Students, the top student organisation, managed to negotiate for 17 November to be declared International Students' Day. "Today marks its 80th anniversary - it is the only internationally significant day that originated in the Czech environment; the proclamation was made at a rally on 16 November 1941 in London's Caxton Hall."
Thirty-two years ago, Albertov, home to Charles University's Faculty of Science, saw the start of the peaceful student march that was violently targetted by Czechoslovakia's police and security forces. The brutal crackdown sparked mass demonstrations and protests in the days that followed, eventually toppling the Communist regime.
On Wednesday, however, commemorative ceremonies traditionally began even earlier, shortly after 9 o'clock, when Charles University and other university representatives laid wreaths at Hlávka College (dormitory).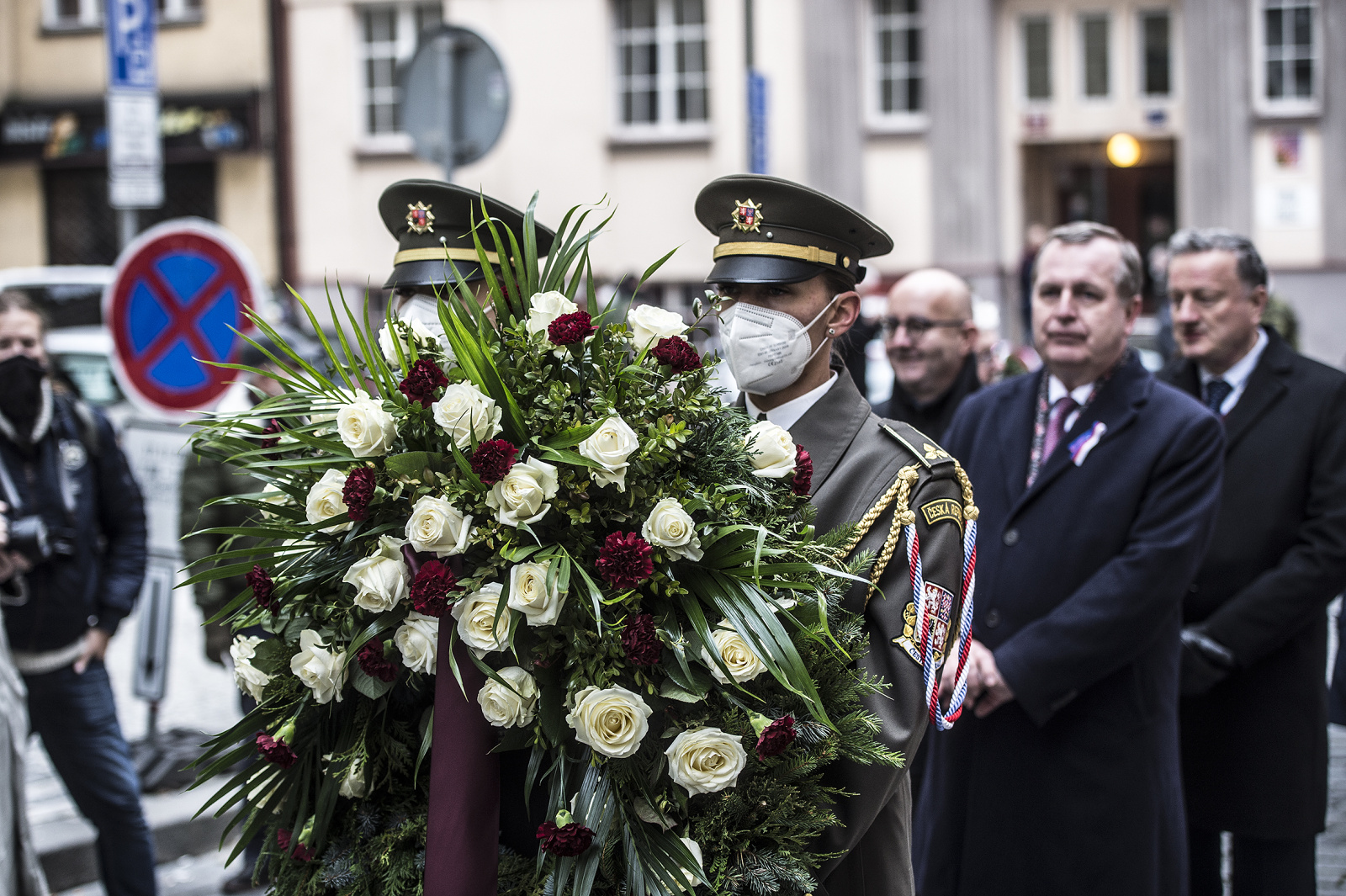 Along with Charles University representatives (including the future rectress Milena Králíčková) others who honoured the students included the President of the Academy of Sciences of the Czech Republic, Professor Eva Zažímalová, and her predecessor in the post, Jiří Drahoš (now a senator). The ceremony was also attended by leading figures from the Czech Technical University (CTU), the University of Chemistry and Technology in Prague (VŠCHT) and the University of Economics (VŠE).
Michal Farník, the head of the Student Chamber of the Council of Higher Education Institutions in Czechia, spoke on behalf of current students. "Czech students are considered to be the first to have ever raised their voices against the Nazi oppressors," he said, speaking also about the responsibility of the young generation for the world, alluding to a speech by former president Václav Klaus, who has repeatedly downplayed the danger of climate change or the coronavirus pandemic (which is on a starggering rise in Czechia at the moment with a record number of cases).
The procession then set off from Hlávka College after half-past-eleven to the memorial site in Žitná Street...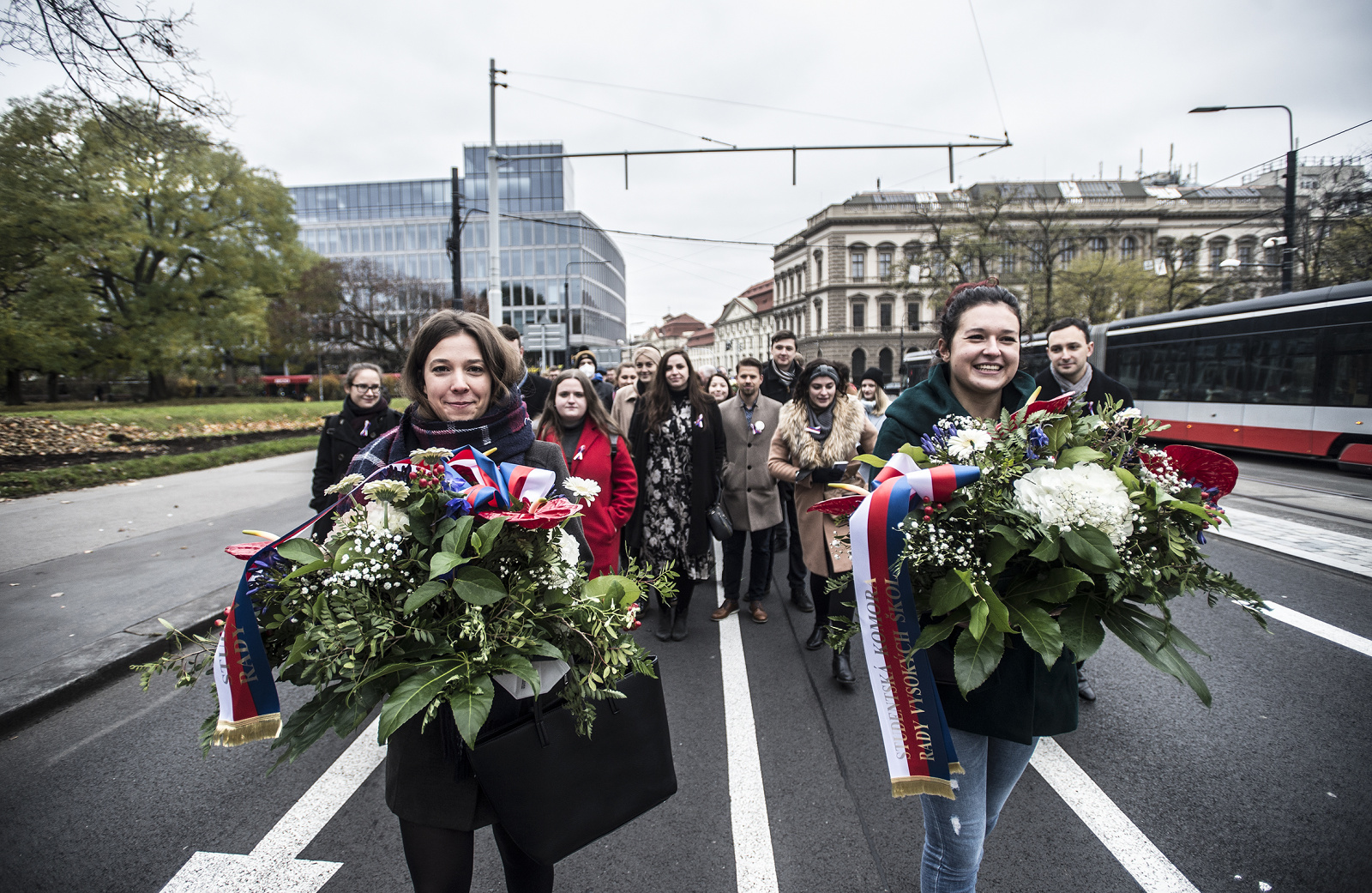 There, students and representatives of the universities jointly honoured the memory of Jan Opletal and Václav Sedláček, killed by the Nazis in 1939. Among others, the rector of Masaryk University in Brno, Professor Martin Bareš, who now chairs the Czech Conference of Rectors, also spoke. Commemorative ceremonies were held not only in Prague but also in other Czech cities, as well as in neighbouring Slovakia.
Albertov
Albertov, in Prague, (named after 19th century Czech surgeon and professor Eduard Albert), home to CU's Faculty of Science where Einstein himself taught (albeit briefly) in the second decade of the 20th century, is a central location every 17 November. Thirty-two years ago, it is from here that students began their procession leading to Prague's Narodní třída (National Ave.), where they were attacked by communist Czechoslovakia's security police in full riot gear. It is at Albertov that Charles University is planning on building its new campus, which is to become a centre of excellence in science and education.

Rector Tomáš Zima speaking at the Albertov. He is flanked by Milena Králíčková, MU's Rector Martin Bareš and CU Bursar Tomáš Horáček.
Hundreds of people gathered in front of the dean's office at the Faculty of Science of Charles University. CU's Rector Tomáš Zima stressed that both historic dates in 1939 and 1989 had required courageous deeds and a desire for education, which he said were essential for society. "All totalitarian regimes attack memory: social, historical and cultural memory," said Martin Bareš, the Rector of Masaryk University, "It is why they erase history, change names, destroy statues and burn books." He recalled how he himself experienced 1989 as a medical doctor, a time when the university was not allowed to be called Masaryk University at all - after Czechoslovakia's first and perhaps greatest democratic statesman and head of state, T. G. Masaryk.
CU Vice-Rector Milena Králíčková also spoke to the festive and welcoming crowd; she will succeed Tomáš Zima in February 2022 as the very first rectress in the school's 673 year history. Milan Pospíšil, chairman of the Council of Universities, spoke about the hope for the country if society stuck together, and was followed by student representative Michal Farník.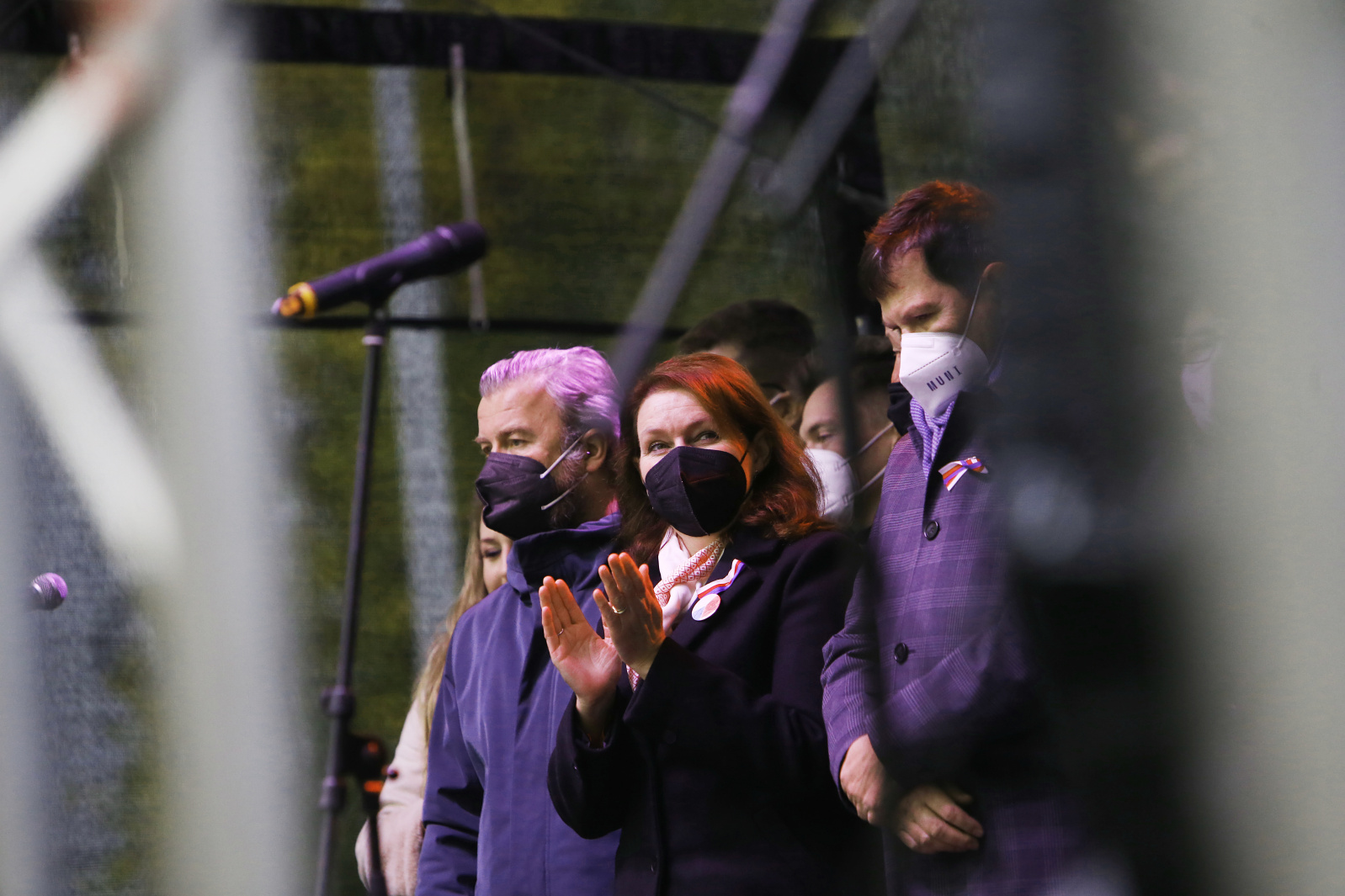 From Albertov to Prague's National Avenue
Members of the public, as well as CU representatives, also marked 17 November at the site on National Avenue where communist security police cracked down on students 32 years ago in the fall of 1989. Rector Tomáš Zima and Vice-Rectors Miroslav Bárta, Jan Konvalinka, and Jan Royt (pictured behind the rector from left to right) laid a wreath at the site.