Hundreds of ombudswomen and ombudsmen - not only from Europe - were hosted by Charles University as part of the 18th Annual ENOHE conference (ENOHE is short for European Network for Ombudsmen in Higher Education). From 14 to 16 June 2023, participants jointly looked for ways to improve the overall safety environment at universities.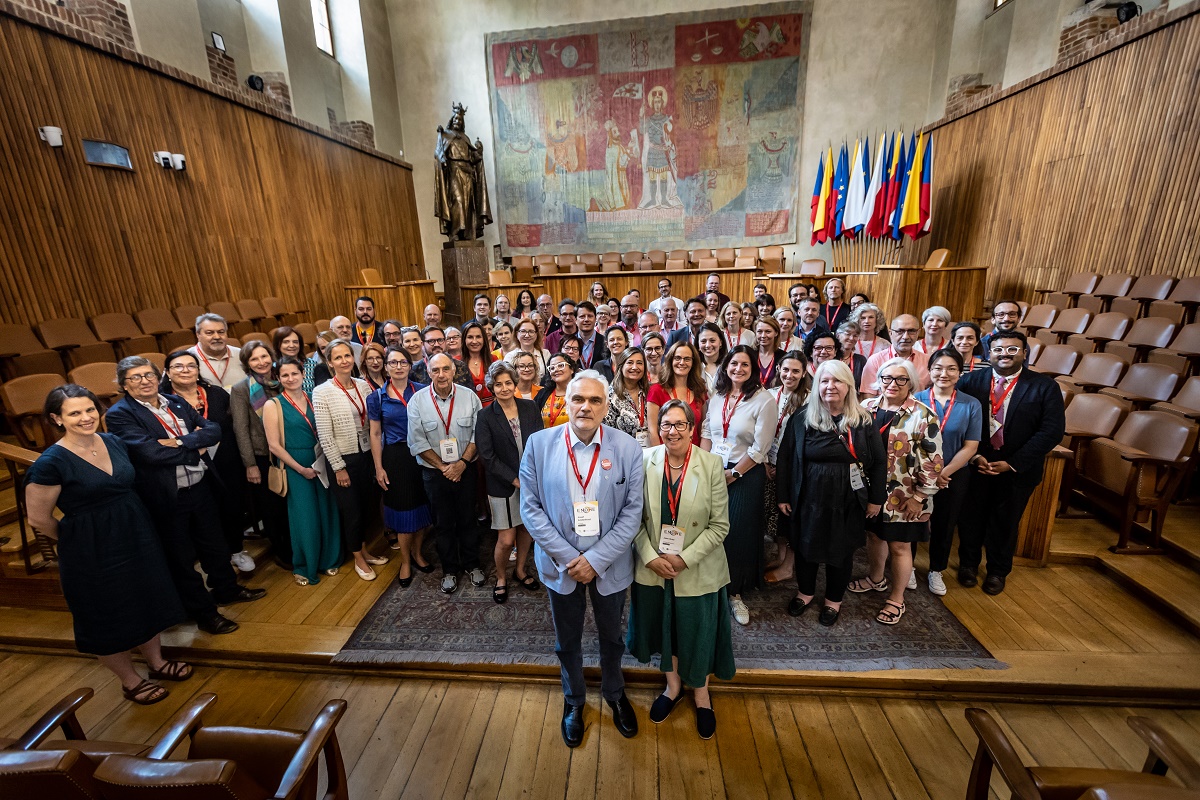 Charles University hosted the 18th annual ENOHE conference. It was an excellent opportunity to meet ombuds from all around the world.
Students' rights come first
"Just like at other universities, the position of ombudsperson at our university is the basis for forming great relationships and a good creative environment. Our university is ready for cooperation with you, with ombudspersons from European universities and universities across four continents, and looks forward to working together," Milena Králíčková, the rector of Charles University, said at the opening of the event. Radka Wildová, Deputy Minister of Education, spoke about the support of the Czech Ministry of Education for the university ombuds, saying, among other things, "Students' rights guaranteeing their sense of security is and must be [our] first priority."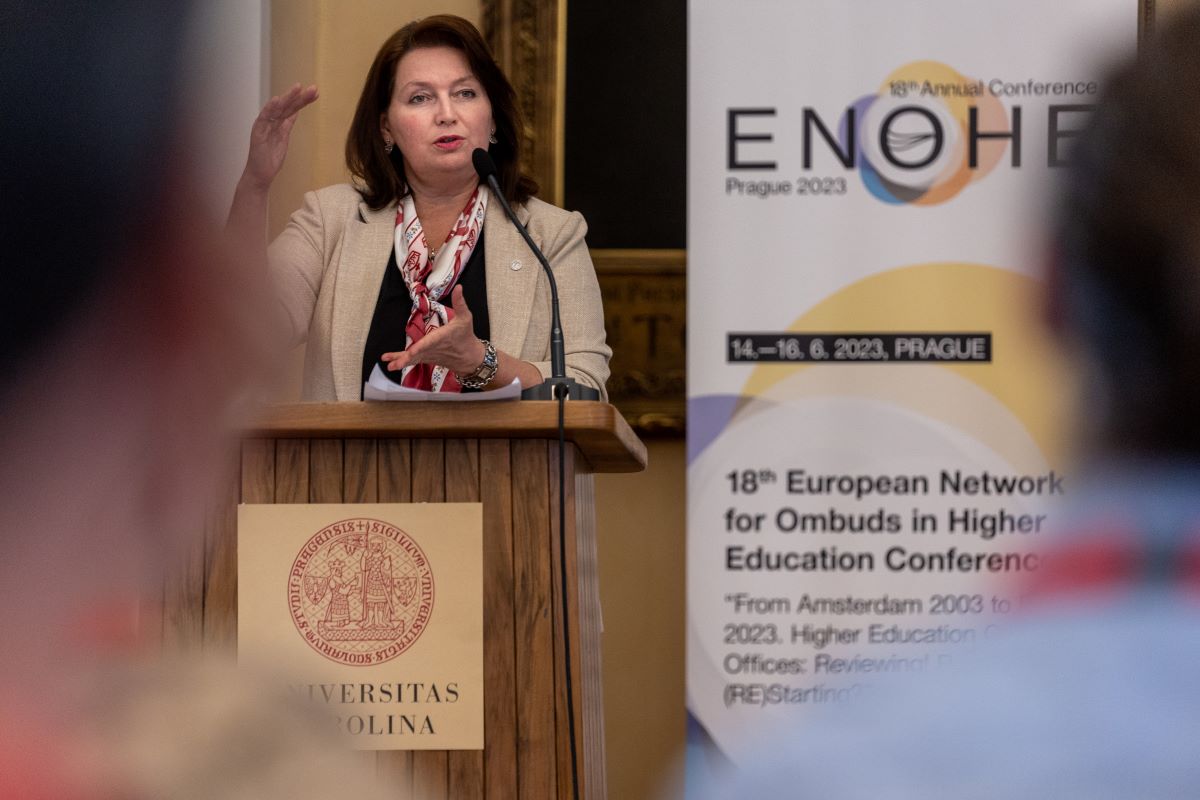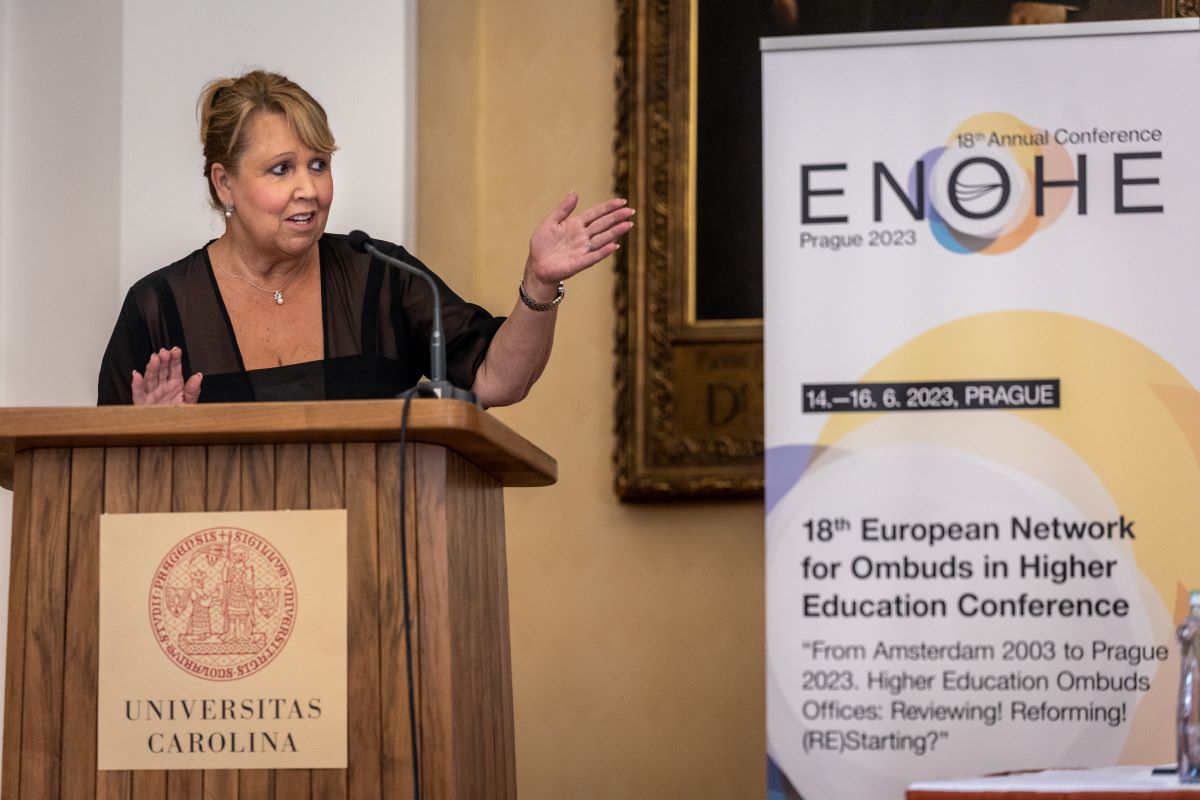 At the opening of the ENOHE conference, CU rector Milena Králíčková (left), and deputy minister Radka Wildová, addressed participants.
Proper communication at all levels
Applying equity to everyday thinking, preventing gender-based violence, navigating difficult situations, balancing professionalism and emotional engagement, or building a culture of timely complaint resolution - these were some of the topics covered during some 40 debates and workshops prepared by ENOHE organizers (detailed overview).
"The proper communication of the rules and good working relationships at all levels is important," says Josef Leidenfrost, President of ENOHE (pictured below, right), who is also the ombudsman for German-speaking students at the University of Luxembourg. He says it was natural that the Czech Republic, along with other Central and Eastern European countries, decided to create national ombuds posts first, and then for higher education institutions, after the Velvet Revolution in 1989.
"The ombuds should be as visible as possible, should have their own space, and information about the role should be included in all relevant university publications and announcements," Leidenfrost, who advocates regular open meetings at the beginning of each semester, recommended. Ideally, info can be made available in the form of a podcast or streaming – for anyone to look up at any time at their leisure.
Timely problem solving
Jean Grier, vice-president of ENOHE (pictured below, left), knows that alongside the successful students who look back on their time at the university as very happy years, there are others who struggled, who suffered for any number of reasons that should have been addressed. Be it academic, interpersonal relationships (not just professional), health or family issues. The ombuds can try and help anyone who has hit a rocky road, certainly if it involves correcting a wrong. "I'm a big advocate of early problem solving, and I spend a lot of time encouraging staff to look for ways to resolve issues in a timely manner," Jean Grier explained, sharing her experience of early complaint resolution with participants at one of the workshops.
According to the VP, students and staff need to know that the ombudsperson is there for them on campus and that they can ask for advice in a difficult situation; ideally, they will resolve the issue before things escalate further.
Formally and informally
Luxembourg also has experience with early or informal resolution. Canadian Brent Epperson – one of two ombudsman at the University of Luxembourg - was another of a number of inspiring speakers: he explained that with certain complaints, individuals did not need to automatically seek punitive action against the other party, but could take steps for the behaviour to simply stop. "It's not unique, nor is it completely common. I am proud that in Luxembourg, both formal and informal approaches to grievances were incorporated into the collective agreement. In my experience, it is better to give more than one option for resolution. Formal grievance procedures can sometimes be too intimidating for people who feel they are being harassed. So providing an informal solution is one way to resolve many cases in universities [that might otherwise be missed]."
Training with renowned personalities
The three-day conference session was preceded by two days of training in ombudsman skills and knowledge. It was held as part of the ENOHE conferences for the first time. Its programme consisted of three main topics: mediation, taking suggestions and conflict resolution.
"The chosen topics turned out to be the most pressing - they came out of the survey we organised during last year's ombudspersons meeting in Athens," revealed Michaela Antonín Malaníková, the main organiser of the training part of the Prague conference (pictured above, left). "We were thrilled that we were able to get renowned lecturers, and besides foreign experts, Dana Potočková, one of the most experienced Czech mediators, also spoke here," Malaníková confirmed.
An opportunity like no other
"The conference participants were overwhelmed by the collegiality, openness and friendliness they encountered every day at Charles University," Michaela Antonín Malaníková said, giving high praise. She considers the ENOHE annual meeting a unique opportunity for Czech ombudsmen and ombudswomen: "They probably would not have been able to attend in such numbers if the conference had been held elsewhere, across the border. Prague also gained a specific position in that it was able to host the 20th annual conference – an important milestone.
As for the facilities at Charles University? Those were praised as excellent. For the developing Czech ombuds platform, the Prague conference was intended to be just that: an impetus for further cooperation and an offer to "share experiences" added organiser Malaníková, who is an ombuds for students "in civilian life" at the Faculty of Arts at Palácký University in Olomouc.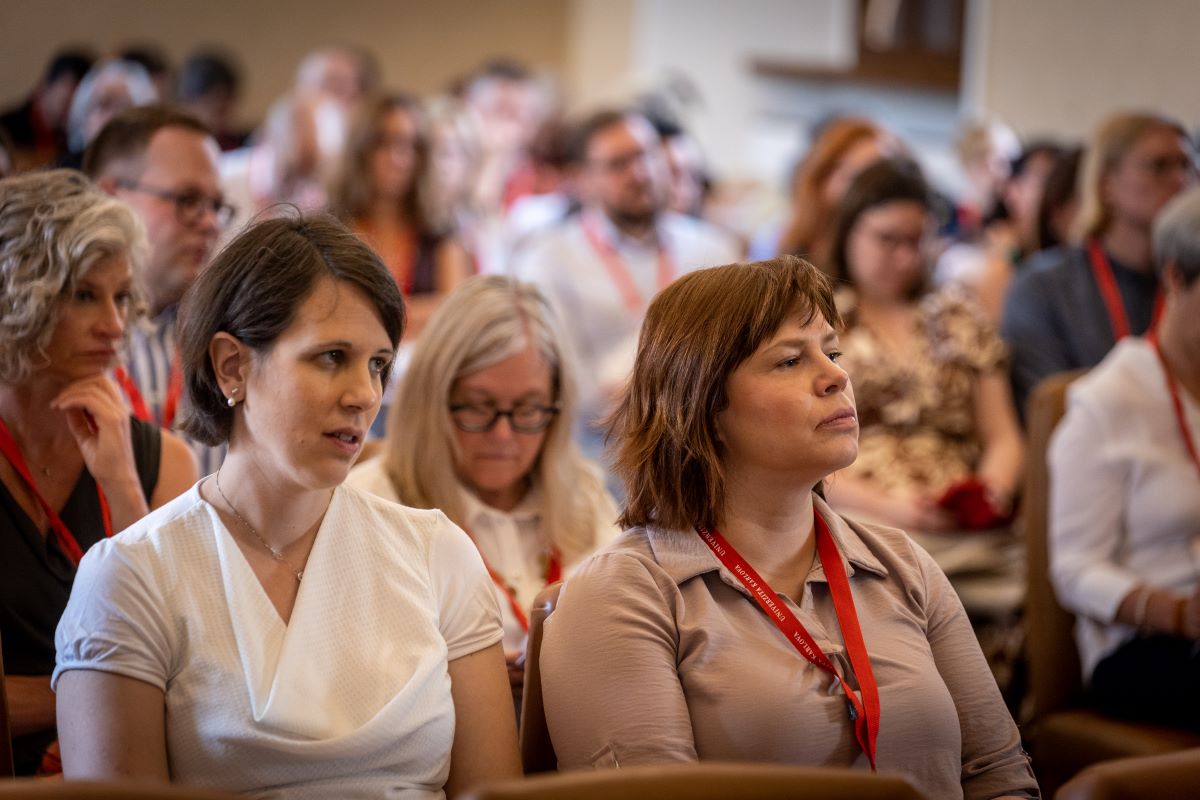 The ENOHE conference was attended by – and had strong support from - Marie Vymazalová, a member of the Rector's Board for Social
Affairs and Sustainable Development (left) and Markéta Martínková, Vice-Rector for Student Affairs.