Hematologist Jan Trka grew up in a family of teacher-scientists, so from an early age science was an integral part of life and work. Maybe that's why he became the head of the scientific-diagnostic laboratory at the Motol University Hospital in Prague, and is now the vice-dean for science and research at CU's Second Faculty of Medicine.
When Jan Trka graduated from Charles University's Faculty of Pediatrics (today the Second Faculty of Medicine), his plan was to focus on endocrinology and childhood diabetes at the Second Pediatric Clinic at Prague's Motol University Hospital. But things turned out a little differently: "I was as- signed to hematology instead and it was there that I met Professor Starý, who was a tremendous inspiration and became my lifelong mentor in the field," Vice-dean Trka says. "Both of my parents are nuclear physicists, and in addition to teaching at the University of Chemistry and Technology in Prague and at the Faculty of Mathematics and Physics, they conducted research, so I grew up in a scientific environment.
For Trka, continuing in science was an "obvious" path to follow. After completing medical studies, he automatically applied for doctoral studies in molecular genetics. "We wanted to introduce new treatment protocols, which required the introduction of new diagnostic methods: new laboratory techniques for determining genetic aberrations," Trka, who gained experience in Austrian and British laboratories, explains. Those same labs inspired him to found CLIP (Childhood Leukaemia Investigation Prague), a diagnostic-research laboratory at the Second Faculty of Medicine and Motol University Hospital. "We began with just two people in one small room and gradually grew. Today, we're headquartered on two floors and there are more than forty of us, students and employees alike. Trka heads the molecular genetics laboratory (which together with the cytometry laboratory) comprises CLIP.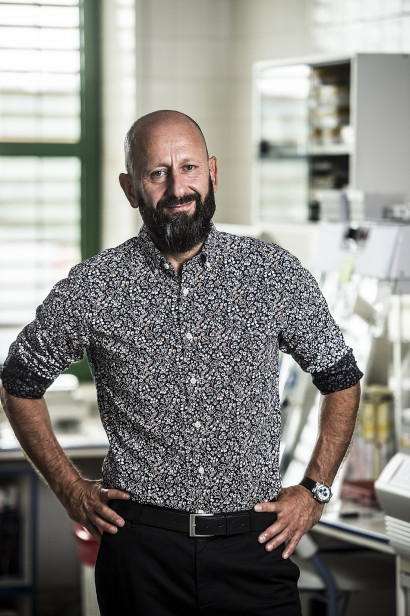 The link between diagnostics and research
Even after more than 20 years of operation, CLIP remains a unique workplace known worldwide. "Diagnostics has gone through tremendous developments. Thanks to modern techniques like transcriptome sequencing, we can determine a disease's genetic nature in almost all patients today. On the other hand, it can still be difficult detective work sometimes. While sequencing the human genome is far easier now, it is more difficult to process and interpret the data that is obtained," he explains. Bioinformaticians and statisticians are therefore indispensable. "They help us to process data. Yet despite this, insurance companies and grant agencies have still not gotten used to the fact that those professions need to be funded as well and that it is necessary to invest in new servers to store data."
When it comes to labs in the Czech Republic, there are some that have the same or even better technical equipment and tools, but CLIP remains number one in diagnostics. "We receive samples from all around the Czech and Slovak Republics because we have unique knowledge and experience," he says with pride. In addition to routine diagnostics, CLIP is also involved in clinical research: recently colleagues succeeded in mapping an entirely novel subtype of leukaemia, with results being published in the prestigious journal Blood. Trka says the success received great feedback from experts in the international scientific community.
The head of CLIP doesn't miss clinical work; he says diagnostics are also part of treatment. Those in diagnostics know patients only as "numbers", which means there is a certain buffer or emotional distance compared to those dealing with patients and personal stories up front. "The one thing I do miss is contact with children and parents: I enjoyed talking with them and explaining treatment to them," he says. Now he provides guidance or help to students at the university.
Trka serves as the vice-dean for research at CU's Second Medical Faculty. While much has changed since the beginning of his career, he still sees room for improvement. "Med students lack the basics of scientific work. Nobody teaches them how to read scientific articles, how to critically evaluate the results of studies, how to recognise quality and non-quality work, how to think about data and how to present it," he says.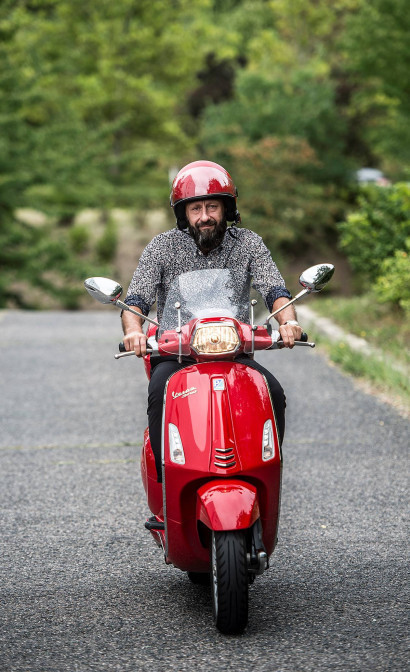 He co-organises an annual faculty conference, aimed at helping students and young doctors to present the results of their own scientific work, and to learn what their colleagues are up to, all in a friendly atmosphere. The event isn't exclusively about science. "This year's programme included the traditional Motol Mile run, a cultural performance by the duo Rudiš-Malijevský as well as a lecture by the Rector for Projects and Publishing Jan Royt entitled Death and its reflections in Fine Art.
Renaissance man
His friends and acquaintances know him as a "Renaissance man" although he's the last to admit it. "I feel more like the Czech cartoon character Pytlik the Beetle (Brouk Pytlík), a character who is daring but often rushes in, sometimes too soon," Trka says. His professional life revolves around far more than "just" medicine: he was also in charge of organizing a classical concert series at the Second Medical Faculty. "This tradition of holding classical music concerts was started by Professor Josef Koutecký (who died in 2019), and it was a great honour to continue with it. I enjoyed selecting the compositions, creating the programme and communicating with the musicians."
Trka loves modern art and his love of art also pervades his work: he often creates posters for various events, logos and his "mouse comics" will be familiar to anyone who has ever visited the CLIP lab. "My favourite artistic movements include American abstract expressionism, the 19th century German Romantics, the Czech surrealists, as well as modern abstract art and American pop art. After traveling in Asia, I was happy to bring back Japanese and Korean woodcuts," Trka says, adding that he visits galleries whenever he travels.
Trka also visits sports stadiums while abroad. "I've played competitive softball all my life. I first got into it as a kid at university's Albeř summer camp and I immediately liked it." A lover of sports, he has played competitive volleyball, likes to ride bikes and practices boxing to keep fit.
"And even though it doesn't look like it, I play basketball, Trka – a long-time NBA fan – says. He also likes to zip through town on his bright red Vespa scooter.
Professor Jan Trka
Jan Trka is the Vice-dean of for science and research at the Second Faculty of Medicine and the head of the CLIP lab- oratory. He graduated from the CU Faculty of Pediatrics (today the Second Faculty of Medicine) and earned his doctorate in molecular genetics. He works in hematooncology, especially in molecular genetic markers and the diagnosis of acute lymphoblastic leukemia. He loves art and sports.
A groundbreaking case: CAR-T against childhood leukaemia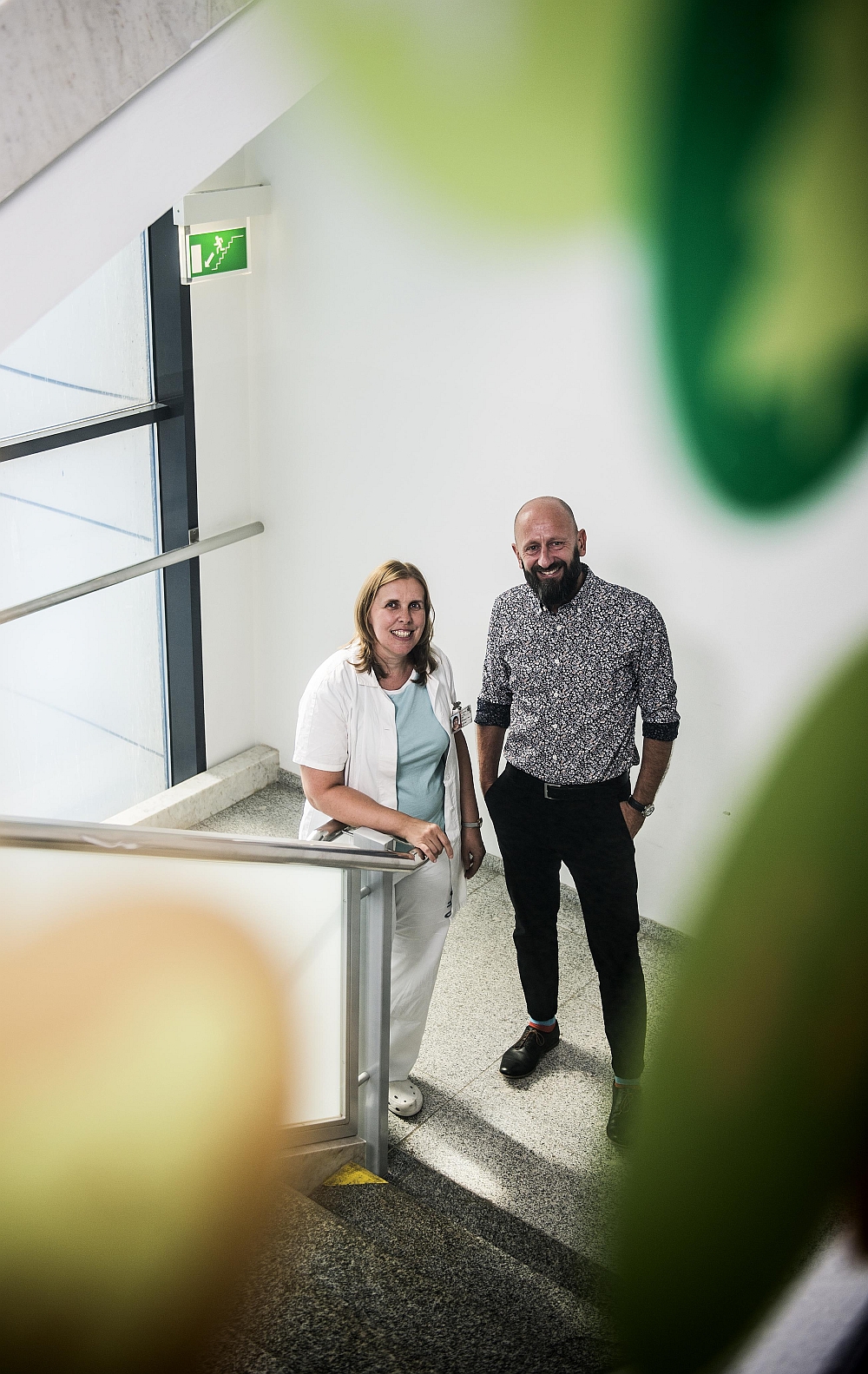 Dr. Lucie Šrámková is a shining example of how the results of research can be successfully used in clinical work: she works at the Department of Pediatric Hematology and Oncology at the Motol University Hospital and at the Second Faculty of Medicine. She specialises in the treatment of acute childhood leukaemia and at the same time is also a researcher; her advisor in the field of molecular genetics was Professor Jan Trka.
Thanks to Šrámková, a revolutionary treatment method that uses so-called CAR-T cells is already being used in the Czech Republic. CAR-T-assisted immunotherapy harnesses the power of the immune system. The patient's T-lymphocytes (immune system cells that have a natural ability to identify and destroy tumour cells) are prepared and "reprogrammed" with the help of genetic modifications to more effectively and to specifically identify and destroy such cells. "I first encountered this new treatment concept at a conference in 2015: it seemed like science fiction at the time – a revolutionary and fascinating treatment method," the hematologist says.
"That motivated me to negotiate the possibility of introducing the treatment here in the Czech Re- public. Which succeeded after five years. Now with the help of CAR-T cells we are already treating two other patients," Šrámková says. She believes the new approach is the right one: "In the future we're counting on CAR-T cells being used to try and destroy dozens of types of hematooncological and solid tumours."Dr. Šrámková recalled the time when they had a young patient in the ward whose disease had re- turned even after a bone marrow transplant. Radiation and chemotherapy were ineffective and not helping. "I boldly wrote to three places in America where I knew they were testing new treatments. One of the facilities agreed to include the child in a clinical trial," she says. The patient flew to the United States, where he underwent CAR-T treat- ment – and survived. Being able to take part in the trial saved his life.
"That motivated me to negotiate the possibility of introducing the treatment here in the Czech Republic. Which succeeded after five years. Now with the help of CAR-T cells we are already treating two other patients," Šrámková says. She believes the new approach is the right one: "In the future we're counting on CAR-T cells being used to try and destroy dozens of types of hematooncological and solid tumours."