He has illustrated magazines and books but recently took on his biggest project: a large mural on the wall of a four-story apartment building at Hradčanská in Prague 6. He is Marek Kulhavý, known in the art world as Mára Čmára (Mára Scribbles). Although he originally wanted to study at UMPRUM, Kulhavý found his way to art at Charles University's Catholic Theological Faculty where he focused on the history of European culture. The mural at Hradcanska will be there for a year before being painted over.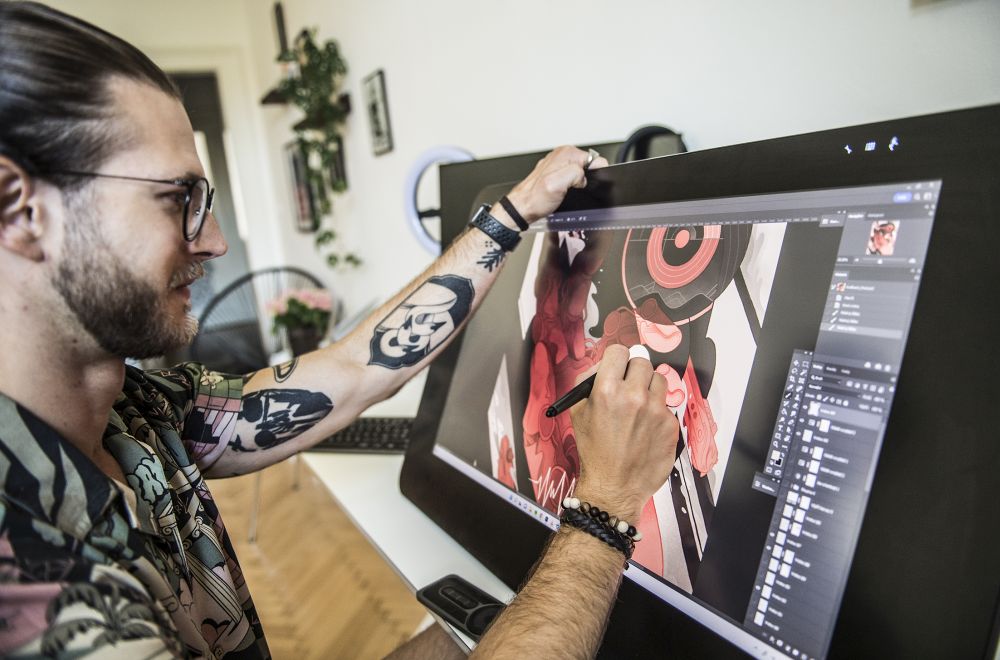 Do you deliberately find reasons to go past Hradčanská more often now?
I've done so a few times. If you draw something on your computer, you can look at it whenever you want. This is different, you have to go there if you want to see it again. This was a dream come true but I think it will only fully sink in when I have to paint it over next year. Only then will I realise I'll never see it again.
Will that be hard?
Since it was actually created as an advertisement for a drugstore chain, I figured from the beginning that it wouldn't be there forever. I'll have the photos to remember it by, I enjoyed it, but there's nothing to be done.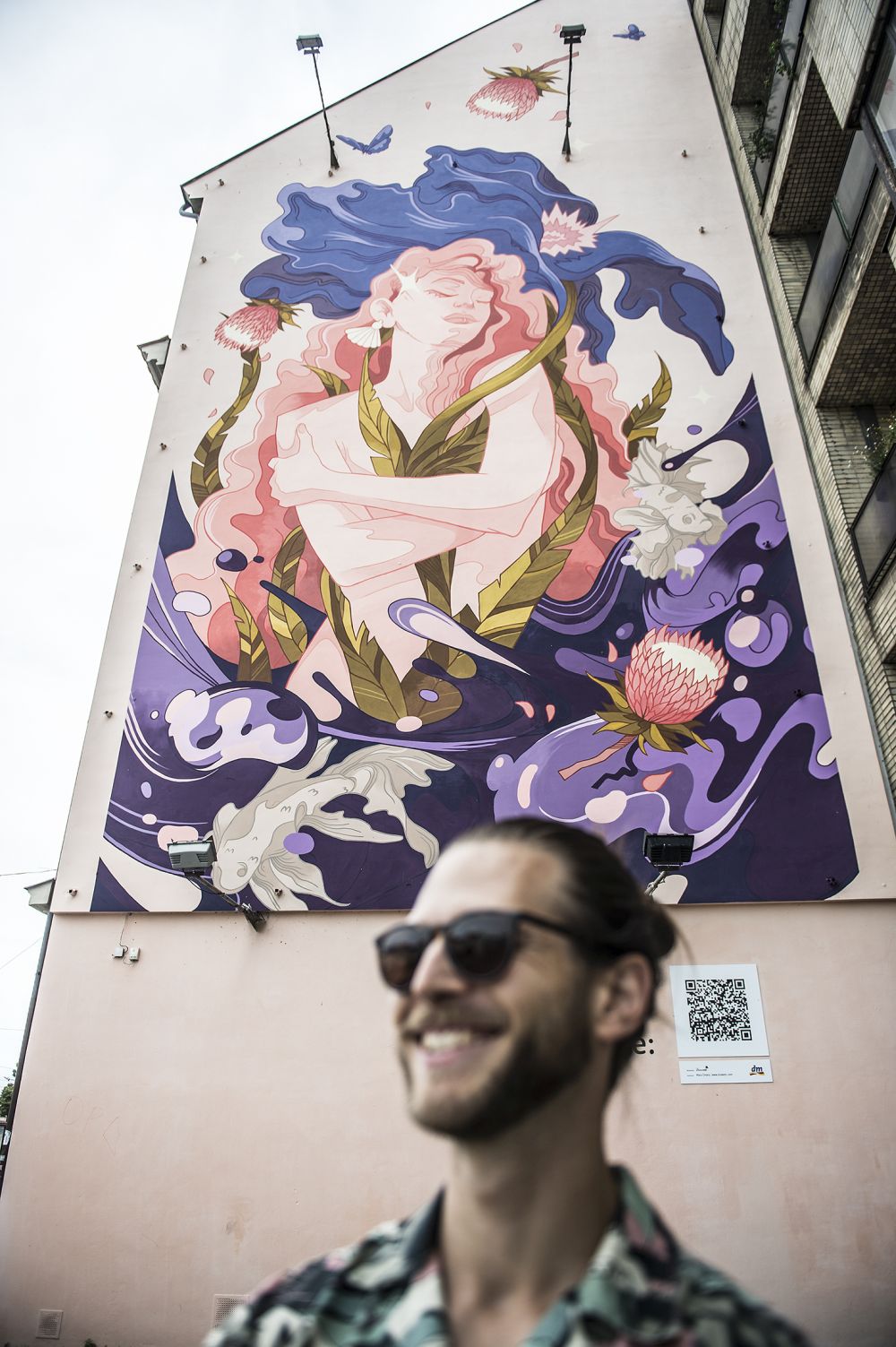 What were your aims when designing the mural?
The project brief was "what makes human beings beautiful". I put a beautiful woman at the centre of the concept. I try to live as sustainably as possible, ecologically, and I'm a vegan, so I connected it with nature. I placed the woman in a wave where there are flowers, butterflies and fish. In my opinion, it makes human beings beautiful when they care about nature and are not indifferent.
Is working at a desk different from painting a huge mural on the side of a house?
Even if you want to paint on a wall, you still have to start at the table. I first made an illustration from a sketch, which we superimposed on the house on the computer to see how it would look. Tomáš Staněk and Josef Sedlák (who work as the artist duo Obras Akrobad) helped me. I couldn't have done it without them. When they saw my design, they said I was crazy, that we would never get such a picture on the wall. But when we finished the project, they were thrilled.
We enriched each other. They were able to try something they would never have gotten into on their own, and I came to the wall in clean pants and shoes, knowing that every line had to be absolutely precise. At the end, I walked away covered in paint from head to toe. It was physically demanding as well.
How did you transfer the design you did in your studio to the wall of the apartment building?
I drew the lines from the illustration, and we projected the image onto the wall. Tomáš and Josef traced the lines. After that, we all used paintbrushes. We would try out shades on the lower part of the wall, mixing them as needed. I stood by the wall and painted from morning to night. All week.
Do Czech cities and municipalities support mural art – the legal equivalent of graffiti?
It's not as common here as elsewhere in the world. In Prague there is not exactly a shortage, but there is not as much as in Poland or Germany. Quite a lot of it can be seen in Olomouc. Now Plzeň is starting to get more of it.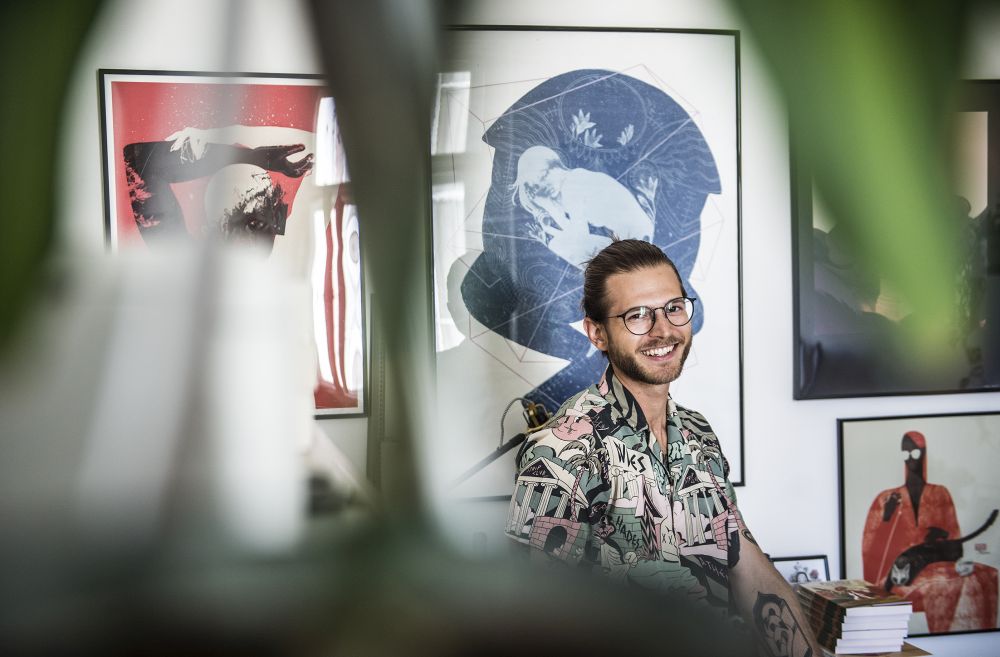 Which cites abroad are more open to mural art?
In Berlin, you have artwork on every corner. Gdansk or Gdynia also have a lot. In Gdansk there is a housing estate and every house has a mural. You can go there for guided walks like to a gallery! Artist Jan Kaláb from the Czech Republic has one of his murals there. Gdynia is alive with design. They make beautiful signs for shops, wrought iron gates. It's a beautiful city. In our country, apartment buildings are painted pistachio green or pink, in Gdynia they paint them with some simple, clean paint, add subtle lines and it looks beautiful. They think of murals in such a way that they are not just a random painting on a wall but something that shines; they try to make murals fit naturally into the urban environment.
Do you have a dream spot in Prague where you would like to have a mural?
I'd like to create something in Prague's Smichov district, where there are a lot of suitable walls and where I lived for 25 years. It would be a kind of looking back at my past.
And another wish?
I would also like to try designing an interior, preferably a café.
Do you welcome assignments or do you prefer to create freely?
Unlike in the past, it's been hard for me to come up with new ideas lately, so I was happy to get an assignment. But now I'm planning my own project and exhibition. I'm interested in the development of electronic music in the late 1970s and early 1980s. I choose bands that I like, like Kraftwerk, New Order or Joy Division. I used to listen to their music a lot. So the work I am doing now is more personal - a kind of outpouring of my soul on paper, which doesn't happen with advertising.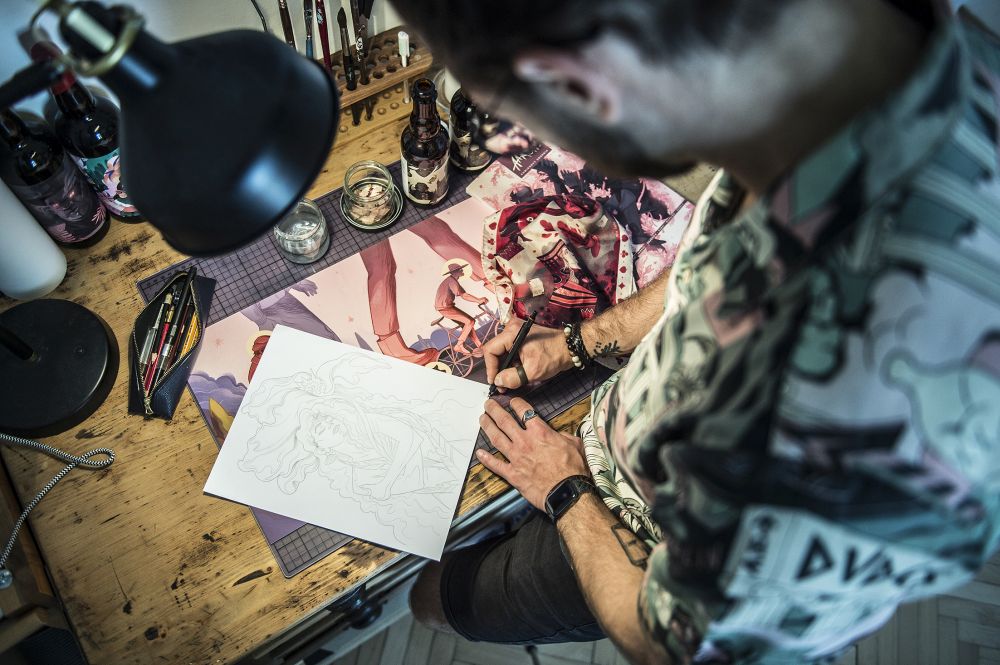 Do you think of your work as a job or as a hobby?
Both. Sometimes it's challenging, sometimes it's fun. When you're 18-year, you think being an illustrator means only drawing all day and that it's all fun. But there's a lot more to it. You have to deal with emails, communicate with people, negotiate terms, contracts, prices, keep track of invoices, your taxes, health and social security payments. Suddenly you realise you have become an entrepreneur and it's a job like any other. Once I am actually drawing, though, I enjoy it.
Are you a pedantic in your work? You said your lines have to be very precise.
A friend who works with me in the studio says I'm a terrible perfectionist. Every line has to be perfect, every dot, line, asterisk has its place.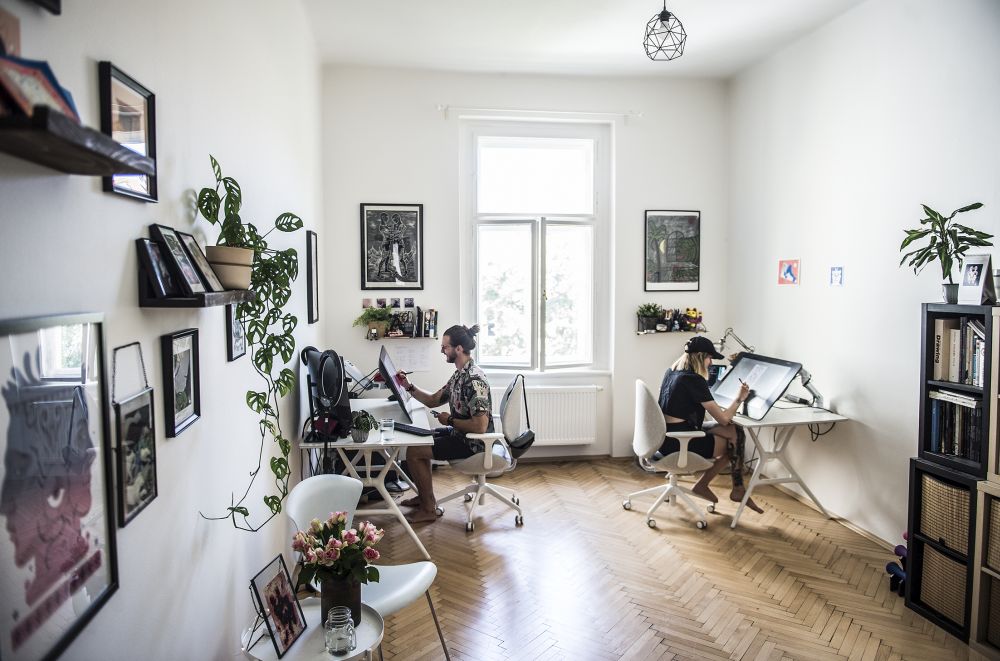 Do you have a regular work schedule?
I keep a work schedule. I wake up early in the morning, I try to do sports first because I sit almost all day at work afterwards. I usually finish work around 6:00. Then I don't know what to do. The evenings have been so boring since the pandemic.
I hear you prefer Mondays to Sundays. Why?
I've hated Sundays since I was a kid. Everything's dead, sleepy, no one's around. On Monday, everyone's alive, things are much more energetic.
Why did you apply to study at the Catholic Theological Faculty?
I originally applied to UMPRUM (Academy of Arts, Architecture in Design in Prague)and when I didn't get in, my friend told me that the Catholic Theological Faculty taught art history. It was only when I started studying that I found out that I had applied for the neighbouring course – the history of European culture – and not for the history of Christian art as I had thought! Which was quite a fundamental mistake (laughs). I wrote my master's thesis on mural art. And I was happy to find my direction there.
Marek Kulhavý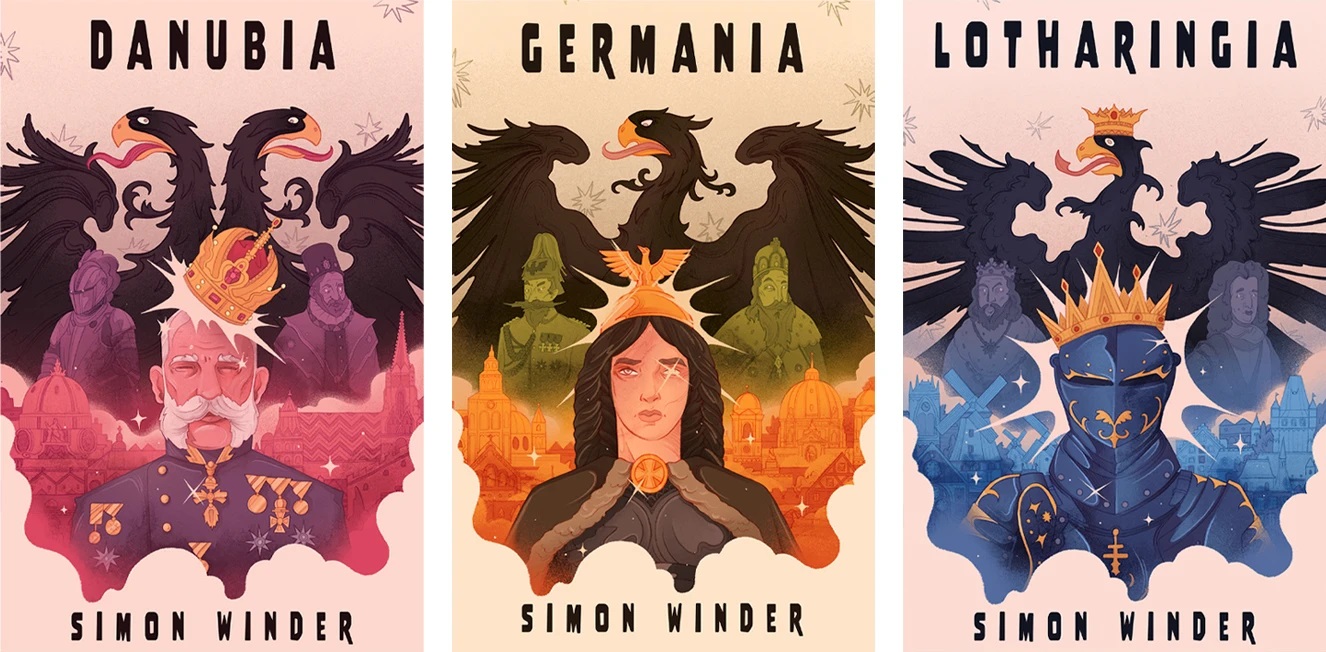 Marek Kulhavý is a graduate of the Catholic Theological Faculty of Charles University, and a cartoonist and illustrator better known under the professional name Mára Čmára. His work combines analogue and digital media. He moved from comics to illustrating magazines and posters. He illustrated the Czech edition of a trilogy about the history of Central Europe by British Simon Winder. He collaborates with the DRAWetc studio.