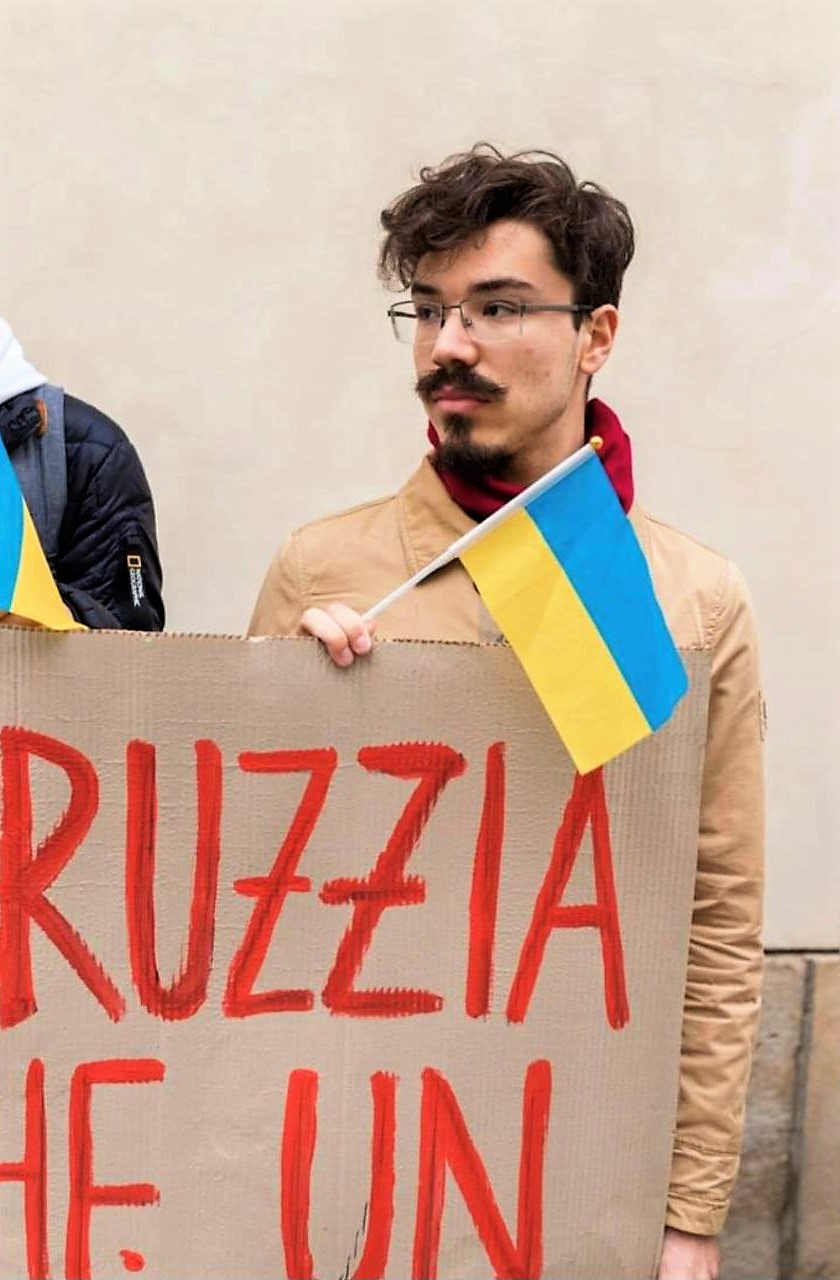 The first anniversary of Russia's onslaught in Ukraine has come and gone but saw renewed commitment on the part of the US and European allies. Ukrainian leader Volodymyr Zelenskyy maintained that this will be the pivotal year in the ongoing conflict. Still, many observers suggest it could take years, and count many more lives, before the war is resolved.
A year ago, life changed for millions, not just families that fled the onslaught but for Ukrainian students who were already abroad, among them Valentyn Shkriba, who had arrived for an Erasmus internship at the Faculty of Social Sciences at Charles University. In the early hours of the 24th, he was awakened by the sudden vibration of his cell phone.
"I was in my dorm, and at about 4:30 my dad, my father, called me on the Viber app, saying that Russia had attacked Ukraine and something was going on. At first, he told me not to come home. I'll see you later. For the first few hours I was in complete shock! I didn't know what to do. Then, soon afterwards, we had our first meeting with other Ukrainians next to the equestrian statue of Saint Wenceslaus on Wenceslas Square. And by the end of February and in March they were busy collecting humanitarian aid." Valentyn recalls the months when the first refugees from the invaded country started arriving in Prague. He hails from Uzhhorod, in the western part of the country far from the front line today in the Donbas, so he had never met anyone he knew - it was mainly women and children from the east.
Helping at a newly-established research centre
It was not only at Charles University that communities of Ukrainian students began to communicate and work together. "At first we communicated in a mass WhatsApp group, then on Telegram, where there are now about 230 Ukrainian students, communicating, sharing news," Valentyn explains. Earlier, he has studied in Slovakia before landing in Prague. Following the start of the conflict, he remains on placement as an exchange student. He has not been idle but got involved in a number of activities, including helping in the newly established centre at the Faculty of International Studies at Charles University called Ukraine in a Changing Europe. It was created by the Institute of International Studies of the same faculty. The aim is to bring in guests, lecturers and interesting scholars.
Valentyn looks after arriving guests and also provides help as a guide and interpreter; he also coordinates other events, contributes to PR and does graphics. For his numerous involvements, he was nominated by his faculty for an award from the Czech National Agency for International Education and Research (DZS) in the category of "foreign participant coming to the Czech Republic", as Michaela Rudinská, the head of the International Department of the Faculty of Social Sciences of Charles University, confirmed for Forum magazine.
From Uzhhorod to Prague: almost tour of 'First republic' Czechoslovakia
Valentyn is originally from Uzhhorod, in Transcarpathian Ukraine, but he began his university studies in Banská Bystrica. Why?
"I chose Slovakia, also for linguistic reasons, it was not that difficult to learn the language. The question was: where to? Košice was too close to home, and my parents didn't want to let me go to Bratislava, because it was already a big city and too far away. I got to Banská Bystrica in 2016 and went to language school there," says Valentyn, who speaks excellent Slovak. He fell in love with Bystrica after passing his high school diploma.
He enrolled at Matej Bel University (UMB) to study a Bachelor's degree in International Relations and Political Science. Today, he is continuing his studies there for a Master's degree in Security Studies, writing his thesis in Slovak and analysing the energy transition to sustainable energy sources from the point of view of national security. And it is clear that the Russian attack on Ukraine has given him a lot to think about.
"The so-called weaponisation of energy resources is one of many interesting aspects," Valentyn says of the process whereby (un)available gas or oil becomes another tool for waging hybrid wars.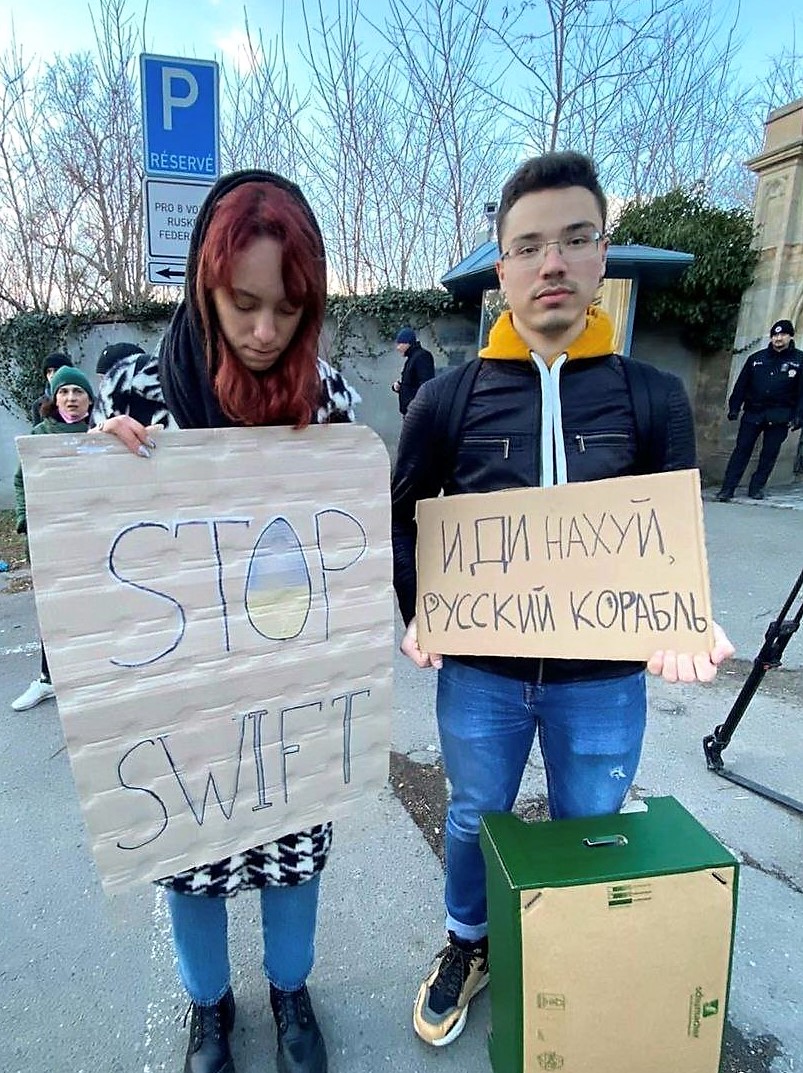 Prague? An attractive destination
"For me, as a person from the Transcarpathian region, Prague and the Czech Republic are perceived completely differently, emotionally. After all, we were once a part of Czechoslovakia! A lot of my friends praised it, how beautiful the city was, they came here for temporary jobs, I was well informed. The choice was clear. It's close, the language is related and Prague is beautiful, which I was actually convinced of even before I got off the train at the station," Valentyn Shkriba explains. Following his move here, he enrolled in Territorial and then Security Studies programmes at CU. But he is still a student at the Matej Bel University.
How does he assess the Czech approach to Russian aggression? "The Czech Republic is one of the best countries when it comes to supporting Ukraine, along with Poland, the US and the Baltic states. This is quite contrary to how the Slovak population behaves. Slovakia is also helping, I'm sure, but the perception of ordinary people is completely different – especially where nationalist and pro-Russian sentiments are strong," Valentyn says. The student tries to add Czech words here and there to his excellent Slovak in our conversation, but - as he says - it's "more complicated, especially the grammar". Nonetheless, he has already made clear he is not one to shy away from a challenge: that is likely to come in the form of doctoral studies and Valentyn is up front about his options: he says he is thinking about pursuing a Ph. D. at Charles University.