"I consider Charles University to be one of the best in the wider region, it can withstand comparison with the best in the world," Slovak President Zuzana Čaputová told Forum magazine in an exclusive interview. The interview was conducted on the day of a discussion with students at Charles University. "I am convinced that it is the duty of us politicians to contribute to the fight against misinformation and to the cultivation of critical thinking throughout society," the head of state said. Čaputová paid tribute to the events 1989. And if she could choose, what areas of study would attract her at Charles University?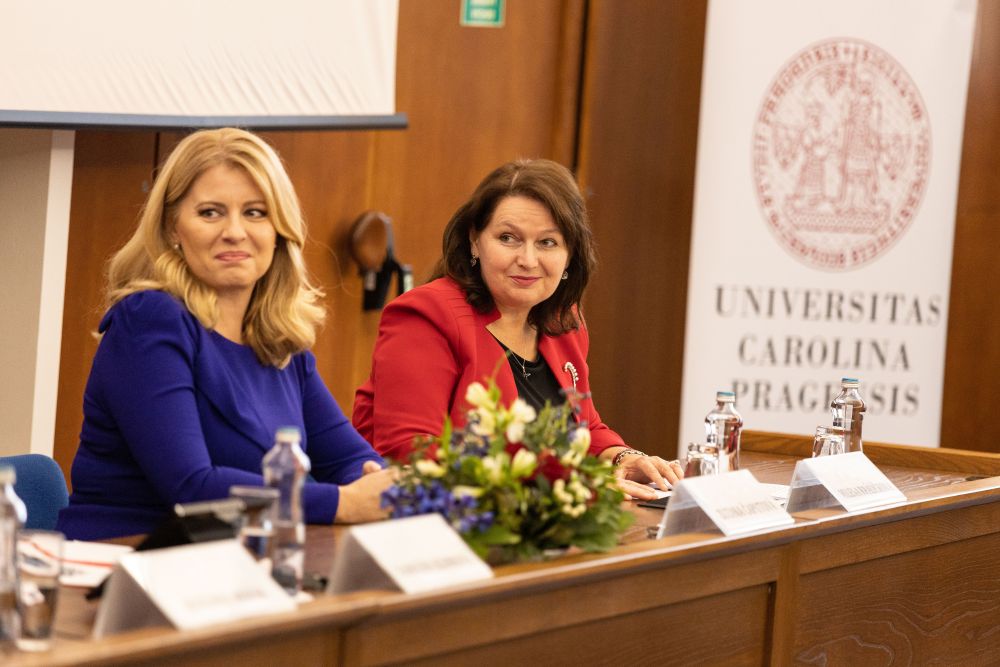 President of Slovakia Zuzana Čaputová (left) beside CU's rector Milena Králíčková on 16 November 2022.
The Slovak president regularly visits the Czech Republic on the occasion of the anniversary of the November events. This year, she accepted an invitation from the Political Science Club, a student association at the Faculty of Social Sciences of Charles University, and the management of Charles University to meet with students and discuss the topic of hate speech and manifestations of intolerance in the age of disinformation and social networks. It was unclear until the last minute, whether the president, as commander-in-chief of the Slovak Armed Forces, would be able to travel at a time of extraordinary international tension, after two people were killed in Poland a day earlier in a missile strike connected to the war in Ukraine.
"I watched and evaluated this situation very carefully during yesterday. However, the initial information already suggested that this was not a deliberate attack on the Republic of Poland. That is the basic criterion, because such an incident, if it were deliberately planned by the Russian side, could have far-reaching consequences, as we all know. It is important, in a situation like this, where we are only gradually learning information, to consider all the possibilities and to weigh all the factors. It is also important for all of us to manage our emotions at such a time. Especially when you don't have much information and when it's not just your private emotions, but you have a responsibility for what and how you communicate. It was very necessary to keep your perspective and a certain amount of distance," President Čaputová said, described one of the challenges she has to face as a head of state right at the beginning of the discussion.
"Decency is not weakness"
This was also the spirit of the entire nearly two-hour discussion with students, to whom she very openly answered questions about hate speech against minorities in the context of the recent double murder in Bratislava targeting the local LGBT+ community. They also discussed the role of politicians and social media in the escalation of hate speech. In this context, the President stressed that decency is not a weakness but rather a great strength of each individual.
Throughout the discussion, with many questions coming from CU students in Slovak, the topics of the war in Ukraine, as well as crises such as climate change, the economy to energy, were of course also discussed . In addition, students were interested in what Slovakia's adoption of the euro has brought or how Čaputová viewed the fact that a large number of Slovak university students leave the country to study and do not return, and how to reverse this trend.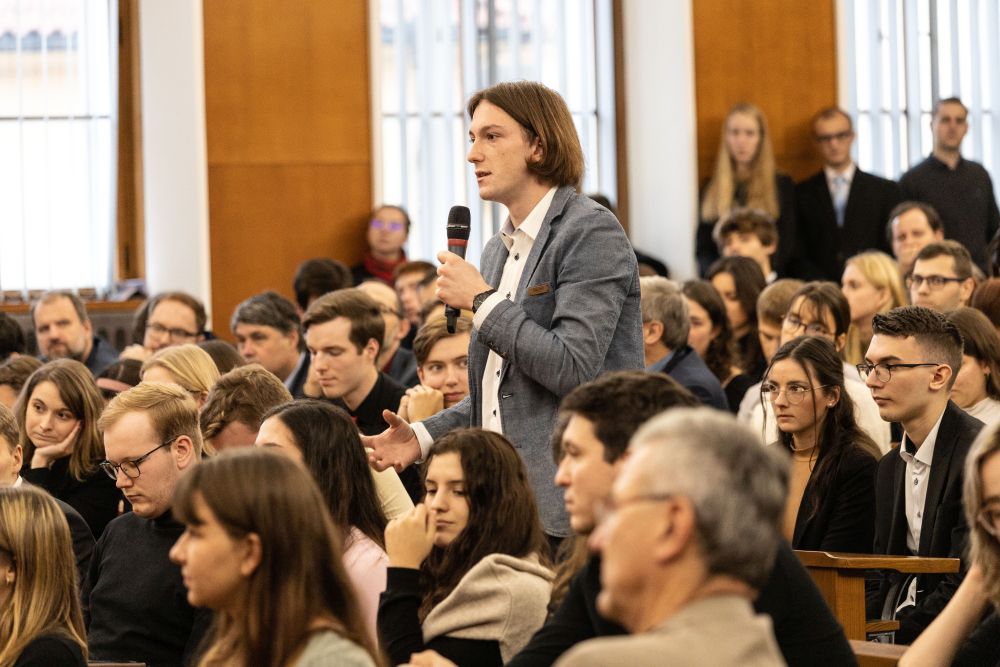 Many questions were asked during the almost two-hour debate. Students at CU were interested in the ecology and more.
The rector of Charles University, Milena Králíčková, thanked the Slovak President for accepting the invitation to Charles University. "It is a great honour for me to welcome a person, from my point of view, knows how to build bridges and eliminate divides. In our complicated world today, this is very important. The voice of common sense that we often hear from the president is very necessary. For Charles University, misinformation, society and its development, and hate speech in society are topics that we are researching, and I am all the more honoured to have the president here," Rector Králíčková said. Earlier this year, Králíčková became the first female rector ever at Charles University.
Čaputová: It is our duty to fight disinformation
During her visit to the university, President Zuzana Čaputová also gave an exclusive interview to Forum magazine. In it, she recalled that if she could study again, she would choose to study ecology, a subject close to her heart, alongside law, which she graduated from Comenius University in Bratislava. She had also been involved in it in her practice before entering politics.
On your presidential website, you publish a series of educational videos. Is this an example of how you think universities should enter the public space?
I believe that it is incumbent upon us politicians to contribute to the fight against misinformation and to cultivate critical thinking throughout society. We should do this first and foremost by what we do and what we say, and also through projects such as the presidential website. In both our countries, there are a number of such projects, not only at the level of public institutions, but especially in the non-governmental sector, civil society and also in universities. Many initiatives often grow out of the academic and student base. Universities have an indispensable role in networking and creating the best possible conditions for initiatives to emerge.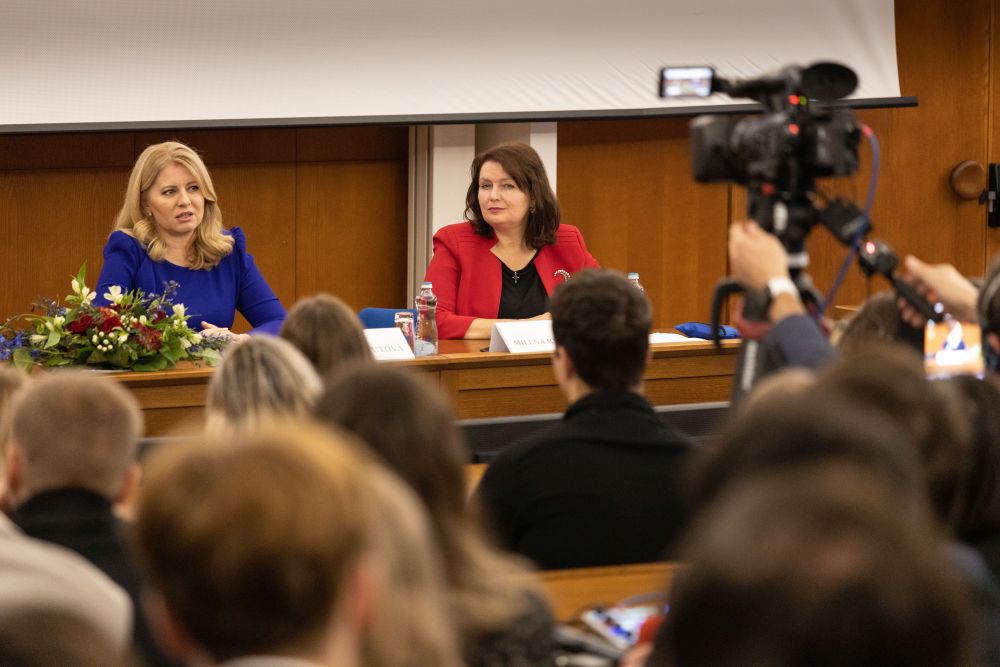 How do you rate Charles University and if you decided to study at the university again, what field of study taught at Charles University would interest you?
I consider Charles University to be one of the best schools in the wider region, it can stand comparison even with the best in the world. If I were to study again, I would choose law again, but I would also complement it with the study of ecology, because I have been involved in this topic for a long time and I am also involved in it as a politician.
In your inauguration speech you said that you did not come to govern, but to serve the citizens of Slovakia. What has been the most difficult thing during your tenure?
The hardest thing about public service is not to lose the ability to give feedback over time. That is why it is necessary to work with people who are unafraid to disagree with you, thus setting a mirror to reality and everyday life. It is also useful, figuratively speaking, to step out of your 'bubbles' and communities, even if it is impossible for the highest constitutional officials, but it must be done at least in thought. Of course, it is also difficult to learn to come to terms with some rhetoric, and I do not mean the classic more or less constructive criticism, which is perfectly legitimate and necessary. I mean rather those that are full of hatred and anger. One gradually gets used to verbal attacks if they are directed only at oneself, but if they are directed against family members, it is extremely difficult to steel oneself against this.
During your term in office, the pandemic struck, the Russian-started war in Ukraine began, the energy and economic crises followed... Did this lead to a reassessment of some of your programme priorities?
Of course, it has led to the fact that I am dealing with some issues, specifically in the area of defence, hybrid or energy security, almost on a daily basis, but at the same time I am also focusing on my priorities, which have become more important in the light of current events, their urgency has not diminished. An example is the climate crisis, which, despite the confluence of all other crises, we will have to face in the long term. Naturally and humanly, however, the one that I feel most intensely at the moment is Russia's war against our Ukrainian neighbours and friends, and I consider it a priority that we as an international community and as individual states do not relent in our all-round assistance to Ukraine, including military assistance.
It seems as if today, in Slovakia and in the Czech Republic, lies and hatred at times triumph over truth and love. You said in an interview that you spoke to Pope Francis during his visit to Slovakia about how to work against hate. Did you also find a way to restore truth and love to their lost value thanks to his help?
Truth and love have never lost their value. They are still with us and have the same value as before. However, in today's complex world it is often difficult to find them in the tangle of different information and emotions. The only way we, not only as leaders, but all of us as citizens, can help others to find them again is to live them authentically. We must be patient and proactive. To be attentive and not silent, even if it seems safer or more comfortable at the time and no one applauds us for it. This is the way to work with hatred, as Pope Francis and I have also discussed together.

The head of state was busy and under the media spotlight, yet she also answered questions for Forum magazine.
In the European Parliament, you said that democracy must be protected, otherwise we are the last generation to experience it. How do we protect it? What are the main challenges for citizens and politicians of contemporary Europe in this respect?
In order to protect freedom and democracy, we need to realise that both of these values, which we have longed for and deservedly won, are not constant and are not given once and for all, but are vulnerable to all internal and external influences, and we must therefore take care of them on a daily basis. This vigilance and awareness of the fragility and transience of freedom and democracy are the key to its sustainability. The practical way is, of course, to strengthen democratic institutions, promote pluralism, inclusion and strengthen the protection of human rights. I see this as a major task for politicians at home and at the European level, but also for all citizens, who are the pillars of any healthy and pluralistic liberal democracy.