German Chancellor Olaf Scholz spoke at Charles University on Monday 29 August at the Carolinum. After a brief introduction by Rector Milena Králíčková, Scholz gave a much-anticipated lecture about the future of Europe and the European Union in the face of current challenges. In his speech, he focused on a wide range of topics including European security following Russia's invasion of Ukraine, as well as continuing solidarity and steadfast support, military and otherwise, for Ukraine which just marked 31 years of independence. Other issues included: energy dependence, energy production, and other important challenges faced by the 27-member bloc. The chancellor also outlined reforms he suggested were needed within the EU's institutions to prepare for future expansion to a larger, but potentially unwieldy, 36 member union.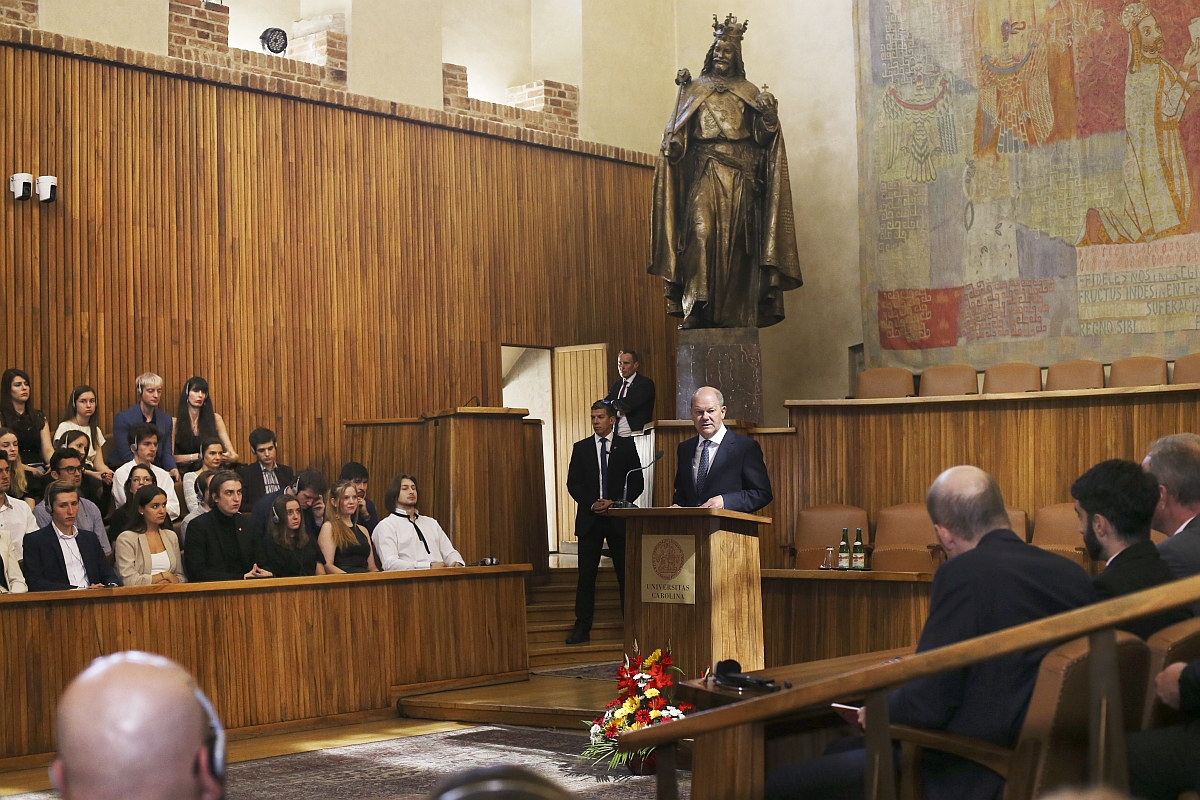 German Chancellor Olaf Scholz gives a key lecture at Charles University on 29 August 2022.
Expressed was not only full support for Ukraine but steadfast opposition to authoritarianism (with a barb aimed also at the idea of illiberal democracy, a term reportedly coined by political scientist Fareed Zakaria but repeated by Hungary's right-wing leader Viktor Orban). And utmost support for EU expansion which includes candidate countries from the Balkans, as well as Moldova, Ukraine, and Georgia.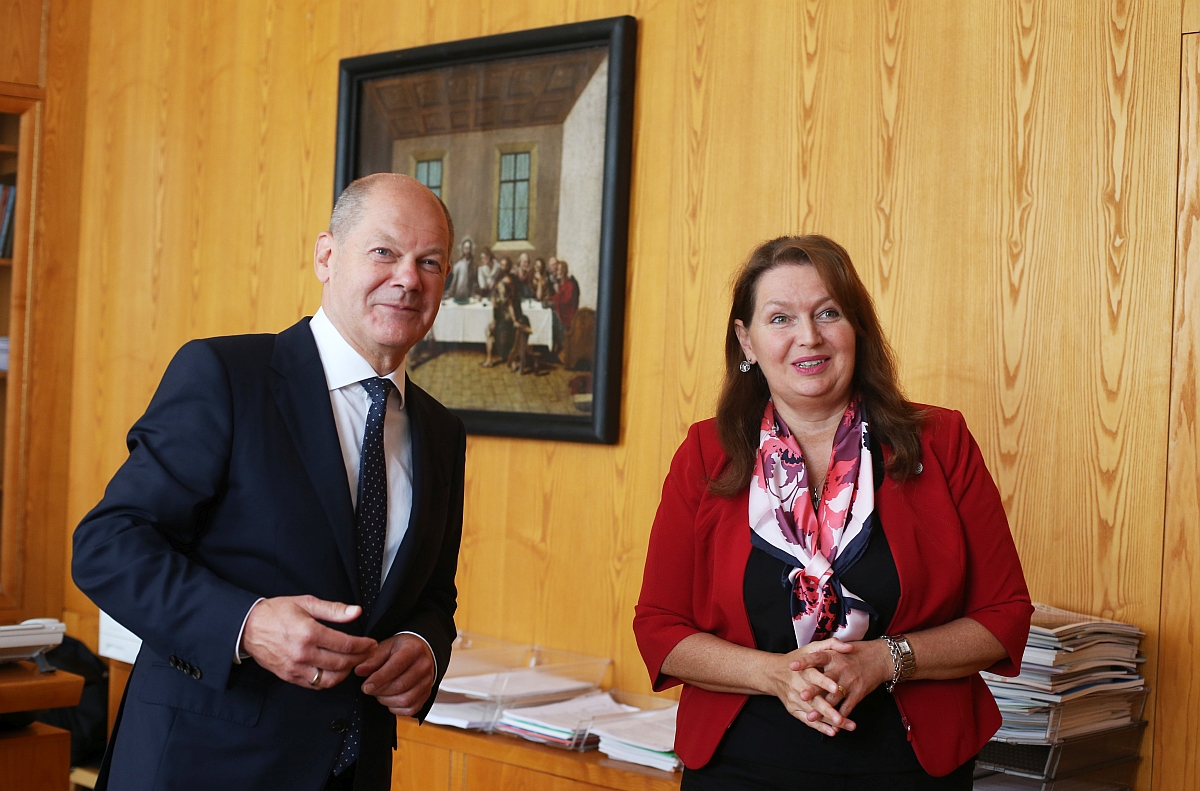 Chancellor Scholz with Rector Milena Králíčková before his lecture at the Carolinum.
Scholz said further accession was in the rest of the EU's interest not only in demographic or economic terms but also "from a cultural, ethical or moral perspective" (going so far as to reference an essay by acclaimed Czech-born author Milan Kundera). He said the geopolitical dimension was clearer than ever: "Realpolitik in the 21st century does not mean putting values on the backburner" or "sacrificing partners on the altar of lazy compromises". Realpolitik, he said, "must mean involving friends and partners and supporting them in order to be strong in global competition through cooperation."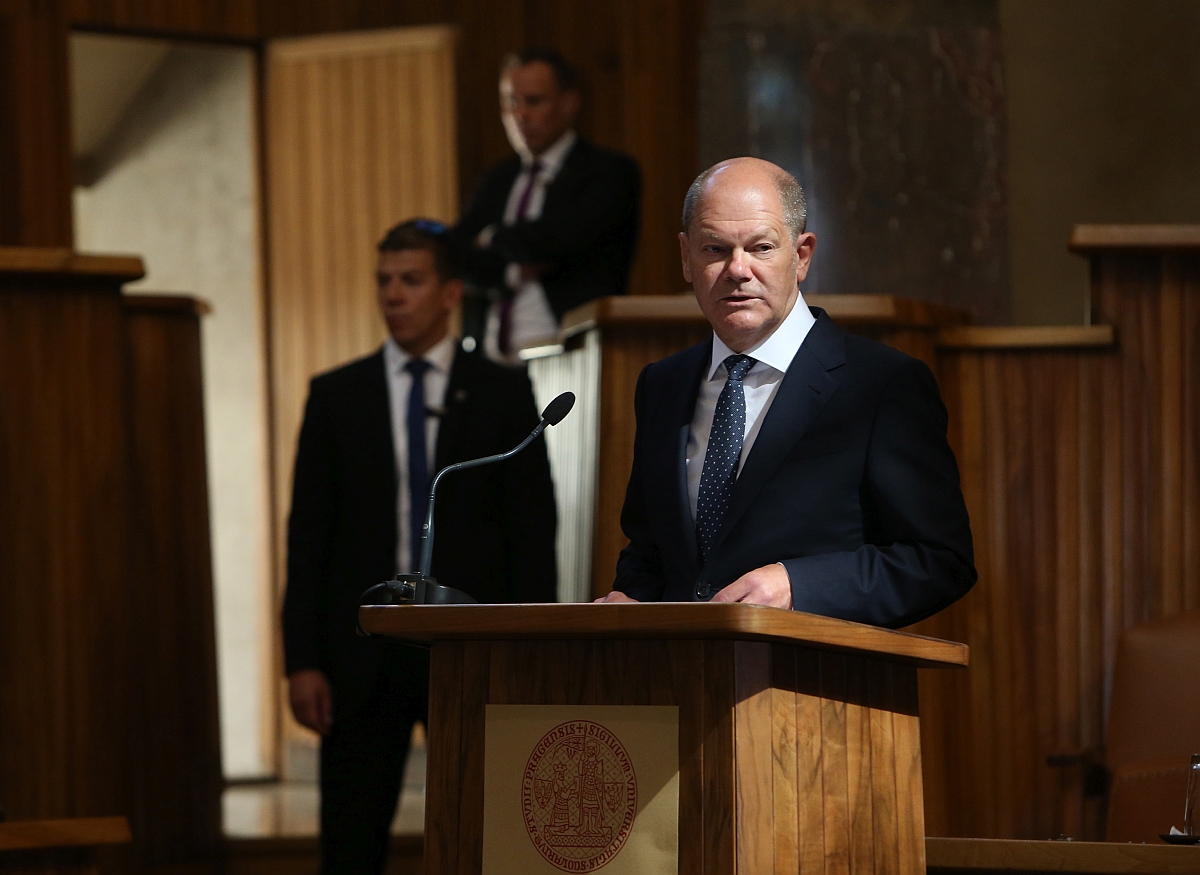 His speech was clear-eyed regarding how the EU needed to reform to move forward and blunt in terms of Russia. He called Russia's invasion of Ukraine an attempt to once again "re-draw borders through violence" and a return to something that Europe had hoped to leave behind: "Right now we are asking ourselves once again where the dividing line will lie…"
The chancellor's wide-ranging lecture also keyed in on crucial moments in Charles University's as well as Czechoslovakia's own past, drawing inspiration from the students in the Velvet Revolution in 1989 and the famous slogan "Who, if not us, when, if not now?" Within Scholz's lecture, the words captured the urgency and importance of the moment Europeans face even today. What we do now, Scholz suggested, will determine what kind of union citizens will have well into the future.
After the lecture, Forum spoke to Professor Lenka Rovná, an expert on European affairs and member of the Rector's Board.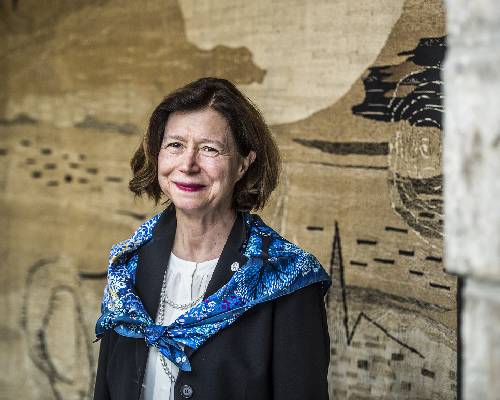 Professor Lenka Rovná
"I think we will see this speech quoted similarly to others by important figures on university grounds: in 2000, the German foreign minister Joschka Fischer gave an important speech on the federalisation of Europe at Berlin's Humboldt University, French President Emmanuel Macron gave his speech at Sorbonne in 2017, and now Chancellor Olaf Scholz gave his lecture here. In Prague. I think the chancellor wanted to table ideas on the future of Europe up for debate. In the past, he was accused of being too hesitant and less than decisive after the invasion of Ukraine began, but we see that Germany is standing firmly behind Ukraine in the conflict.
Regarding politics, it was clear what the main values are, and where the EU is headed. And in this case, it wasn't about federalism but reforms. Steps such as the expansion of qualified majority voting, reforms of the Commission, the institutionalisation of further EU enlargement and assistance to acceding countries, the need to reform the European Parliament and to rearrange the number of MEPs as there are already 751. Chancellor Scholz spoke about common security policy, common armament policy…"
Forum: He unpacked many different areas. Underlining it all was the founding principle, to prevent wars in Europe or in the EU. In terms of the steps, do you think we will be able to handle the problems ahead, energy prices with the coming winter or with some partners not really in the same lane, the illiberal democracy he referenced…
"Yes, the chancellor was very direct and did not try and be diplomatic there. In terms of the challenges, he spoke about energy, resources, production, and to hang together within Europe and do business together to support [each other]."
And Forum spoke to Rector Milena Králíčková herself: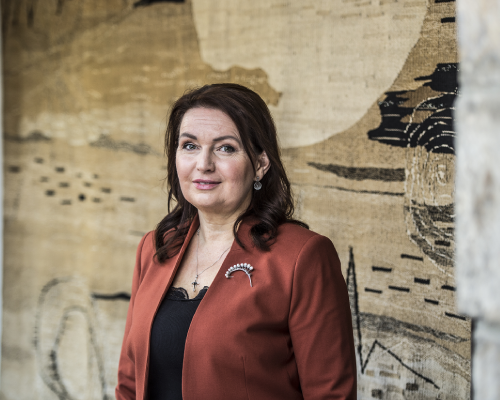 Rector Milena Králíčková
"The whole speech, with the four areas [Chancellor Scholz] outlined in terms of the EU, was definitely very important. It was also very kind that at many points, the chancellor referenced Czech history, professors, President T. G. Masaryk, and students from the Velvet Revolution at Albertov and their famous "Who, if not us…" It is difficult these days to give a 'positive' speech given the context of what is going on around us, but despite that, I think it was fairly optimistic... I think it will be seen as positive the more we look back. [With certain developments], I truly believe we will come out a stronger Europe."