Speakers at a one-day conference at Charles University focusing on the effects of the pandemic more than a year on agreed on the following: an outbreak such as the one we have lived through was a ticking time bomb. Despite how prepared we might be in terms of understanding and technology, virologist and guest speaker Ladislav Machala said globalisation had shown we have never been "more vulnerable." Much of the debate, divided into several thematic blocs, concentrated on where society had dropped the ball but also gained important new knowledge and awareness. The underlying question on Wednesday was "Where do we go from here?"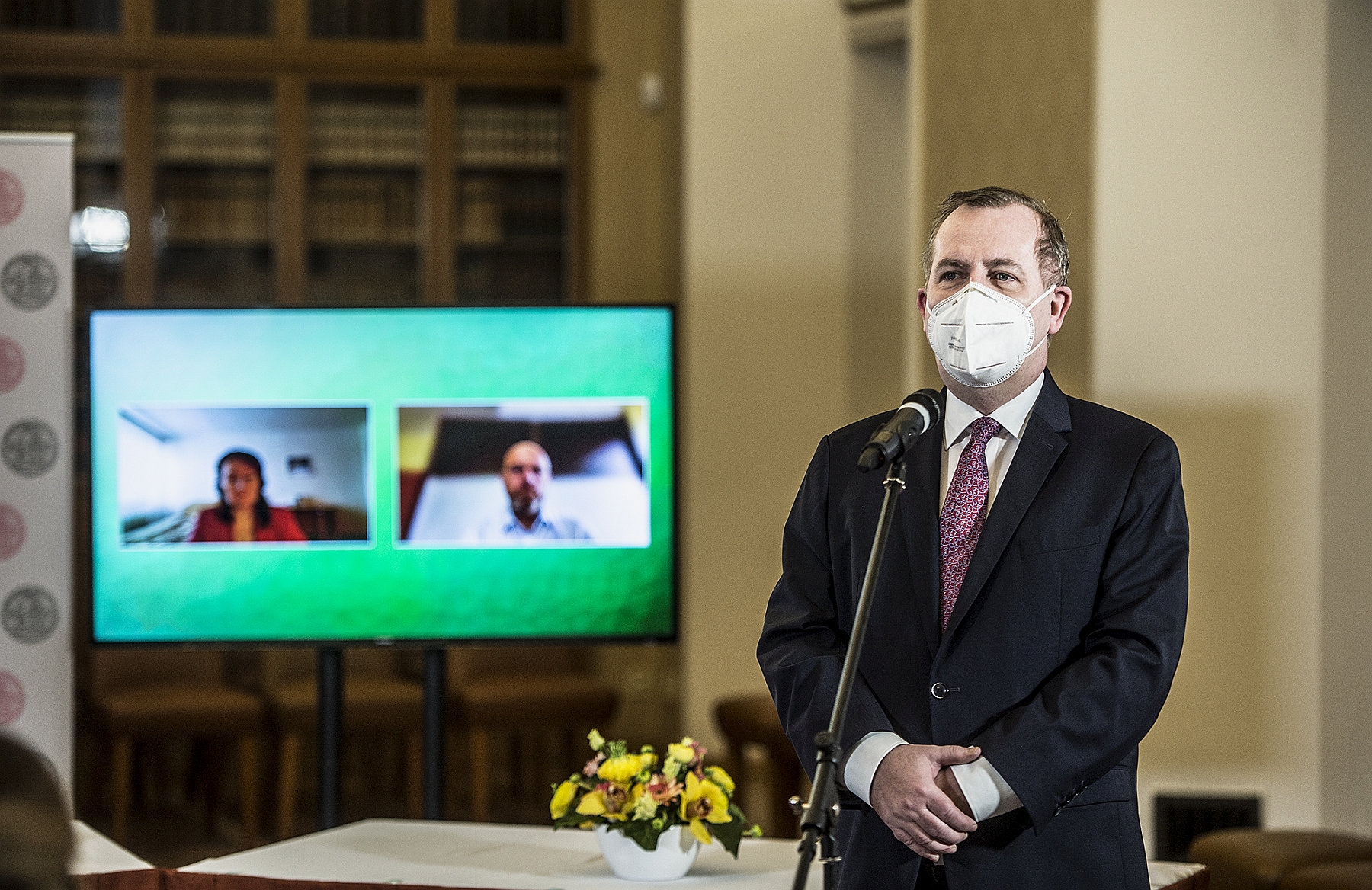 Charles University Rector Tomáš Zima launches Covid-19 conference at Carolinum on March 24, 2021.
A Year with Covid-19, part of the ongoing Česko a jak dál debate cycle, brought together virologists, economists, medical doctors and other experts throughout the day including government ministers for health (Robert Plaga) and education (Jan Blatný) to take part in a discussion of where the Czech Republic stands a little over a year since it registered its first case of Covid-19. Divided into five blocs, the aim was to look at the pandemic from numerous angles, from the perspective of education, science, medicine, the economy and social science.
Rector Zima launches conference
The conference was launched by Charles University's Rector Tomáš Zima, recovered now after Covid-19 left him hospitalised in very in serious condition in January. On Tuesday, the rector was a guest on Czech Radio's flagship programme, Radiožurnál, where he repeated that the university had focused on the coronavirus from the start, providing labs for testing and research, while med students had volunteered throughout. In his opening speech at the Carolinum on Wednesday, Zima took the opportunity to thank all of those at at the school who had helped tirelessly during the pandemic, praising them for their solidarity.
He discussed how the university had adapted in difficult times and had successfully shifted to distance learning, although he repeated the conviction that nothing could fully replace contact in person in the classroom or the lab.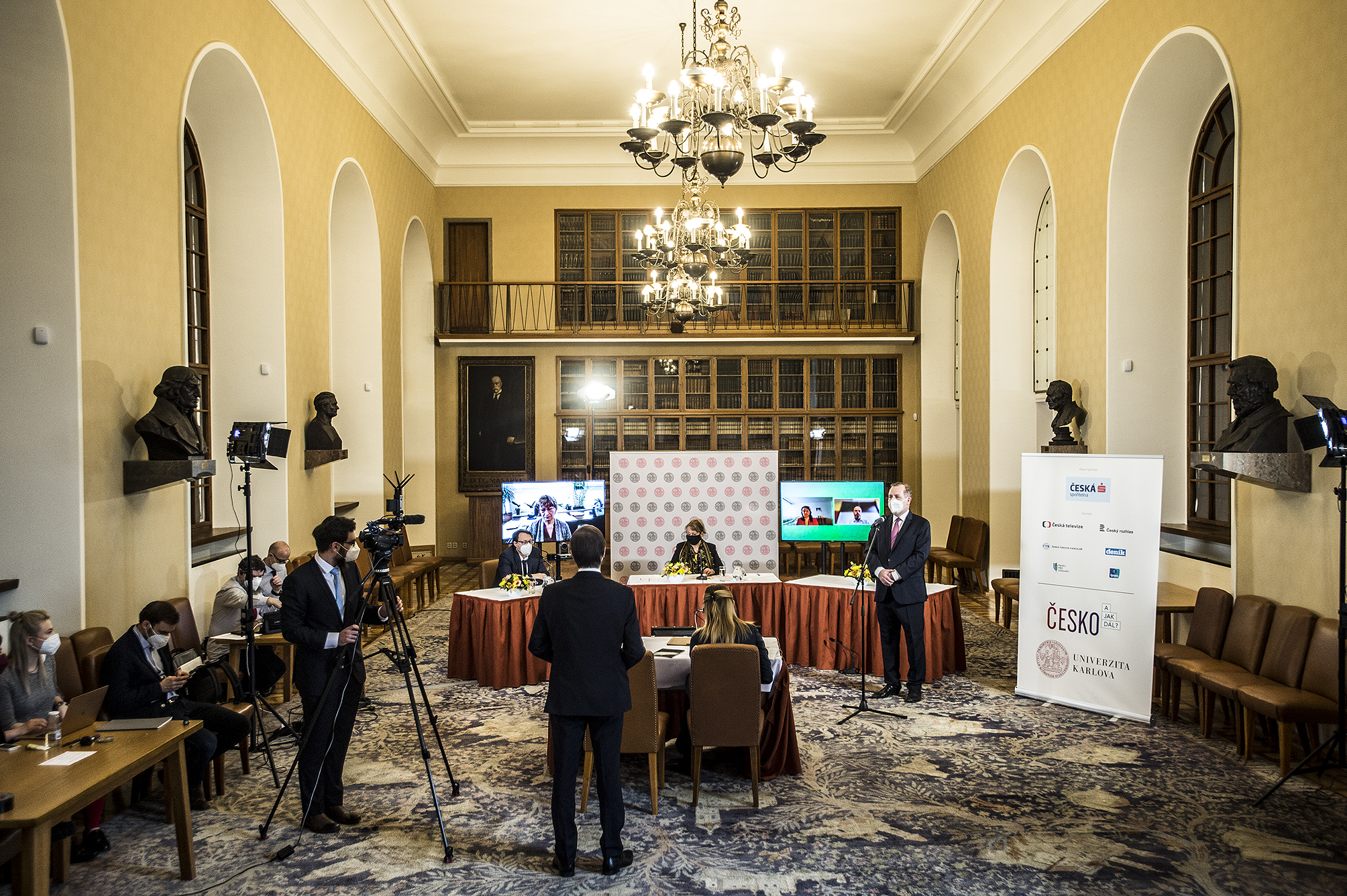 Much of the debate focused on what different sectors had been through and what takeaways had been gained for the future. In the first bloc, focusing on education, speakers said that once elementary, high school and university students returned to the classroom, it would be necessary to address the impact restrictions had had - handled better by some students but worse by others, leaving them at as distinct disadvantage - a playing field that would need to be rebalanced.
Charles University Vice-Rector for Education Milena Králíčková said a return to social activities on university grounds, not least for first years, would also be important once things returned to normal. She said CU had adapted well during the crisis when it came to distance learning and had deepened internationalisation with partners, albeit online, throughout the pandemic year.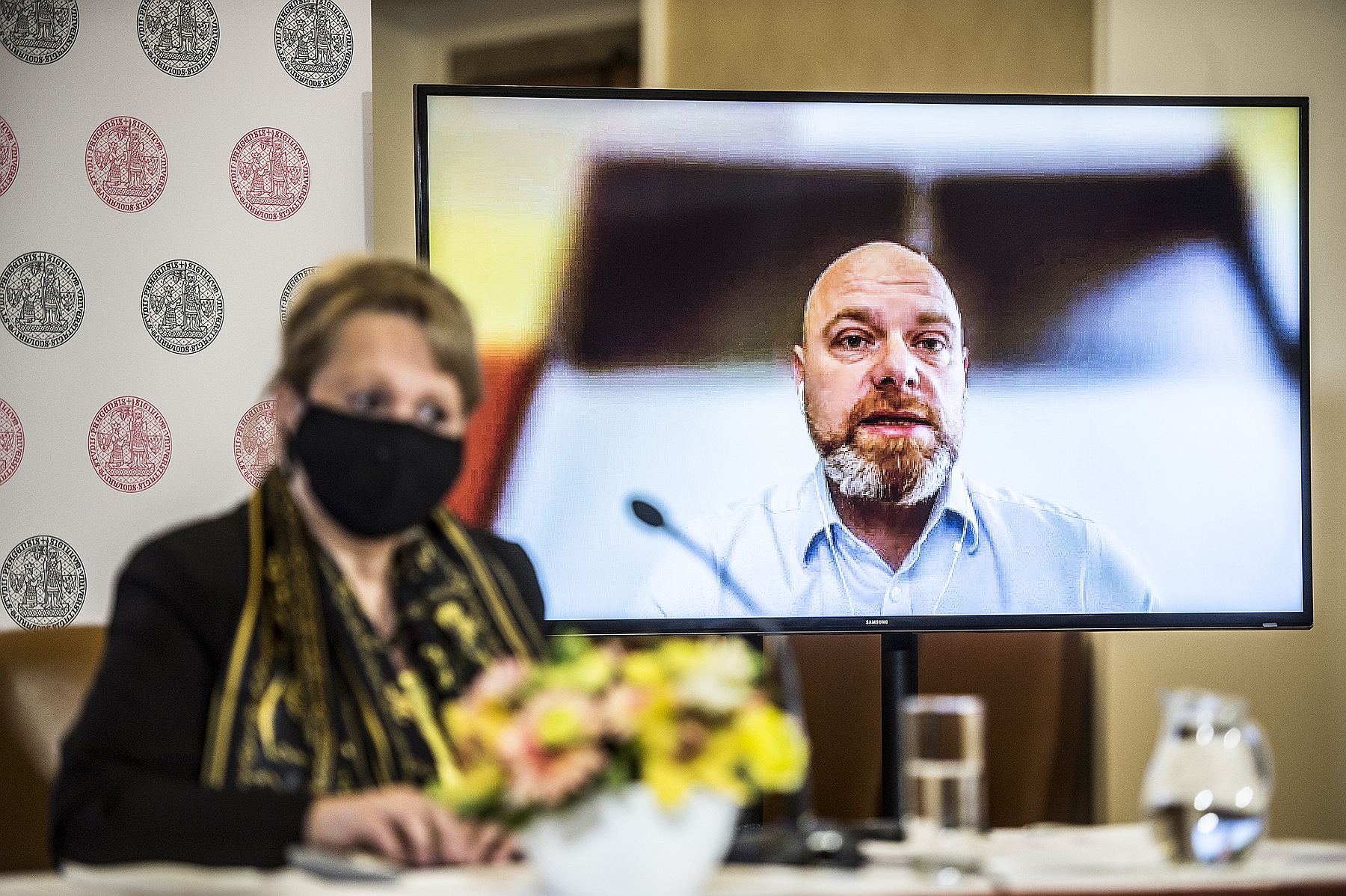 Education Minister Robert Plaga spoke about how the crisis had shown just how hard teaching as a profession is and that teachers' prestige (despite some haters – his words) had gone up enormously. He expressed regret that children had not been able to return to schools (something that will not be viable for some time yet) but made clear he believed that the next school year beginning September 1 would be under markedly different circumstances, thanks to the continuing early vaccination of teachers, and, gradually, the broader public.
Science
The next bloc dealt more directly with the virus itself as well as how it caught the world off guard. CU Vice-rector Jan Konvalinka reminded viewers that many had warned, over the last 15 years, that a coronavirus or flu-like virus was coming; the first SARS which thankfully was stopped in time in Asia, was in his words "a pocket pandemic" that evidently prepared some but not others.
Fellow CU scientist Ruth Tachezy said it had been surprising was just how badly society had been caught off guard. On the positive side? That safe vaccines had been developed and approved with unprecedented speed; she fielded an obligatory question from the public over how they could have been developed so quickly and yet be safe by explaining that the process of clinical trials and production had overlapped to save time. She stressed that what was important was that all stringent regulations or rigorous safety criteria had been met. Jan Konvalinka allowed that one area he had hoped more progress would have been achieved was in the development of more effective medicines against Covid, crucial, even life-saving especially in the first few days of treatment. He said that now that research and development projects and cooperation were fully up and running, it would be important to continue in newfound cooperation even after the crisis had subsided, to face the next threat.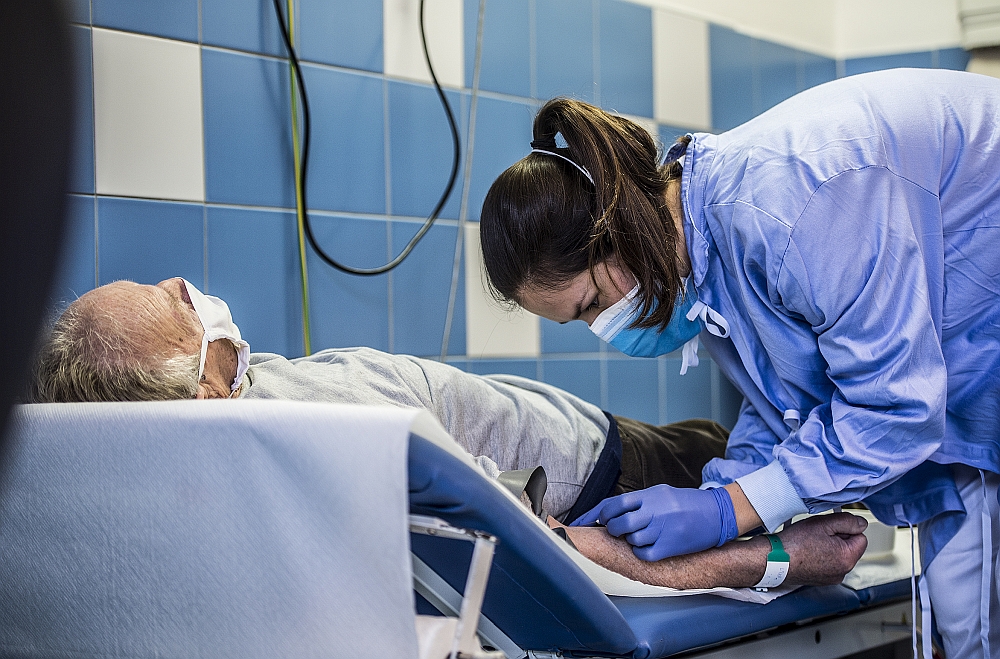 Virologist Ladislav Machala agreed that if there was one thing we needed to take away from the pandemic, it was to build up proper infrastructure for the next one, as there would be other threats in the future. Despite the grim details, among the experts there was a measure of optimism moving forward although the battle clearly has not been won yet. Ruth Tachezy, describing herself as a pragmatist, said it was impossible to predict what would come next (in part because of the Covid variants and other factors) - but all agreed that vaccination was the only real way out of the lockdown and to eventually avoid restrictive measures. A way back, maybe not to normal, but a new normal of some kind.
If you speak Czech and want to follow the discussion live or replay the material, look up Rok s Covid-19 – Jak dál on facebook or on Charles University's youtube channel.