Charles University, in conjunction with the French Embassy, the Education Ministry, DZS (Czech National Agency for International Education and Research) and Erasmus+, has just hosted a conference on the importance of university alliances. More and more, alliances are gaining recognition as crucial in Europe, representing both stability and a steady response to coming challenges. Alliances promise greater fluidity of integration, communication, shared research and mobility of academics and students while upholding and reinforcing European values – important not least in times of crisis.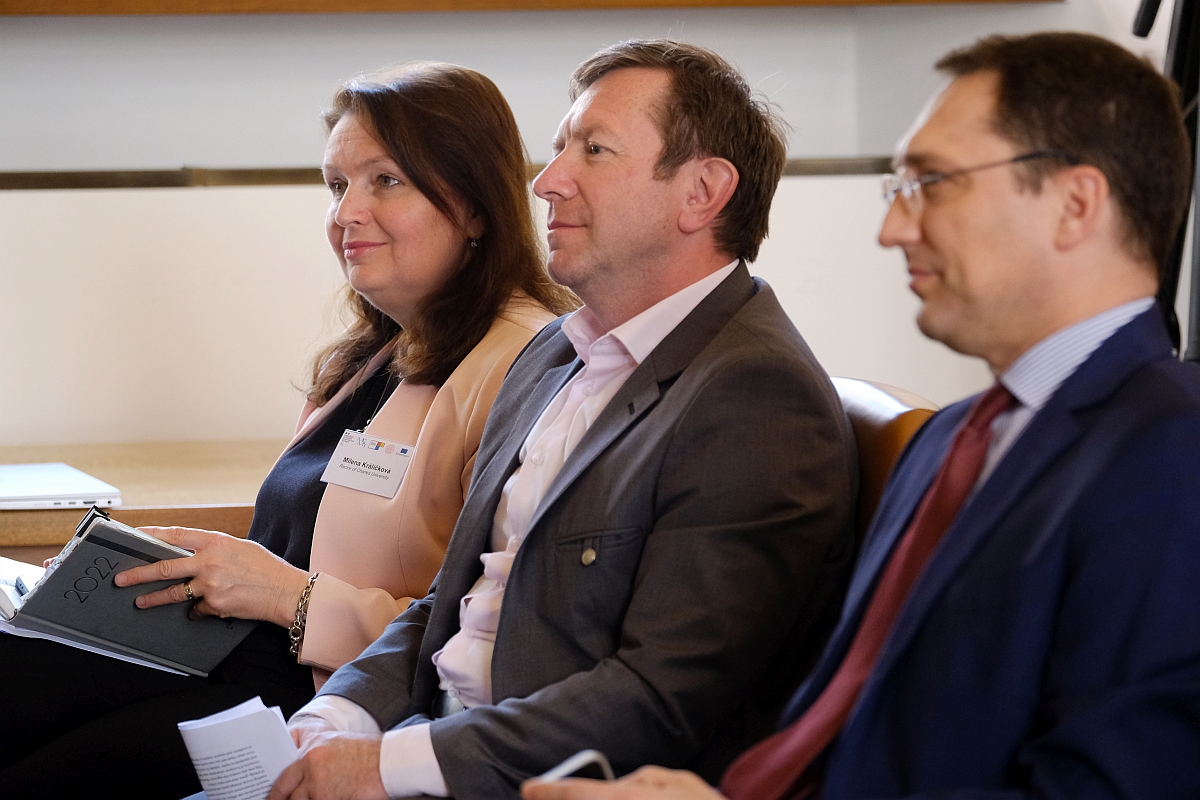 Wednesday's event, emceed by Věda & Výzkum's Aleš Vlk, was divided into three presentation and discussion blocks, the first of which included an introduction by Charles University Rector Milena Králíčková. Welcoming guests and attendees at the Patriotic Hall in the Carolinum (among the three oldest university buildings in the world including Oxford and the University of Bologna), the rector spoke of university autonomy, freedom in innovation and research, and the need for universities to serve but also be driven by society. She spoke about the importance of prestigious 4EU+ alliance, bringing together six universities including the University of Sorbonne, Heidelberg, Charles University, and the universities of Milan, Warsaw, and Copenhagen, founded in the first call, and funds available in 2022. Universities (and by extension university alliances) will only gain in importance in the future. Rector Králíčková: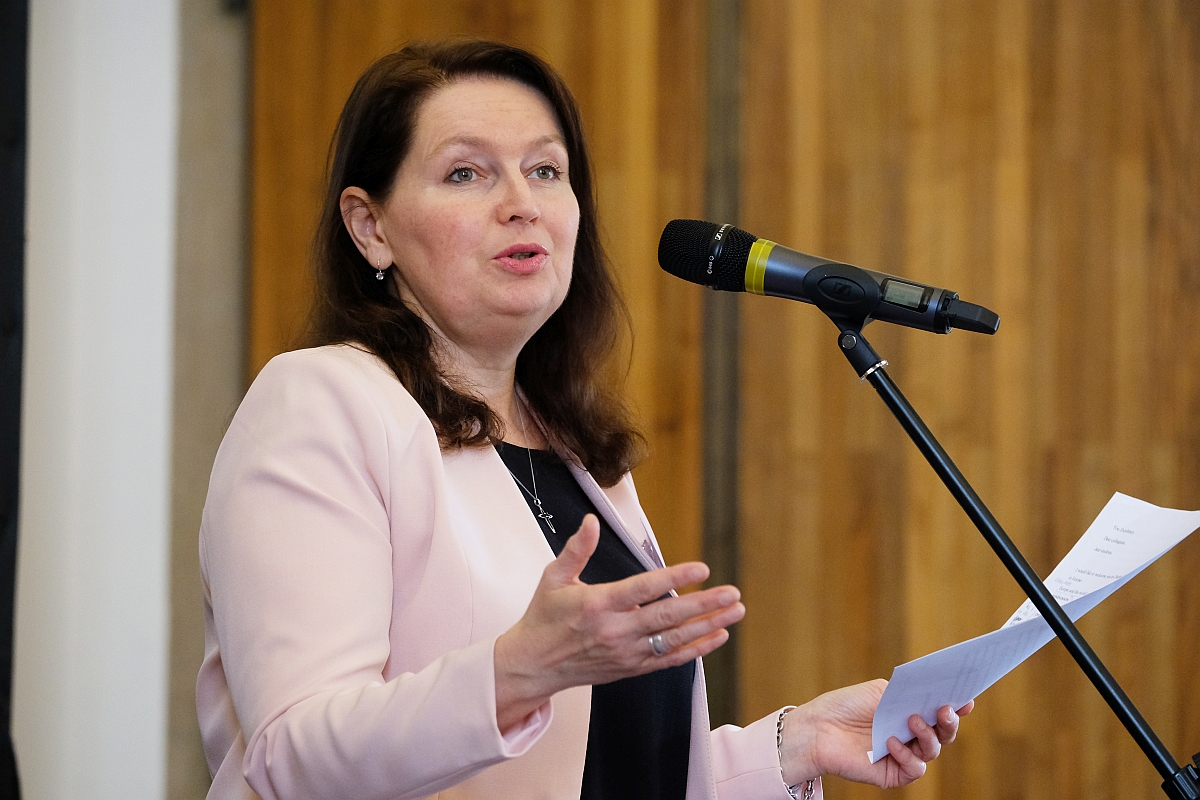 "We have learned that in order to be efficient we must be international and also united forces. To tackle the current challenges, to learn from each other, and to do things together. Universities are partners to society, nation states, as well as the European Union in the debate about the future of the European research area and the European education area. Member states and universities work together, from my point of view, to build more resilient and inclusive training systems and – now – to stress digital and Green education."
The rector noted that the world was "more fragile and less stable than five years ago" and made special mention of Charles University's support for academics, students, and their families from Ukraine. Indeed, no meeting of universities and university alliances could fail to mention to plight of Ukraine and its citizens, now almost 80 days following the start of Russian aggression.
"I know that we can rely on international colleagues now – and in the future," the rector said.
Her opening remarks were followed by presentations by the French ambassador to Prague, Alexis Dutertre, the director of DZS Michal Uhl and Ministry of Education, Youth and Sports representative Jaroslav Miller, and ensuing debates, focusing how to systematically embed civic engagement. It was the second time in just over a week that the ambassador was at CU; the previous week he gave a strongly-attended lecture about the French EU presidency, which will be followed by the Czechs'.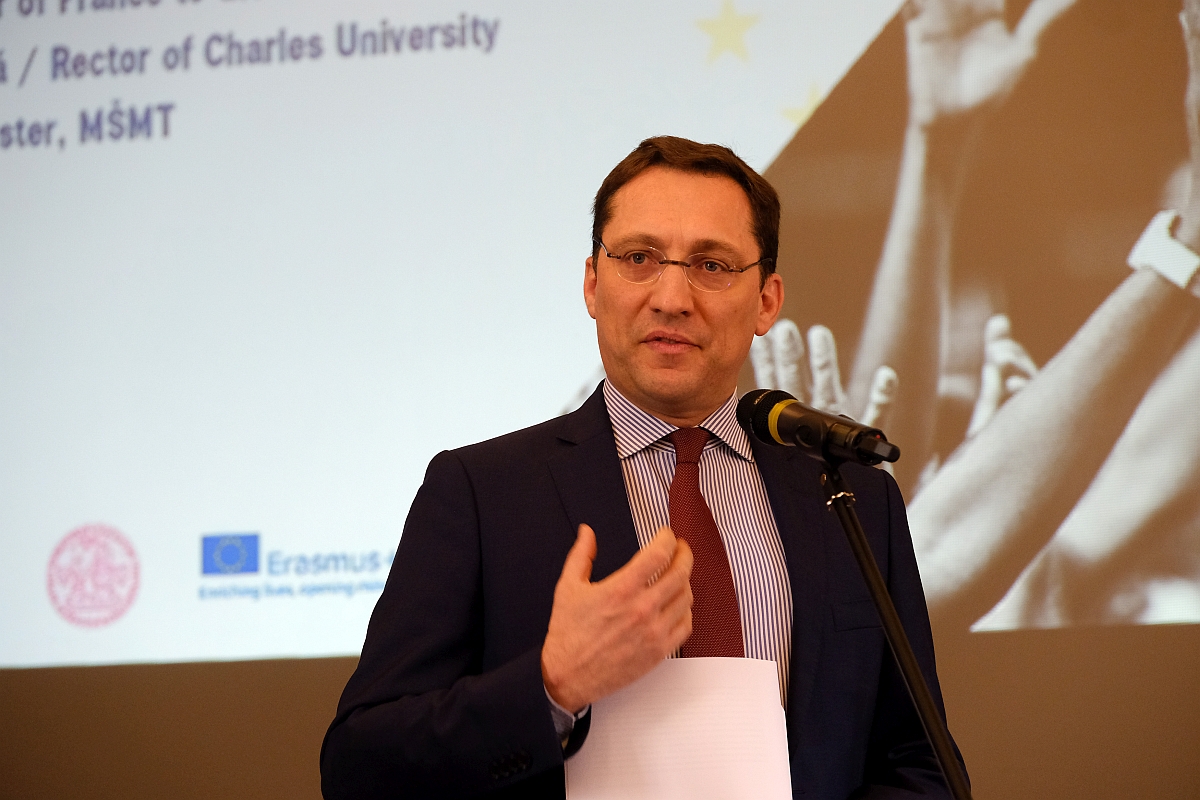 A large part of his discussion in that first outing was European security as well as solidarity and challenges meeting or forwarding the EU's regular agenda, complex and already complicated at the best of times (problems such as tackling climate change) compounded by Russia's tragic invasion and how to help Ukraine and boost security. Following that first appearance, Forum spoke to Charles University's Lenka Rovná, a member of the Rector's Board for European Affairs, whose students also attended.
"Interest in that first lecture was high based on two facts – the recent results of the French election and of course the continuing aggression in Ukraine, as well as the upcoming EU Council presidency. In his lecture the ambassador spoke about unexpected events: we have not seen a conflict of this type in Europe since WWII. And the danger of more countries being drawn in remains. So the French presidency has to focus on a mix of legislation as usual and current events and consequences."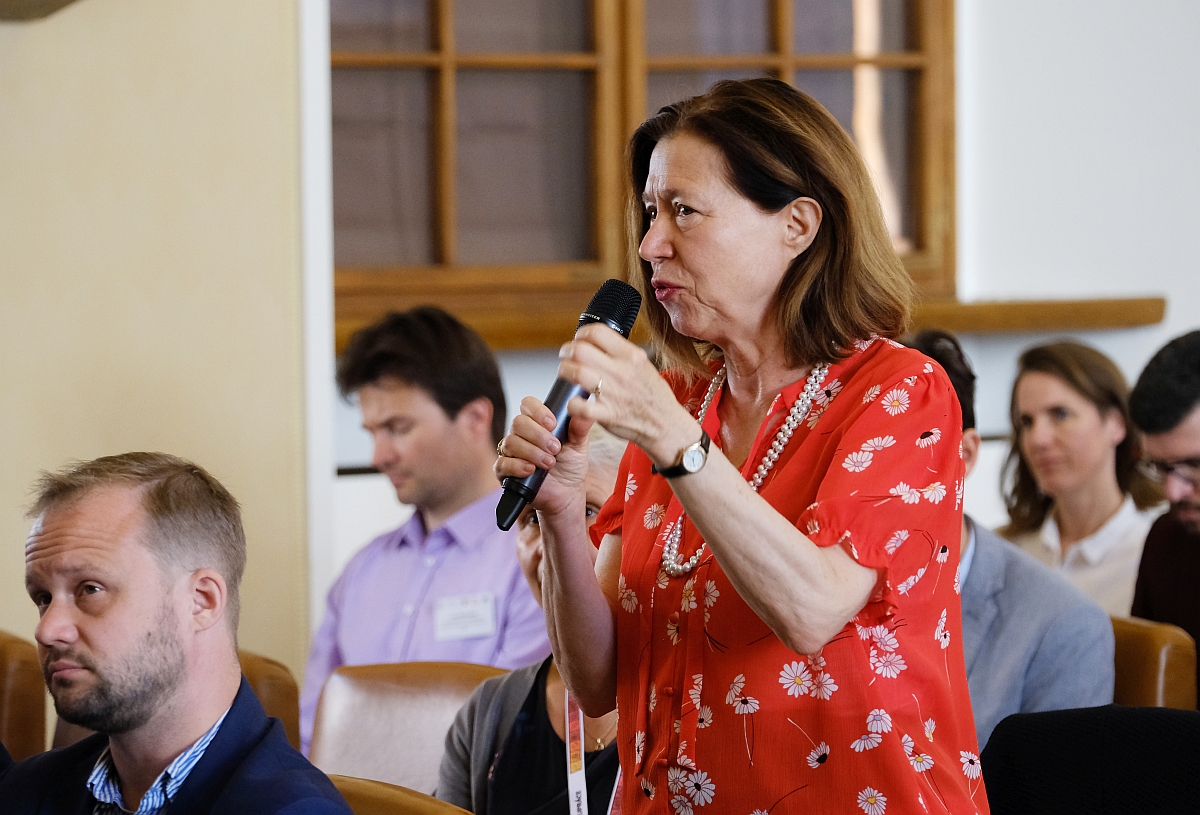 Ambassador Dutertre on Wednesday this week picked up the earlier thread, turning to the discussion of university alliances: he stressed that the old tradition of university ties fostered what had been a priority during the French EU presidency which he called a "sense of belonging". An aim, he said, to support citizens' involvement in the European project and with European identity. Five years ago, it was French President Macron who launched the idea of European university alliances – noted by both Rector Králíčková in her speech as well as by Dutertre - and the ambassador added that the project had "really "blossomed" in an "incredible way". He said that was very proud of the four alliances that Czech universities were involved in, and that the French were involved in three of those, respectively, one of them being 4EU+.
The agenda then saw the other speakers take the floor, as well as a live address by MEP Michaela Šojdrová. Asked what she considered to be significant contributions by the Czech Republic, she mentioned strong university autonomy, reform legislation from the late 1990s, and the fact that education remained free to young Czech students, which she said had not been easy to maintain or achieve. That was followed by a panel debate including five guest speakers from Czech universities and from Sorbonne Université on the subject of civic engagement. Those who took part were: Dalibor Mikuláš of Palacký University, Guillaume Fiquet from Sorbonne Université, Damir Solak from the Student Chamber of Higher Education Council, Vice-Rector at CUT Zbyněk Škvor, Henri Hubertus Achten from CUT.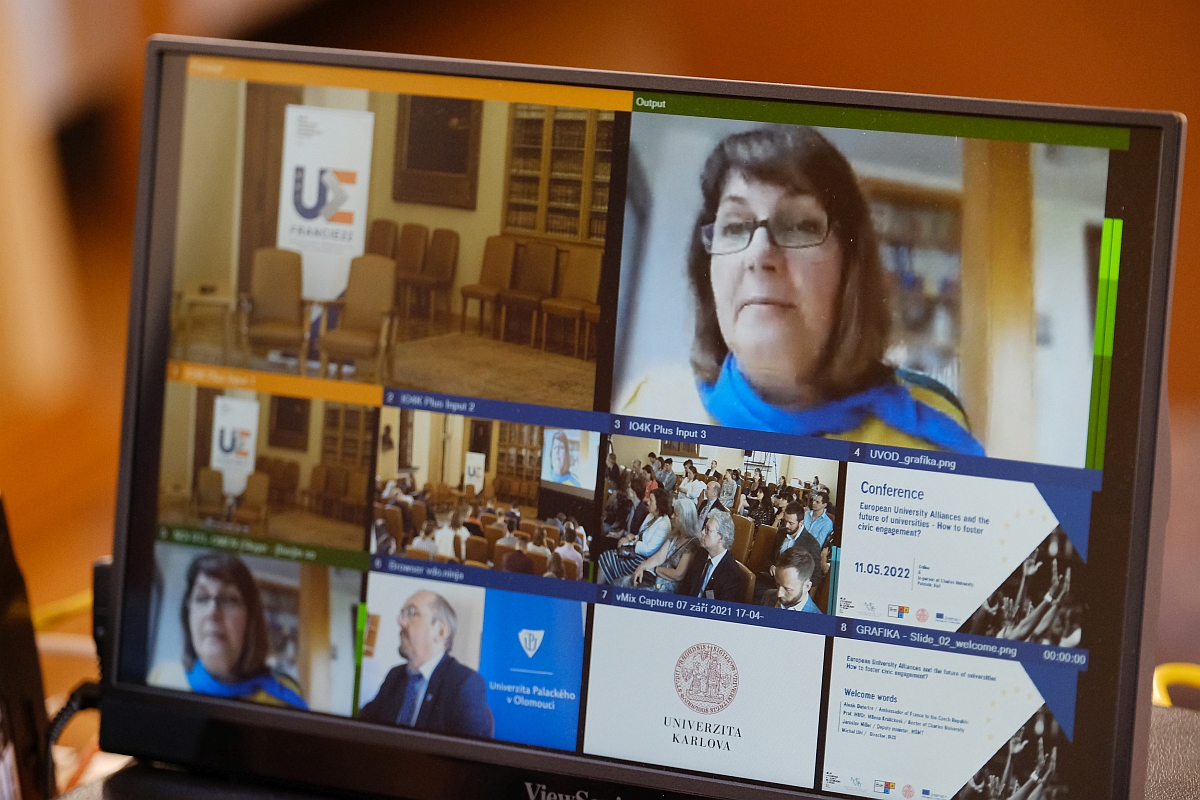 The topic of opening schools up, enforcing greater communication and give and take between school and the broader public was one that came up at length, including later in the event. Forum spoke to Guillaume Fiquet, the vice-president of international relations at Sorbonne Université, who noted that greater access had been temporarily side-lined in France for some time, first by the rise in the terrorist attacks several years ago, then the Covid-19 pandemic. But he expressed optimism things would get better.
"We launched new buildings for the city and the idea was to increase and promote the circulation of people during weekends so you could see kids riding around on their bikes on campus, then they could go into the towers and see research labs, so that was the proximity we were going for. But of course we all had a run of bad luck, all of the awful things that just happened and campuses had to close again for safety reasons and measures. We had the Covid crisis but I think the period also showed that we were resilient and we are now promoting concerts, permanent exhibitions, including a very brilliant one about minerals, which is world-renowned. We have conferences, a building for science and research which is open to the public and schools and I hope we will be free to move around even more."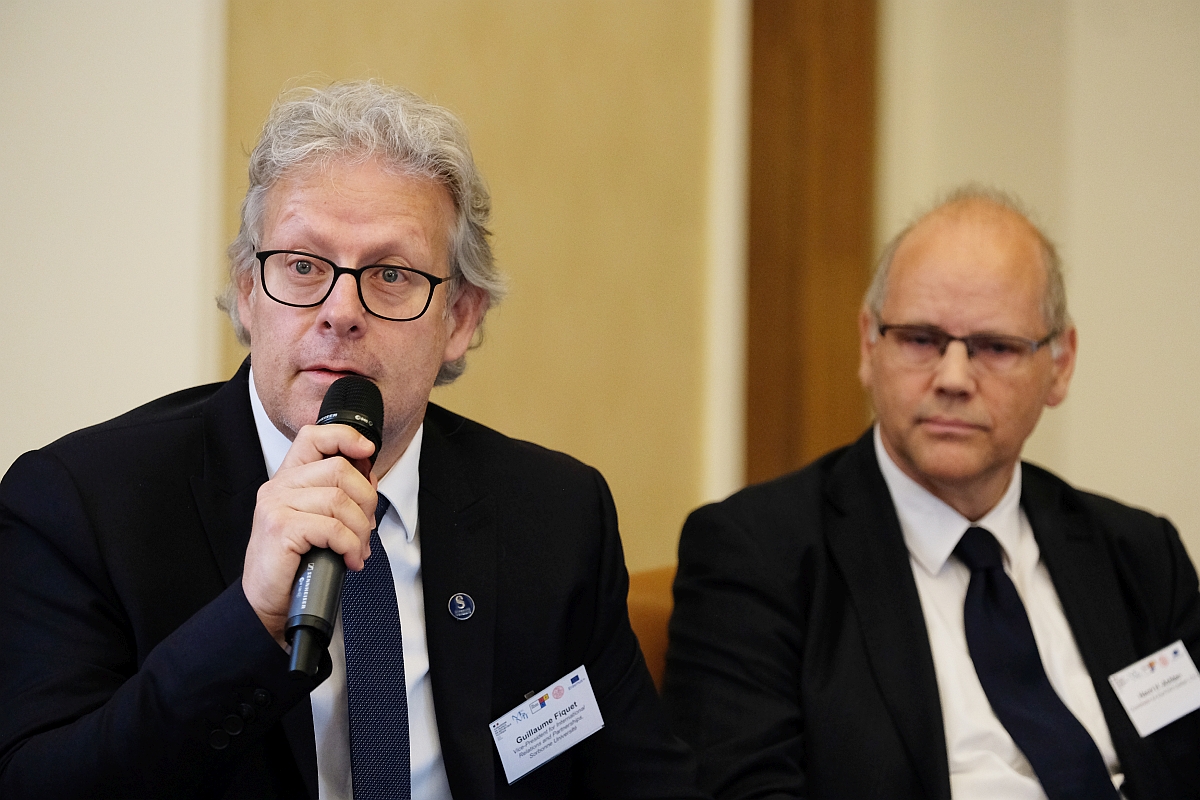 JV: The moderator today, as he wrapped things up, had some last thoughts about how universities have survived for centuries and retained their values… and today's conference was about building alliances, pursuing new cooperation, and coming out of the ivory tower and creating more access. But when there is fierce fighting and relentless attacks just a few hundred kilometres away, what kind of a pall does it leave over this common project?
"This is a difficult question but I will try my best: universities have gone through tough times and survived. They did so because they kept traditions and these cannot be really broken. Or when they are, it leads to people being so upset they have to be rebuilt immediately. Universities during this time have posted a very unified front [against the aggression]. If we are talking about politics and universities, that is the way to do politics: we stay united, we share the same values and we want to just strengthen our alliances because they are vital.
I was very sad when I read this letter signed by the rectors of all the Russian universities sustaining that kind of war and aggression. I think that it is always hard to write [something different] when you have a 'revolver at your head'. At the same time, I read news that was signed by scientists who are still in Russia where they wrote that they were against it, that the war was awful. So you still see that kind of spirit that is still there. And that is part of the academic freedom and heritage. At the same time, here, universities have to transform and adapt. So that they are real for everyone."
The second half of the conference at CU on Wednesday then focused on the other side of the coin: research and bringing the results of research to market and to wider audiences. Those who took part in the panel discussion were: Hana Kosová, the head of CPPT at CU, Veronika Korittová, National Contact Point Horizon Europe, Jakub Lelek, Public Affairs Leader at IKEA, Eva Janouškovcová, Director at TTO of Masaryk University and Transfera.cz, Lukáš Kačena, Managing director at prg.ai.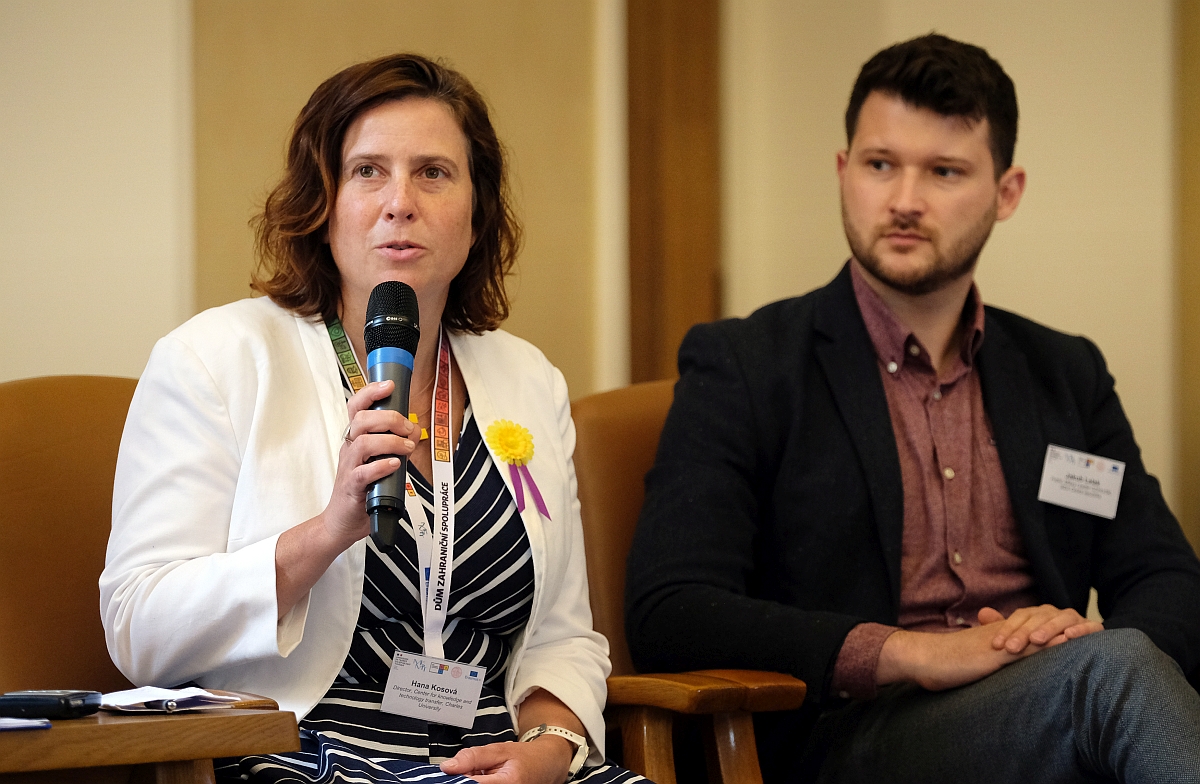 Afterwards, Forum spoke to the director of CU's Centre for Knowledge and Technology Transfer (CPPT), Hana Kosová. She spoke about the highly-innovative space Kampus Hybernská, where cultural events and conferences organised or co-organised by CPPT ensure the university and the public meet and projects reach new audiences and new potential.
"I see it as a great opportunity, a kind of melting pot where academia, businesses, the public spheres, NGOs, can get together. We try to come up with new ideas to promote them coming together. Obviously, it is not without 'risks' – there are many factors which we cannot influence – but overall there is a common interest between the city (which owns the site) and the university. We are doing our best to show how effectively it can be used as a functional space."
A few years ago, Kampus Hybernská was a rather run down [Czechs would say 'punk' – ed. note] space requiring massive changes and meeting only a sliver of its current potential. Now, the site continues to attract more and more attention to innovative ideas, by bringing together various stakeholders and the early results have been very positive. It is possible to walk in off the street and to learn more, a place where different worlds meet.
Charles University, like other schools and fellow partners, puts stock in providing space for discussion and debate, bringing together experts in numerous fields and inter-disciplinary approaches on key issues. Comparing positions, examining the facts, inspiring nuanced discussion and pinpointing problems or coming issues affecting society as a whole, are of paramount importance – that was one of the main takeaways of Wednesday's conference along with the discussion of European university alliances, the transfer of knowledge and technology and greater access.