In her third year at the Faculty of Education, Tereza Neumanová is a woman of contrasts: someone who lives for the bike but also hopes to teach one day. Who has no qualms about grinding through the mud but carefully applies makeup before every race. Last year was one of her toughest yet she clinched two National Championship road race titles in the Elite category (mass start and time trial). At the UCI Mountain Bike World Cup in Nové Město na Moravě she was the best Czech female competitor in the U23 category.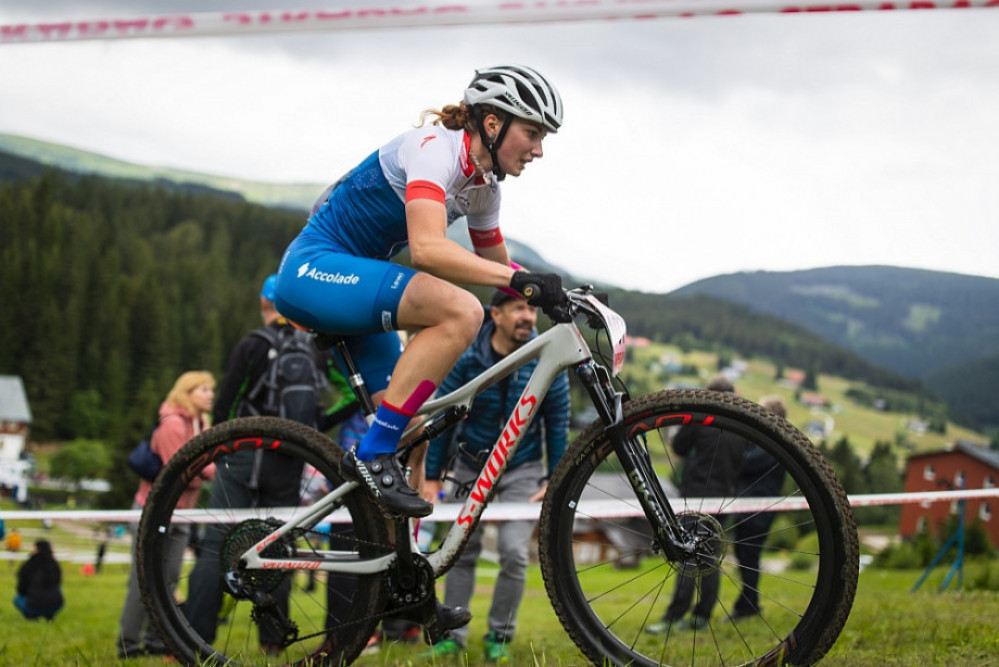 You have been doing sports since you were a little kid but eventually you had to settle on just one, right?
My parents' approach was to let me try everything: swimming, gymnastics, athletics, hockey, tennis, and ballet and also skiing, speed skating and cycling. As a kid, I went to an arts-based elementary school where I enjoyed painting and music. I think I never tired of sports because of my range of interests. Cycling came out of speed skating (at first it was only a complementary sport). That said, I had been racing since childhood. When it came to attending high school, I had made up my mind to stick with bikes. The choice was between studying in Jablonec nad Nisou or Nové Město na Moravě. Nové Město won out. And because during the winter lots of cyclists cross-country ski to stay in shape, that's what I had to learn next [Editor's Note: Nové Město is famous for cross-country skiing and is one of the locations on the FIS World Cup circuit].
How hard was it to pick up?
It was difficult at first. The first autumn, we left for three weeks of training and competition in Sweden and I cried a lot because everyone else had been racing since they were small and here I was learning for the first time. It's a very technical sport. But those first six months taught me a lot: I was on my own, which at 16 came as a bit of a shock, but it was rewarding just the same.
What bike races did you compete in as a kid? And what disciplines do you compete in today?
The earliest event was the Drahanská Highlands Cup, a series of races not far from Brno, which was not far from Třebíč where my family is from. We used to ride there every other weekend with my sisters. Then, I began competing and taking part in races – and championships – around the Czech Republic. I made the junior national team and have been a member of the squad every year since then. Since I was small, I competed on mountain bikes in XCO which is a discipline in the Olympic Games, and then I added XCE – sprints – and XCM marathons. I also compete in road races but there aren't as many of those races as I'd like. I also used to race at the velodrome, but gave that up and now use the indoor track mostly to stay in shape during the winter.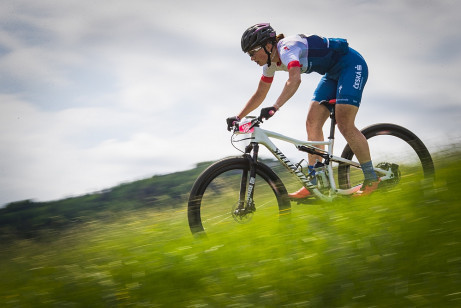 What was the toughest point of your career so far?
Last year, because I had problems with a bladder infection related to bad positioning of the bike saddle in time-trial races. We didn't have access to the bikes for training and got them only a few days in advance. It was the first time I was forced to withdraw from big races mid-season for health reasons. Three weeks into the season this year, I suffered an elbow injury when I was hit by another rider.
What is the take-away for you?
I try not to think about the risk of injuries or to worry – which could have a negative effect. But I don't seek out dangerous situations and I am happy when I feel technically in control on the bike.
Have you ever wanted to throw the bike down when things didn't go your way?
If you've won once, it's a feeling you never forget. And it's something you want to experience over again. That's the greatest motivation for me.
Do you suffer from nerves ahead of competition?
I get nervous before every race but I am used to it by now. Not being nervous would be a mistake: being a little on edge helps me focus.
When did you feel best?
It might seem strange but it was also last year. I didn't have any expectations and almost every weekend I was surprised by how well things went. The best was winning the National Road Race Championship in the Elite category.
How difficult is it for you to combine university studies and your sports career?
The first year was a little confusing before I figured out how things worked. I try and absorb a lot while in class and to catch up on the rest on evenings ahead of exams. I'm in my third year but I am not planning on taking my final exam this year. I am very happy to have found a balance between my studies and sport. My studies may have been slightly slower than they could have been, but I'm getting there!
You are studying at the faculty of education: do you expect to teach one day?
I do. I know that I will enjoy it and have the right abilities for the job. After I graduated from high school, I wanted to continue studying but it's true that my sports career was number one. I asked other sportspeople for advice and if they could recommend a good faculty. The Faculty of Education has been very accommodating: I have an individual study plan and even when competition requires me to be away for a three-week stretch, I am able to do both. My first two years went by without any problems. I am studying social sciences and physical education which is great for me: one-half is theory, the other practical. At school I can focus on learning and relax a little too, getting away from constant training.
What were the last few months like in terms of racing?
In October, I was very busy abroad. It was quite a strenuous end to the season in road cycling World Championship in Imola, then there were two World Cup events in Olympic cross-country, the World Championships at Leogang, in Austria, and finally the European Mountain Bike Championship at Monte Tamaro, in Switzerland. The season is now over but I am back to training to stay in shape. Over the winter I train between 20–25 hours a week: downhill, cross-country skiing, and hitting the gym.
In photos you seem to be a woman of contrasts: you are a workhorse on the bike, unafraid to get in the mud, yet at the starting line you always look great.
It's true that I like to accent my feminine side next to the boys on the team: we all wear the same team jerseys but I don't race without at least a little makeup. Doing my makeup before an event is even kind of a ritual and I think I look a little nicer too at the starting line.
The year that just passed, sports, like everything else, where heavily influenced by the pandemic: how did you get through the first wave?
The first state of emergency was hard. When things improved, things got brighter and we could plan for races again. We were lucky: we began riding again fairly soon and were able to train individually. Without the fans at races, it was a little lacklustre. When you are doing well in a race, they encourage you to keep going and you're not alone on the track.
Tereza Neumanová
Tereza Neumanová was born in Třebíč in 1998. She went to a high school with a strong sports programme in Nové město na Moravě, knowing she wanted to continue as a racer. She used to ride for Dukla and later for Česká spořitelna Accolade. Her best career results include the National Championship in the women's elite category in 2019.