When she was born, Dominika Hysková says she was a whirlwind that swept into her otherwise largely quiet family. She is eloquent and full of energy and her enthusiasm as the sole female student studying Military Physical Education in Czechia is contagious. One slight uncertainty? Which military unit she'll serve with once completing her Master's degree.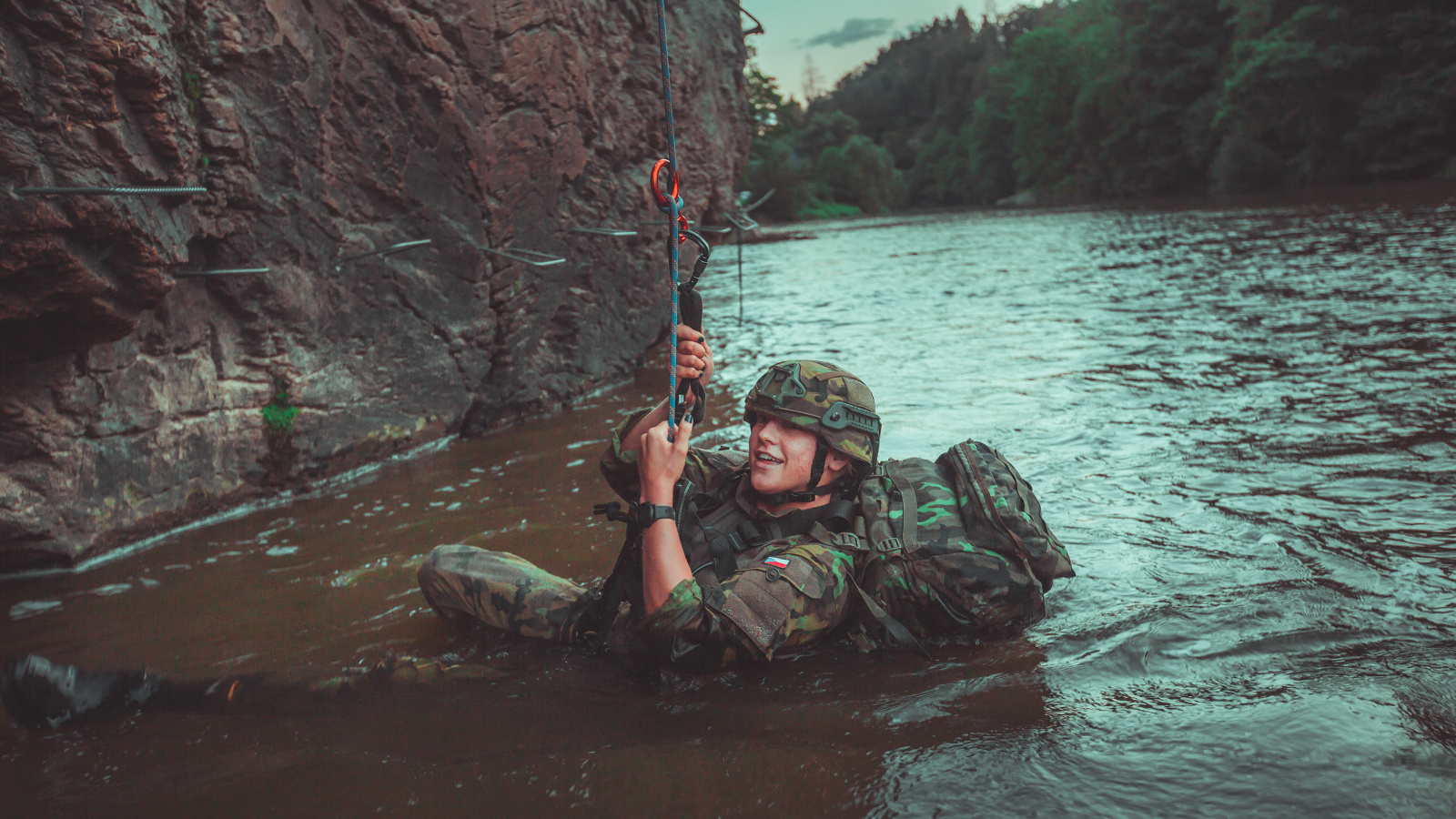 You are in your final year at the Department of Military Physical Education at CU's Faculty of Physical Education and Sport and will soon graduate. What will come next?
This year we have a choice of three army units, Rakovník, Prostějov and Stará Boleslav. Marks, achievements and personal character are all factors. If I can, I'd like to go to Stará Boleslav.
Why there?
It's not far from where I grew up (laughs). I'm originally from Dvůr Králové although I live in Prague now. Plus, they already have three physical education teachers in Stará Boleslav, so in case I go on maternity leave, it won't be such a problem.
Why does the army need PE teachers?
For physical evaluation and for various courses the army runs. Professional soldiers are required to pass a physical fitness test once a year. Army "gym teachers" evaluate their skills and fitness level and to help those who don't pass to get back in shape.
Soon you'll be a professional soldier: could you have imagined as much five years ago?
Jesus, never in my life! Based on my personality alone: I don't fit into the army environment at all (laughs)!
But now you'll have to adapt.
Well, I'm struggling with that, too. Because at the unit I'm going to, they're definitely not going to be used to having a woman in that job. So if I make a bad impression right off the bat, there will be no way to fix things. So I've been thinking long in advance about which unit to join.
How long will your obligation to the Army last?
I signed up for two terms. So if I graduate this year after five years, I'll have a 10-year contract to fulfil with the Czech Army.
You'll be free to leave after that?
That's a good question. I guess I could leave, but I'd probably have pay the army back for some of my studies. Because the army spent funds - we get a salary and we have free accommodation – if I left in my fifth year, for example, I'd be paying back about 400 thousand crowns [the equivalent of about 17 thousand US dollars ed.note]. But how it works after that, I really don't know.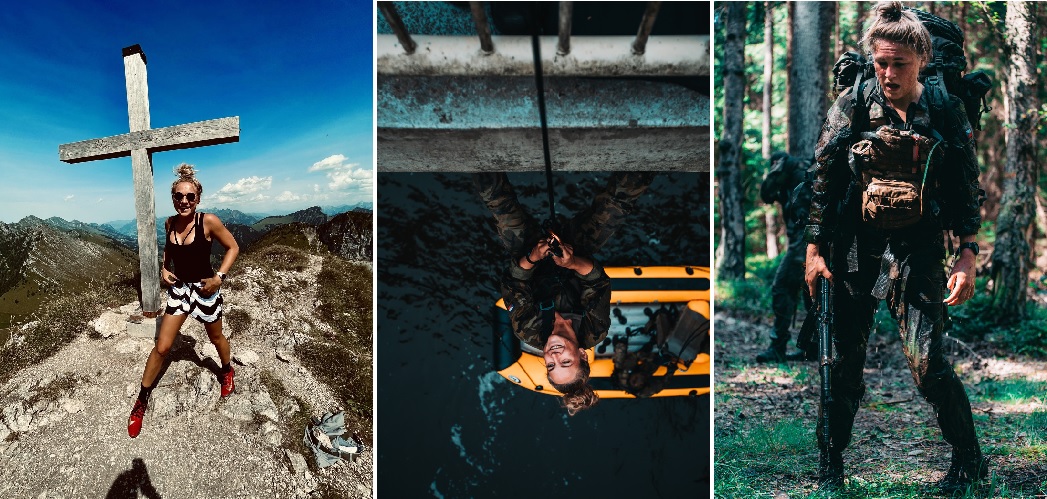 Did you ever consider joining the army straight away instead of studying?
No, not at all! I'm absolutely not the military type, nor has anyone in my family ever had anything to do with the military. I don't even enjoy war movies, I never really got into the real military (pauses for a moment). When someone reads this, they'll think: What the hell is that girl even doing there? But of course I love being in the army! I had no idea what I was getting into before I started my military studies. All I knew was how difficult the entrance exams for the school were, but what would happen next was an unknown.
You passed the entrance exam, specifically the practical military part, becoming the first woman to study full-time since this branch of studies was introduced in 2008.
The requirements for the military part are the same for guys and girls and are basically set up so that a girl can't get through them. But to everyone's surprise, I passed.
How long did it take the school to get used to the fact that "a girl" was there?
That's not a question for me, because I never felt unwanted at school. Of course, there were a few times, especially in the first few courses, when I thought "what the hell am I doing here"? But the guys never let on that anything was unusual and it helped that I'm pretty straightforward. Most importantly, we got together a really cool group. Separating the wheat from the chaff happens in basic training, which everyone has to go through. If I didn't pass that, it would automatically mean I had no business in the military. And the next big moment when others would have seen I couldn't hack it was actually in the fourth year in the comprehensive course.
There, we had to go almost four whole days without food (roughly 250g + live food on the second to last day), we slept three hours over the entire course, yet had to operate well with tactical equipment (a mock machine gun together with ballistic vest, climbing gear, and heavy backpack). The cherry on top was that we were almost constantly wet, either we had some activity in the water or it was raining. This was the first training where I could see in the others that they didn't know what to expect from me or if I could do it. Just because of the health aspects - the fact that we were almost always in the water and were soaked to the bone.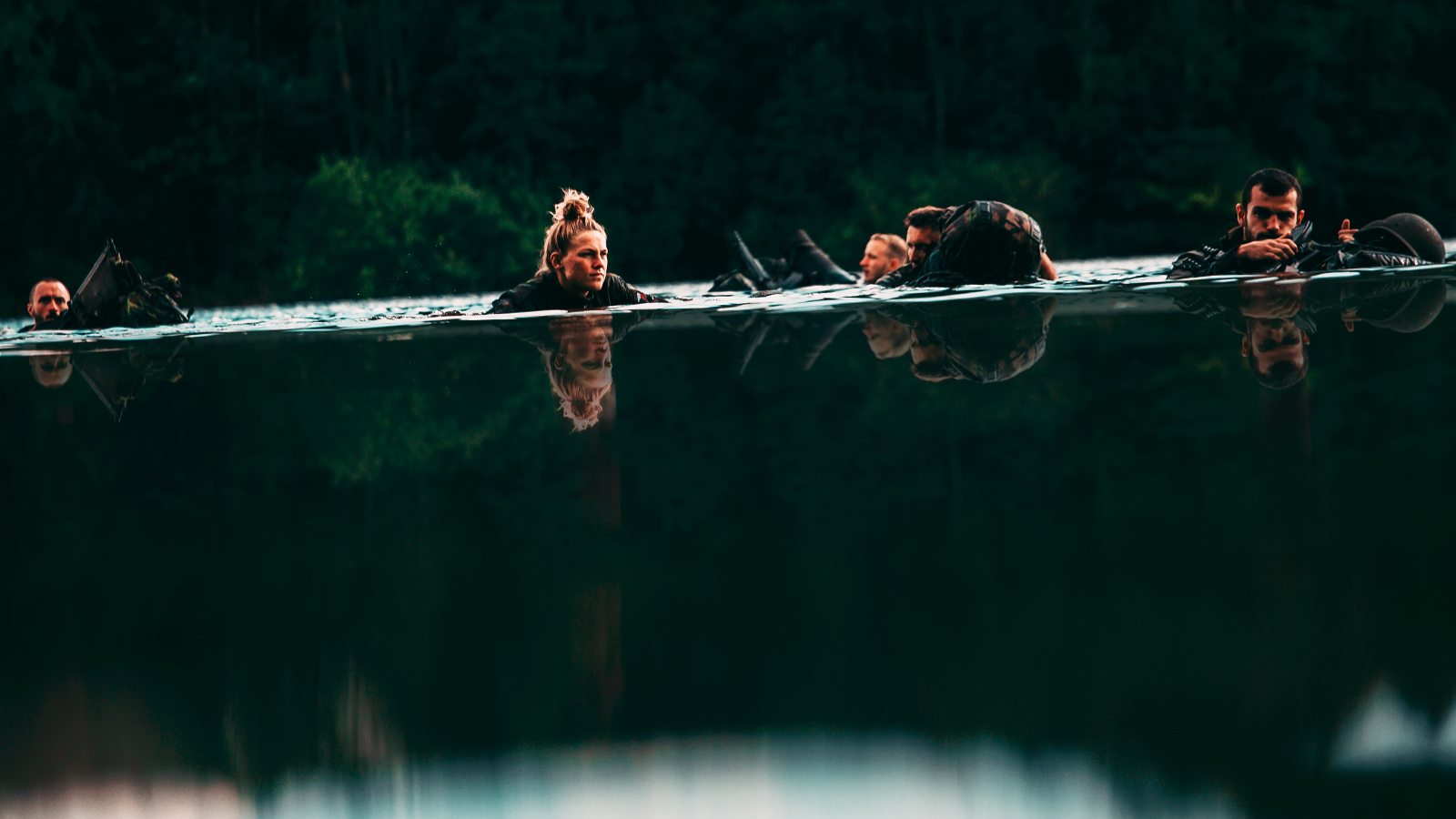 Soaked but not washed up: Dominika and fellow classmates test dark waters in a tough training course.
It occurs to me, did you try any Spartan races or extreme sports before starting school?
No, not at all! I only did track and field and gymnastics, and I swam a lot. So I was more focused on those sports rather than trying extreme things. Not that I had to force myself to do those activities at uni, I liked doing them, I just wouldn't have sought them out in private. But when I'm at school with the boys, I just can't let it go - I have to be good and I have to be tough. The motivation to do anything is completely different in public. I can't stand the feeling that the boys can do something I can't, so I just do it.
What has been the most challenging part of the programme for you?
We've had military climbing since freshman year, which has gradually increased in difficulty. I've done a few of those climbs, but it wasn't until now that I suddenly started to feel the fear of falling and dying. But of course I'm going to meet the challenge!
Then the most attractive course was when they dropped us off in the water where we spent some time in our wetsuits. Then a helicopter came for us, from which a paramedic jumped out and the helicopter pulled us both up on a rope, with us in tow flying maybe 100 metres above the ground. That was great, I really enjoyed that. That was probably my favourite experience in the military. My classmates and I had to get though these tough and sometimes pretty "shitty" experiences together that you can't have at any other school, and of course it's brought us a lot closer.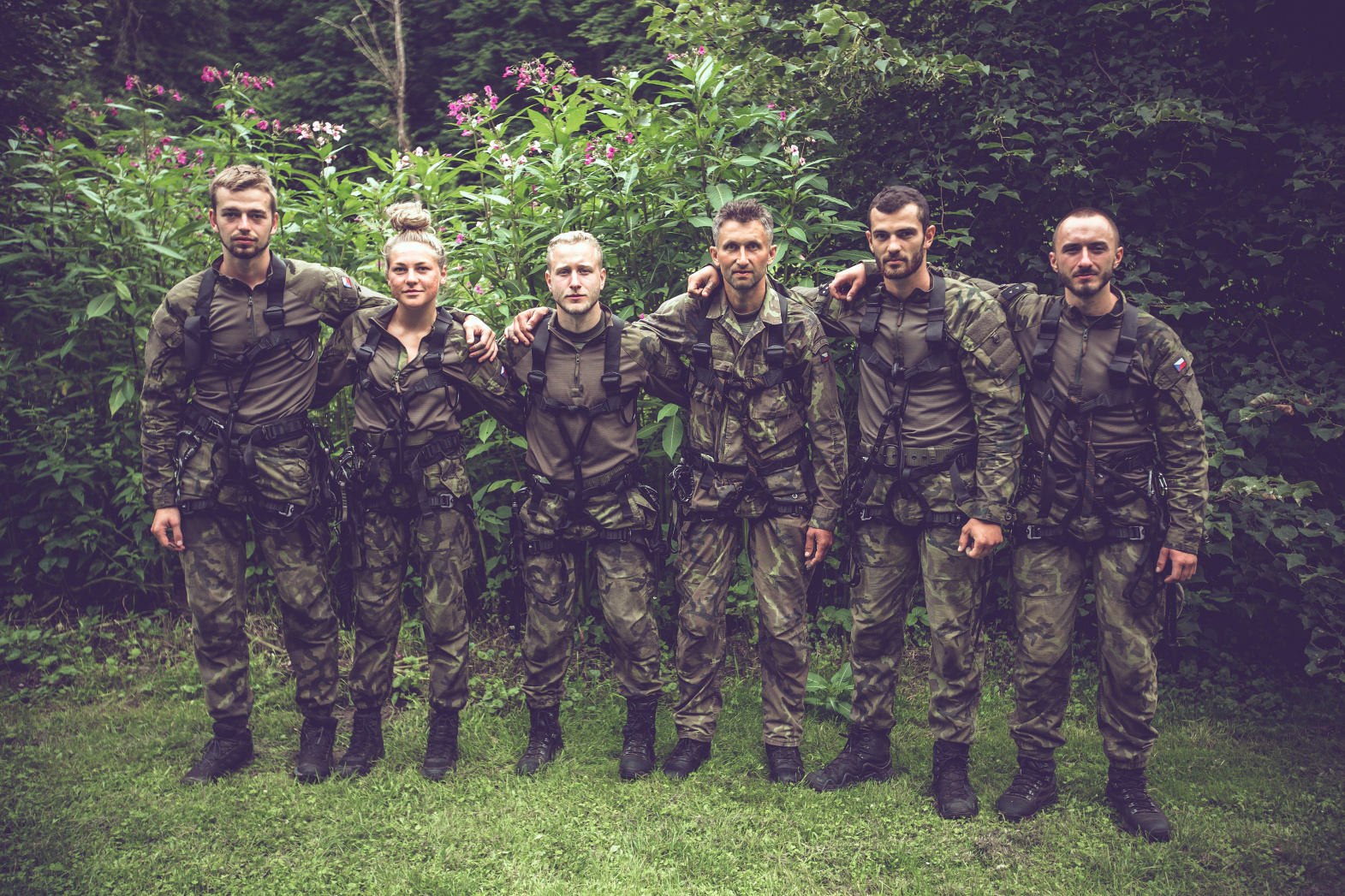 Dominika Hysková and colleagues in training.
Were you very active as a kid?
I have two older sisters who are very smart and well-read, rather quiet in nature. Then I was born, and it was like a whirlwind coming into the family (laughs). I was very lively, so from the age of three, my mother tried to put me in all kinds of clubs to try and give me things to do. In the end, I was most interested in gymnastics, athletics and swimming, but I'm not [snowboarder and downhill skier] Ester Ledecká to do all three sports at the top level. So I kind of "mixed it up" at the regional and national levels.
Did you have any problems with your liveliness and irrepressible character at uni?
I think being lively is one of the main reasons I never felt like I didn't belong here, because that's what my classmates like about me and it's one of the reasons they took me in as an equal. And as for my superiors, they are such consummate professionals that I wouldn't dare contradict them in any way. Because I know how good they are and I totally respect them.
When you were in elementary school - what was your idea of your future?
I definitely wanted to play sports. Or be a coach. And that actually came true.
Dominika Hysková
Dominika Hysková is a fifth-year student of the military branch (the Department of the Military Physical Education at CU's Faculty of Physical Education and Sport) where she was the first woman to be accepted for full-time study since the introduction of the military talent test. She holds the rank of sergeant-major. She holds the Czech record in the military swimming 50m hurdles. She comes from Dvůr Králové and has three sisters. In her spare time, she trains children gymnasts. After graduation, she will join the army and will be in charge of the physical fitness of Czech soldiers.