At the end of September, she won the national final of the FameLab competition. The future molecular biologist Eliška Jandová, a student of the Faculty of Science of Charles University, confirmed her knack for public speaking and, most importantly, outlined hope for cancer patients. On 25 November 2022, in the international online final in Cheltenham she then took super valuable silver! How did she achieve such success? "I thought it was the fastest three minutes in the world," Eliška Jandová reflects back on her national triumph. But she also dazzled the world in Cheltenham.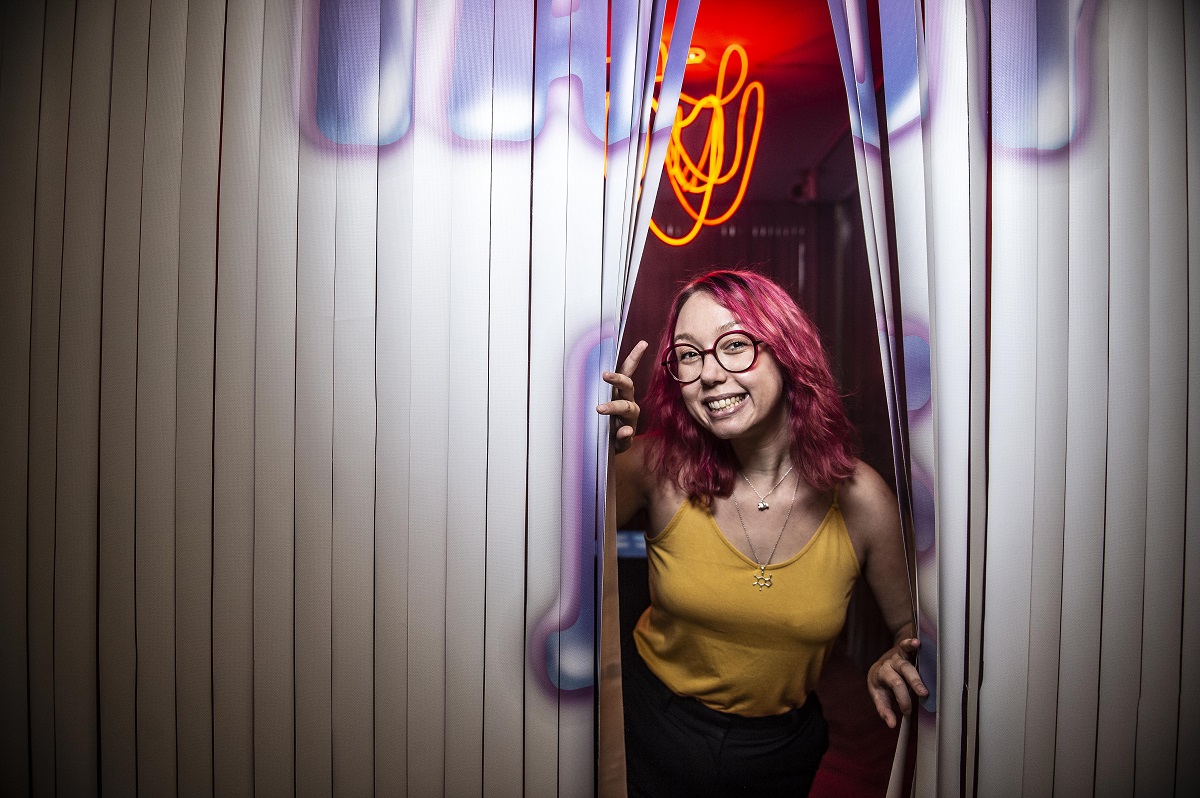 inimitable cherry redhead, student, future scientist and talented populariser and public speaker Eliška Jandová.

No wonder everyone wants to have a coffee with her. Her energy and cherry-coloured hair are contagious and her company a delight. Moreover, it may be over that coffee that she manages to explain to us non-experts a number of topics that we are a bit confused about. For example: what do you know about diagnostics that will help in the search for a medical therapy "tailored" to cancer patients? Eliška even prepared a talk about it called Hope in a Drop of Blood, and in one hundred and eighty seconds she reports with wit - yet scientific accuracy - on the research she is currently doing in her professional career. The jury agreed that she had the best entry of all 11 finalists at the end of September during the FameLab competition held at Kampus Hybernská.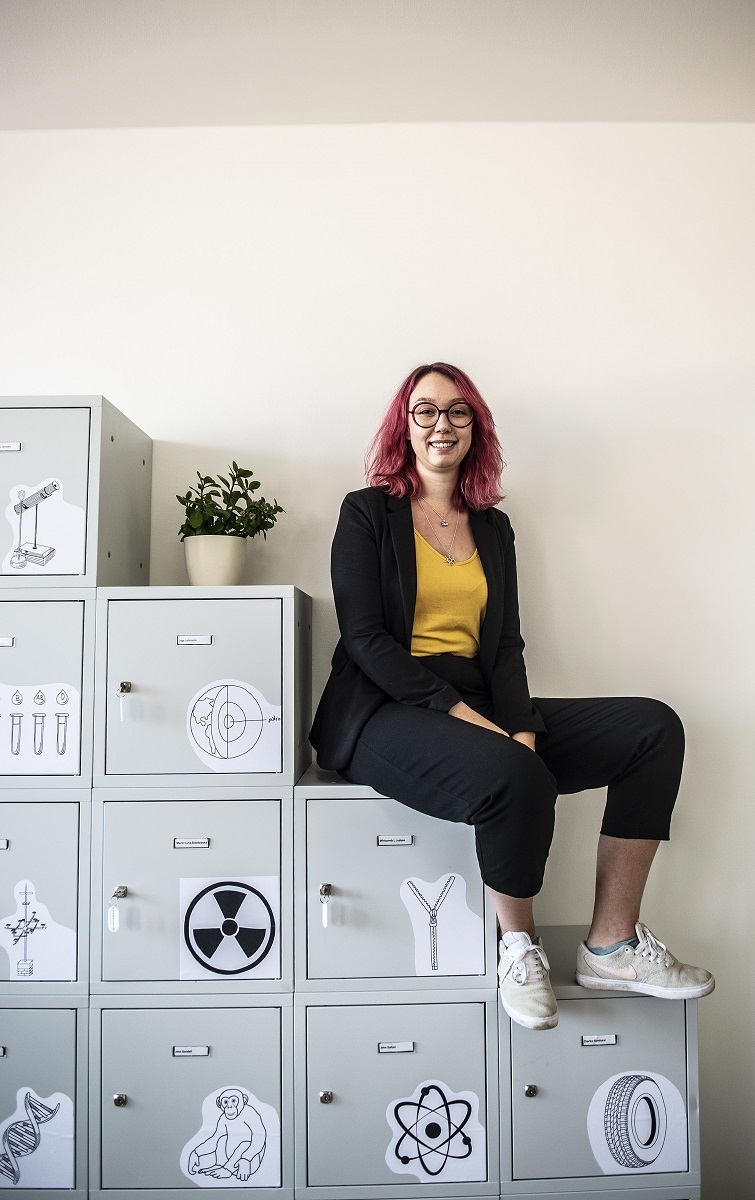 The fastest three minutes ever
"I thought it was the fastest three minutes in the world," says the young woman about her triumph. At the very beginning, she said she was overcome by the feeling that she would not make it, so to speak: "I set the timer on my watch and considered it a success when I managed to complete the interpretation in five minutes. But only in three?!," she recalls. And that's when she had to decide what was most important to the listener out of all the words spoken, and also what was essential to her as a scientist. "I said to myself: We'll get through this! I had to work mainly on the naturalness of the speech, to reduce the complexity and technical terms," says Eliška on how to approach success in the student competition. What was it like?
"I don't remember my performance at all," she says, surprisingly. She says she was so nervous that if a wave of adrenaline hadn't washed over her when she got on stage, she probably wouldn't have gotten a word out. And she says she talks all the time. Ever since she was a little girl. Eliška is clear: "My lifelong need is to talk!"
It hasn't been mentioned yet that she also gave her speech in English during the Czech round of FameLab; as the representative of the co-organizing British Embassy jokingly remarked, "The title of your lecture Hope in a Drop of Blood is perfect for a Hollywood movie." As for speaking in English? "I've found myself not really able to 'shut up' in a foreign language, sorry," she laughs, explaining her verbosity. "Many times they want to hear advice from me; I have to remind them that I am a molecular biologist, not a doctor."
From adrenaline to tears of joy
"When I watched the other contestants perform, I felt completely helpless. I was particularly excited about the mathematician Hubert Beck [from the Faculty of Mathematics and Physics of Charles University, who came third - ed. note]. My mother, my most loyal spectator, cried with emotion just because I made it to the final. Then when the rector announced the winner and my name was called, I think I fainted for a moment. It was only when she shook my hand that it dawned on me: I was first," the student recalls.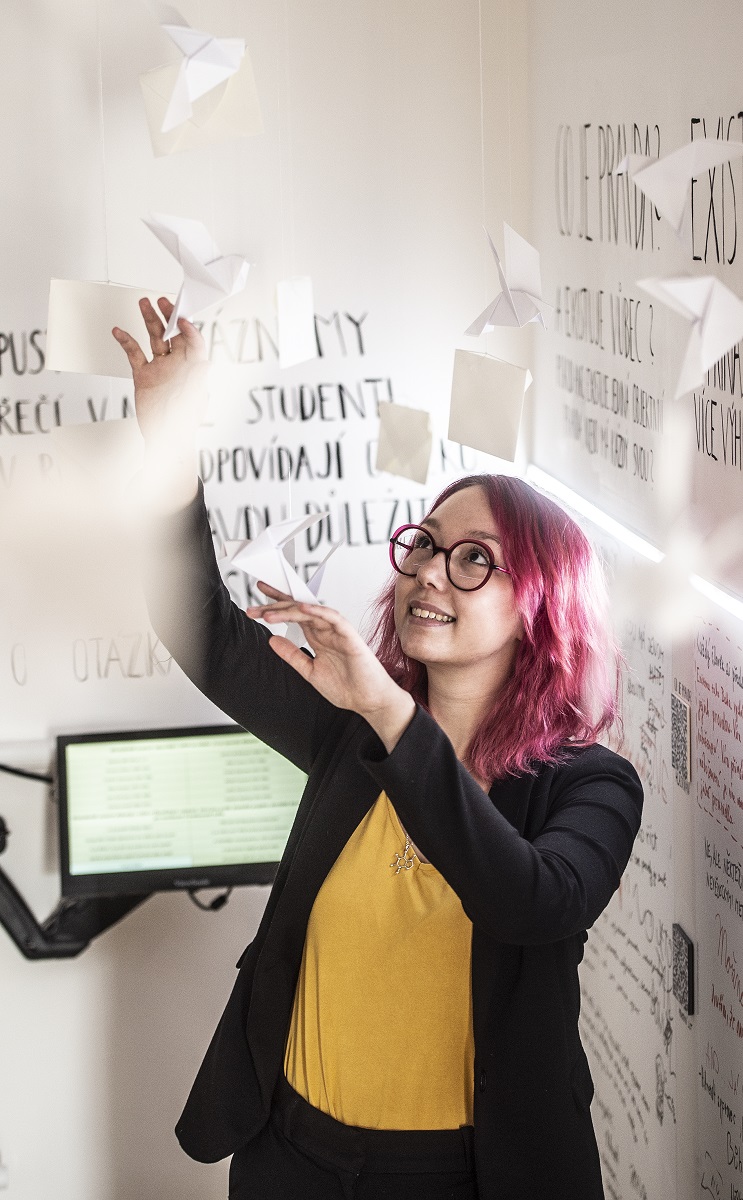 On 30 September 2022, Eliška received the prize for the winner of the FameLab National Final from CU Rector Milena Králíčková. Four days later, she repeated her successful performance - this time in Czech - at the opening of the academic year at the Kampus Hybernská.
Her emotions, heightened by the amount of money donated by CESNET, brought her to tears on the spot. "At the least opportune time - just as I was about to analyse data for my thesis - my computer crashed. And here comes this prize! I have a new, and in terms of capacity and programs, packed comp, which my wonderful friend Martin - soon to be a mechanical engineer - helped me choose," the biologist explains, explaining the unexpected and useful prize came at just the right time.
"When I started science, I was obsessed with reporting back home on everything we discussed at school. Winning the national FameLab may have confirmed a bit that I can talk about science," she reflects. While the audience from abroad likes to discuss vaccinations, diets or autoimmune diseases with the young scientist, colleagues at home are happy to gab about any of the topics which Eliška insists are "hot".
Yes, in fact, genetically inherited diseases have become one of her main subjects of focus, and one of them concerns Eliška personally, after she was diagnosed with Bechterev's disease [a chronic inflammatory disease named after the Russian neurologist Vladimir Mikhailovich Bechterev - ed. note].
Rebel with a cause
"When I took the state exams and the entrance exams for my Master's degree, I could see everyone with only one eye," says Eliška, describing the symptoms of the disease. And with her naturalness openness she explains: "Bechterew causes iritis. This means that cells accumulate in the eye and they tend to glue the pupil and the iris together..." As soon as we managed to stop the future scientist in her explanation, she revealed that she has been living with Bechterev for two years; she has gotten used to it. At the same time, she is grateful to experts who invented the current biological treatment: "If it wasn't for them, I probably wouldn't be in the state I am today."
You can't miss Eliška in a crowd; she has dyed her cherry pink (or is it straberry?)since she was 15. She says most of her friends wouldn't recognize her without dye. "I started in high school, it was a kind of rebellion. I mean, originally I wanted to be blue, but my mum talked me out of it - she thought this was much less crazy. I'm actually surprised I'm not bald yet! I've been really giving my hair a hard time," she laughs. And she also revealed her strategy ahead of this autumn's successful international FameLab final: "I'm knew I would have to dye it a little bit as it was going to be online, so everyone can see me. Clothes, I don't really worry about that - my long-standing classic is black and white – what's important is that my hair shined!"
A drop of hope
Eliška is now studying for a Master's degree at the Faculty of Science at Charles University. Her thoughts? "It's challenging, especially in terms of the amount of knowledge required. You are under constant stress," she admits. Although she has learned the pros and cons of scientific work, she wants to pursue it further. Her current goal is to complete her Ph. D. "As an undergrad, I considered Ph. D. studies 'suicide', but now - also thanks to my experience in the lab and my success in FameLab - I am motivated. Although it may not look like much, I feel better with a pipette in my hand than on stage," she reflects. In the future, she would most like to work in research of human samples. And I also see my performance of Hope in a Drop of Blood as a messenger of hope. And hope is something I would like to give to every person fighting cancer," Eliška adds.
As for the international final in Cheltenham? Six talented scientists took part in that, with Eliška's 'hopeful' lecture coming fifth. And overall, she was awarded the (shared) silver medal. Congratulations!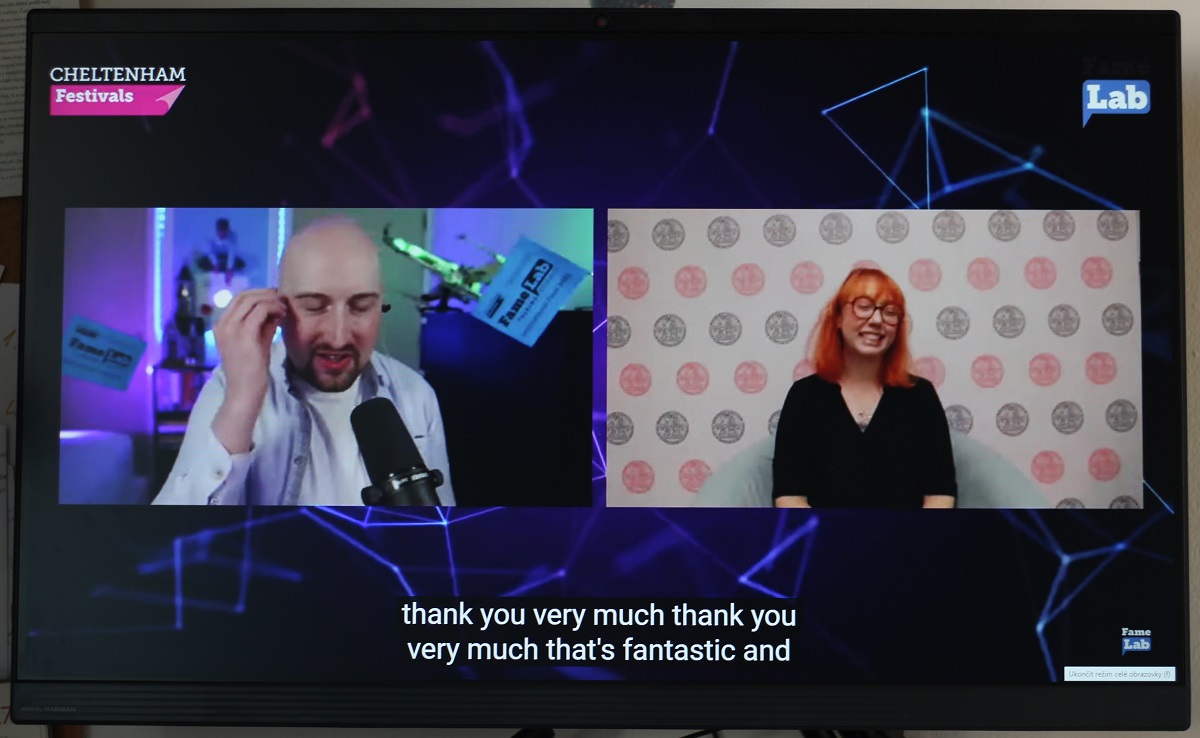 Although she is very strict with herself and only sets herself the highest goals, she is happy with her international placement. "In fact, even my job in the lab communicating science is much easier now than it was at the beginning," comments Eliška on her second place finish. She shares the silver with a young scientist from Thailand. Now, the future molecular biologist is looking forward to the fact that Charles University will allow her to participate in a science festival at CU, where she would be among the best speakers of all FameLab competitions from all over the world.
And if anyone thinks that Eliška fell a little short of what she promised, here's an explanation: "There was a mistake somewhere. I wanted to be bright red, and it turned out red. So now I'm going to be autumnal for a while," she says with a smile.
Eliška Jandová
Eliška Jandová comes from Plzeň. She is currently studying for a Master's degree at the Faculty of Science of Charles University in molecular biology, genetics and virology. Following her mother's example, she first wanted to be an economist, then considered law and a career as an interpreter: her grandmother was a Volhynian Czech. She studied Russian alongside English, and was even accepted to study it at the University of West Bohemia in Pilsen.
"In my senior year of high school, I finally decided to take chemistry so that I would have a chance to be admitted to the Faculty of Science. When there is a challenge in front of me, I go all out. After the entrance exam, I almost broke down," recalls the young scientist. She loves cooking, especially Asian food.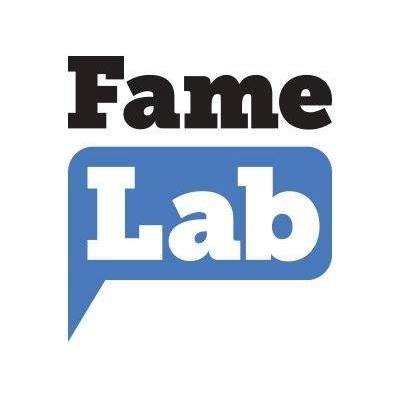 What isFameLab?
► An international science popularisation competition. Contestants have three minutes to explain a scientific topic of their choice without using a projector. The only permitted aids are those that the contestant can bring on stage themselves and take with them after.
► FameLab was established in 2004 in England to find new talent in science popularisation for the annual science festival organised by Cheltenham Festivals. After initial success in England and thanks to a partnership with the British Council, it spread abroad and is currently running in 23 countries.
► FameLab came to the Czech Republic in 2011 and was immediately met with unprecedented interest.
► Since this year, Charles University has been the licence holder for the competition in the Czech Republic.