Without question one of the most anticipated films this year is the epic motion picture Medieval by director and producer Petr Jákl. Forum talked to the CU graduate and successful former judoka at the Barrandov film studios about working with world class actors and his stunt past.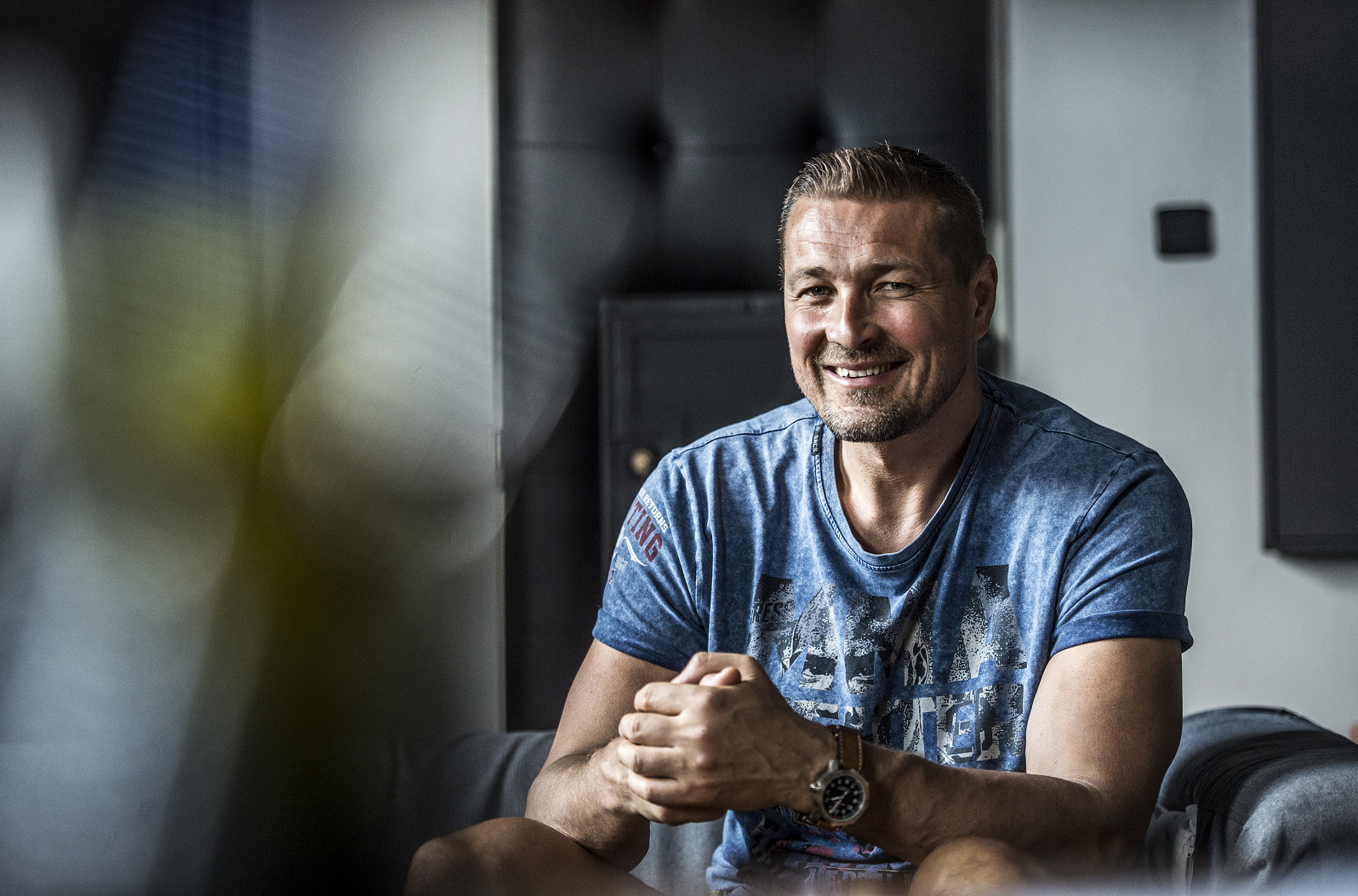 Medieval, based on the life of Jan Žižka, was in the works for four years: when did you first get the idea to make a film about the 14th century military leader and Czech national hero who was a contemporary and follower of Jan Hus?
That was back in 2011. A script started to emerge in collaboration with a few writers under my coordination but eventually I stepped in and continued writing the story myself. At the same time, I began looking for funding and raising money. At first, we raised some 90 million crowns, then it went up to 300 million with the idea that the film would have a global reach. And finally, two months before shooting, the budget went up another 150 million after actors like Michael Caine and Till Schweiger came on board. The actual filming began in September 2018, with about six months of preparation before that.
Michael Caine is a legend of world cinema. Was it easy to convince other actors after Sir Michael came on board?
Definitely. His participation made it easy to convince other actors. And it'll be his last film ever. With Michael Caine, I also produced Best Sellers, which was made after Medieval, but it has already been released. Medieval is expected to be Caine's last film, he is no longer interested or fit enough to make any more.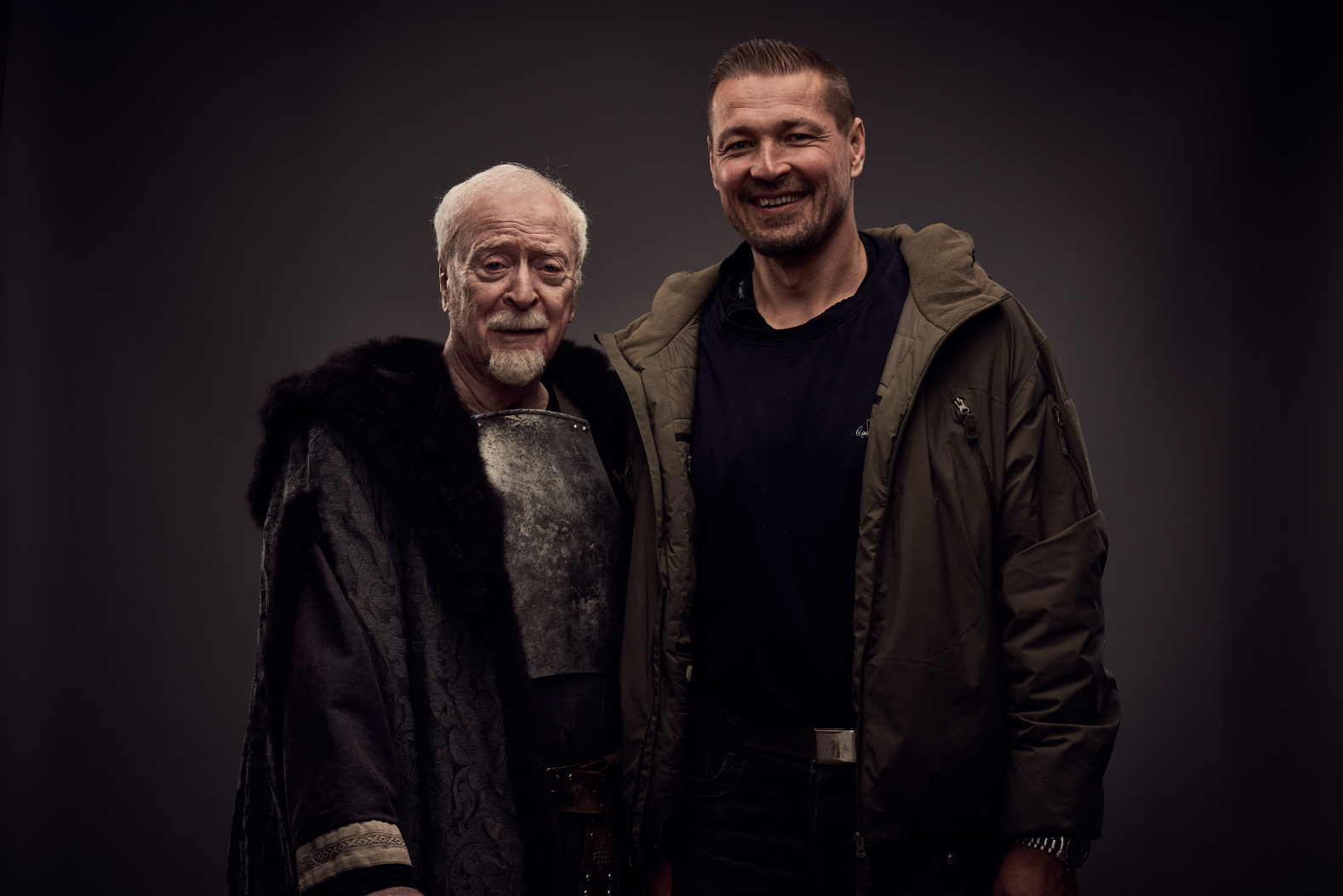 Petr Jákl with acting legend Michael Caine (The Italian Job, The Man Who Would Be King, Hannah and Her Sisters, The Dark Knight Rises).
Besides Medieval, you are involved as a producer in a number of other films. This year alone, Wash Me in a River (starring Robert De Niro and John Malkovich), 57 Seconds (Morgan Freeman), you were also in the Dominican Republic for a film about sharks. How do you keep up with so much going on?
You have to have a good team of people around you – otherwise it would be impossible. However, I still have individual producers for each of these projects, and each one is responsible for their own particular film. I get involved by getting the financing plus giving them creative input. But the actual filming is up to them. I don't really need to be on the set at all, and when I do visit, I think of it more as fun - if it's an interesting location or there are actors or filmmakers I'd like to meet in person. But otherwise, there's really no need for me to be there.
Willpower and judo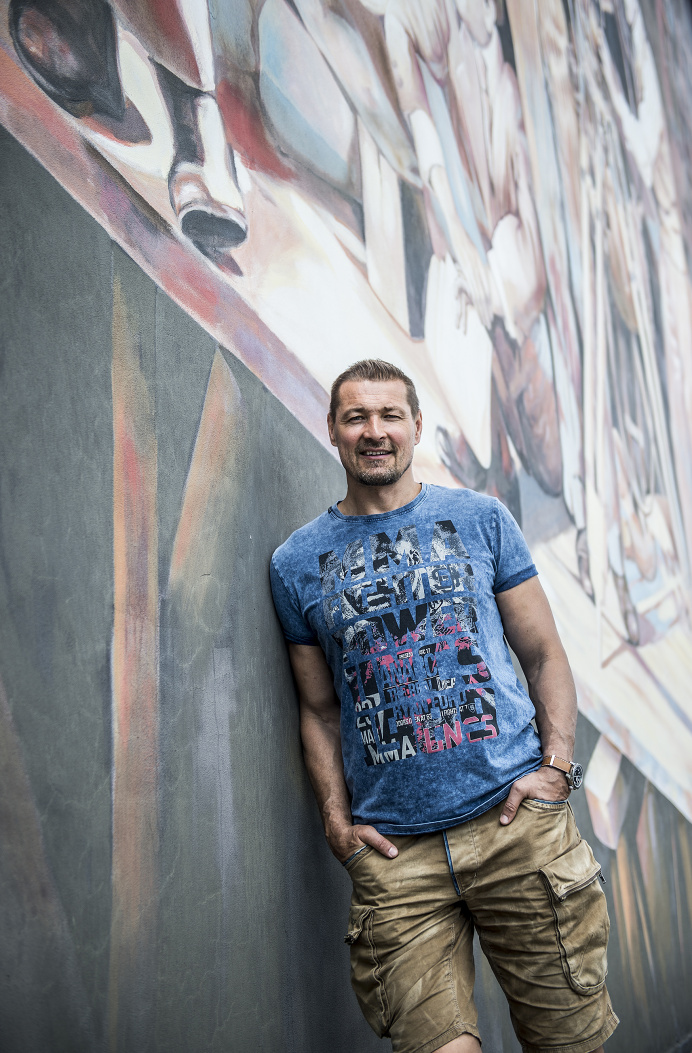 How did your background as a successful athlete help you for the role of producer and director?
Completely. I owe everything in my life to sport, in my case judo. Everything I've achieved in my life has been influenced by sport! Although I've always had a strong will, I've strengthened it a lot through sport and it became my strongest weapon. When I lost in competition, it was because I didn't have it in me at the time. But never because I hadn't put in my all or done everything I could.
You proved your determination back in 2000 when you qualified for the Sydney Olympics despite the risk of serious health problems.
Back then, doctors warned me that I might end up in a wheelchair. But I was so firmly fixated on making it to the Olympics that I couldn't not go. To this day, I still do most things instinctively as I feel them at the time. That was my approach in judo, that was my style, I never paid much attention to tactics. Emotionally, that was how I approached thing. Today I see how tactics are also very important and I suspect I would have won many fights that I lost [had I relied on tactics more].
I think sport in general helps a lot in your personal life. I have everything I have in my life thanks to judo. And my dad, who was the first Czech judoka to compete in the Olympics and is a multiple national champion, says the same.
Life of a stuntman
Following in your father's footsteps you also became, for a while, a film stuntman: what was that experience like?
When you're a judoka, you know how to fall. And that's the first prerequisite for a good stuntman. And when my dad wrote the stunt movie, Road to Hell, he needed some judo guys. So I took part, And then it continued in foreign productions, I worked on films like The Messenger: The Story of Joan of Arc, The Adventures of Young Indiana Jones, Bad Company and others. But I've never been a stuntman by profession, for me it's always been fun first and foremost.
You also had a small acting role in the action film XXX. It was so popular I heard that people in America recognised you on the street?
That movie premiered in 2002. And while nobody knew who I was before the movie, after the weekend premiere I was walking down the street with an actor who played the sniper, and people were stopping us everywhere and inviting us to all kinds of events. We didn't pay anything at all then, I don't remember taking a single dollar out of my pocket for as much as a coffee. If we wanted to buy something to drink they gave it to us for free, it was unreal!
Back then I had short blonde hair for the role and a lot of people compared me to Dolph Lundgren (Rocky III, Creed II, Universal Soldier, Expendables). Even his manager wanted to represent me, but they wanted me to stay and live in America. But I am too much of a patriot and I love the Czech Republic too much to stay in the US.
When you were acting in films by well-known directors, did you try to learn something from them on set?
I'm sure I did. I wouldn't have been able to direct films just by saying I was going to be a director and I didn't pursue film with the ambition that one day I would direct, watching how directors worked was just natural curiosity. It didn't occur to me that I would direct, I wouldn't have dared to do that at the time. I've always had a relationship with writing and making things up. My head doesn't shut off at night, I've been on sleeping pills for 20 years. I'm always coming up with ideas, so I've learned to write everything down. And on those shoots, I was interested in how things worked and how to do things, and things gradually fell into place.
For all three films you directed (Kajínek, Ghoul, Medieval) you ended up writing the screenplay. Does that mean you only trust your own approach, your own words?
It's just that I want it to be too much like me. In the last year alone, I've had offers to direct about 10 different pictures. It's just that, first of all, there was so much to do on the Žižka film that it wasn't realistic. Secondly, for the things that I would have liked to do, I would have had to make them very much my own. Which I suppose I could have done in the end, but directing is a very difficult job.
Does that mean you're taking a break from directing for a while after this?
Given I'm involved in as a producer in a number of films, an absolute break is not even possible. But I definitely want to take a break from directing, because as a director you spend an incredible amount of time on the film. And I have kids who are 14 and 11, and I want to enjoy them as much as possible.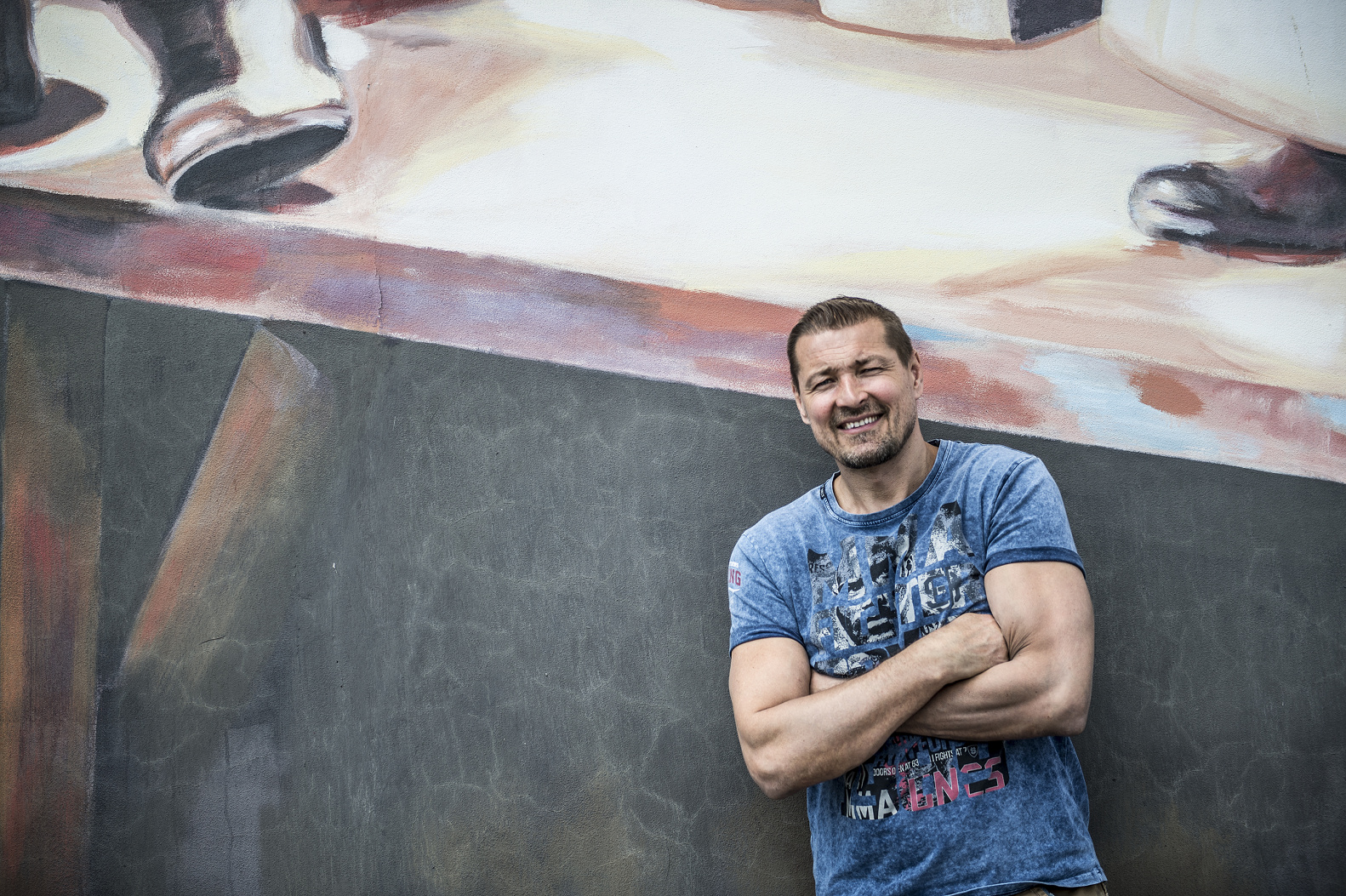 Still - do you have a theme in mind that you want to pursue as a director in the future?
I'm very fond of sports, but sports films are a very difficult genre. But I do have topics in my head that are somehow related to sports. And I'm also really into ecology and sustainability, I became a vegan four years ago. I think sustainability is very important considering the rate at which things are developing. So I would be interested in that topic as well.
If your next film were to be a sports film, would it be about judo or would you prefer to avoid that?
If it were possible, I would definitely like to make something about judo. But I know how difficult it is to transfer the emotion of a match to a person watching at home in their living room. It's much easier to convey a fist bump than when two judo players hold each other for a few seconds and nothing seems to happen. Yet the power inside both fighters is so great that you think something is going to snap at any moment. There are many sports which are definitely easier to film.
You were inspired to make Medieval by films like Braveheart and Gladiator. Which is your favourite sports film?
Rocky. That's what I grew up with. I've seen every film in the series about a hundred times. I used to watch it for motivation during my sports career. If I ever felt like there was nothing left to give, I'd tell myself I had to be like Rocky.
Petr Jákl
Petr Jákl graduated from the Faculty of Physical Education and Sport at Charles University. As a judoka, he is a former member of the national squad. He qualified for# the 2000 Olympic Games and several World Championships, coming fifth in the European Championships in 1998. As a stuntman, Jákl worked on films such as The Messenger: The Story of Joan of Arc, Bad Compnay, XXX, Alien vs Predator, and Bathory: Countess of Blood. He has directed the feature films Kajínek, Ghoul, and Jan Žižka which premieres this September. As a producer he has worked on films with Hollywood stars such as Samuel L. Jackson, Michael Caine, Al Pacino, Robert De Niro, and George Clooney. With his wife, former TV presenter Romana Vítová, he has two daughters: Sofia and Elisa.