The first week in September saw the opening of the Didaktikon Educational and Creative Centre at Kampus Hybernská, successfully bridging cooperation between Charles University and the City of Prague. Ten interdisciplinary and interactive exhibits and a number of events await visitors. It is free for schools.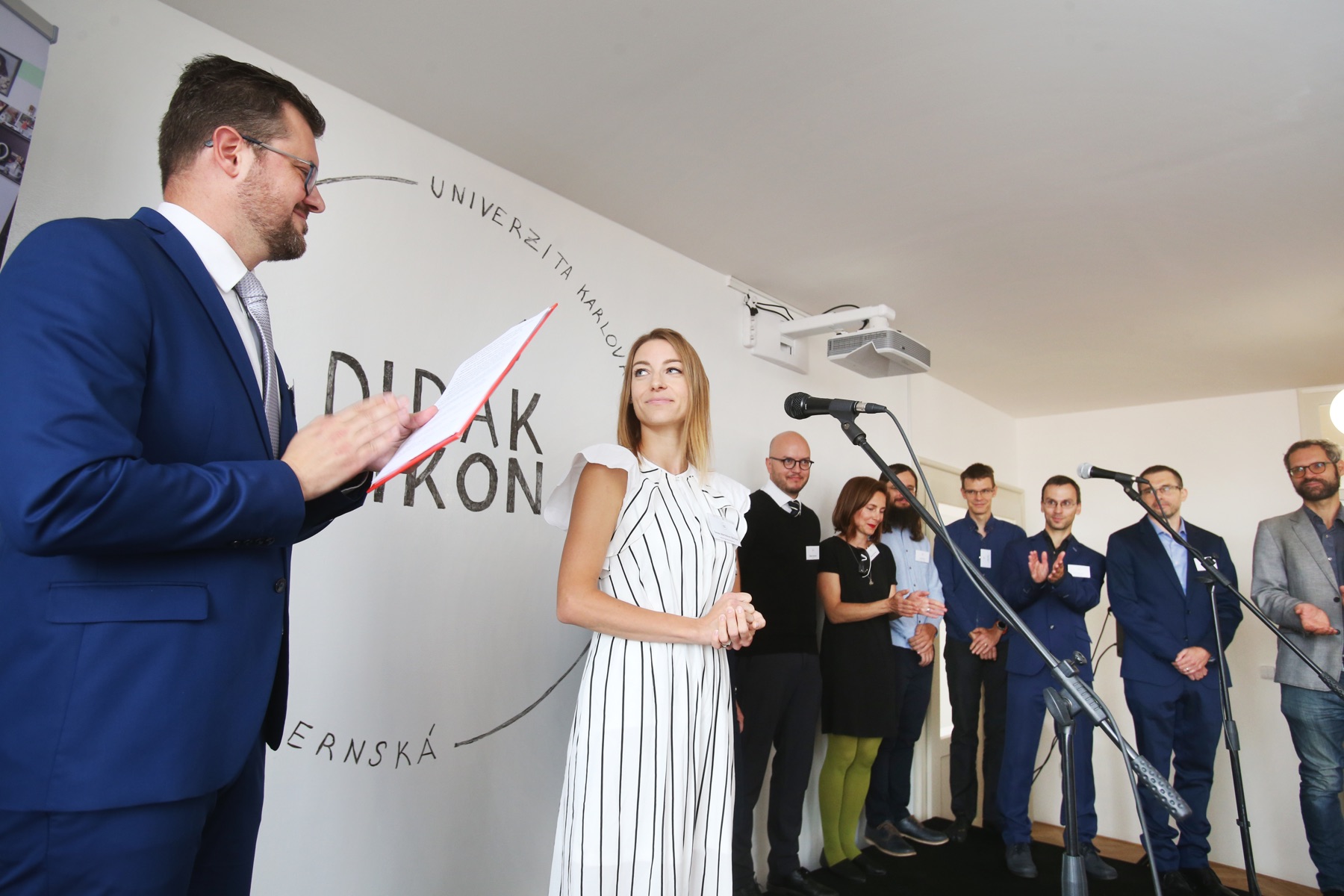 From left: Vice-Rector for Public Affairs Martin Vlach, centre manager Tereza Martínková Bártlová, a number of exhibition creators.
What is love? How does sound travel? Can our own eyes deceive us? How much science is there in a show like The Simpsons and how advanced is artificial intelligence? These and other intriguing questions are par for the course at the Didaktikon education centre at Kampus Hybernská which welcomed its very first visitors at the opening ceremony on Tuesday, 6 September.
The Didaktikon Educational and Creative Centre is a joint project between Prague City Hall and Charles University and is above all intended for primary and secondary school students and their teachers. The centre will also offer events for the general public or university of the third age courses at Charles University and educational courses for teachers. Upcoming public events include the European Day of Languages on 30 September, FameLab and the Czech European Researchers Night. Look up the full programme can be found at didaktikon.cz.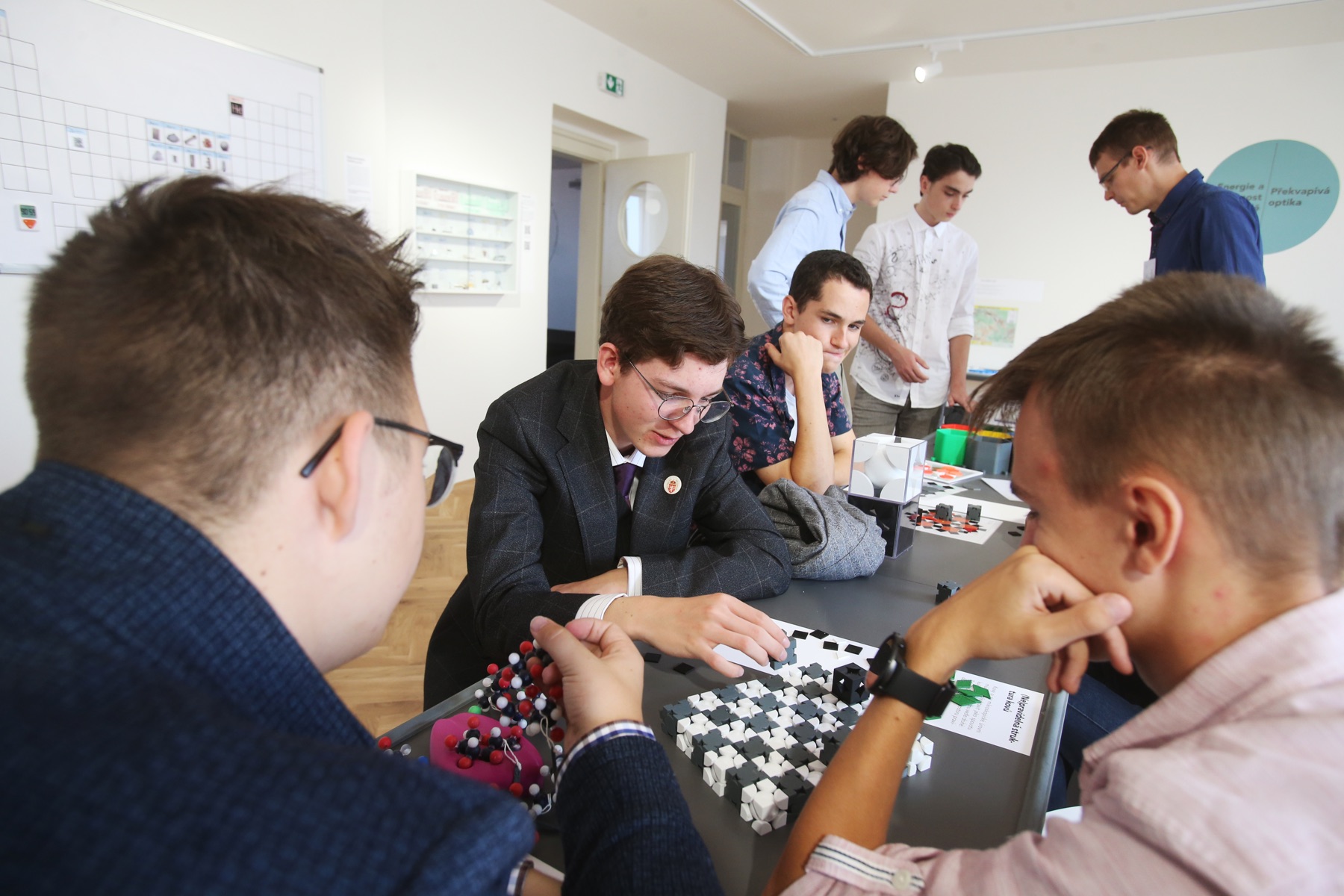 Students from the Smíchov Secondary School of Industry in Prague were the first to visit the Didaktikon centre.

"The aim of Didaktikon is not only to introduce young people in a creative way to scientific knowledge and disciplines cultivated at the university, but also to pass on pedagogical know-how. It's not just about exhibits, but we also create other didactic activities and know how to work with teachers so that the visit is really beneficial for pupils and students," Martin Vlach, CU's vice-rector for Public Relations explained.
"I am happy. Happy that it was successful. The enthusiasm of the people who have been implementing our crazy idea all this time and especially in the last weeks is admirable," Vlach – one of the instigators of the project who admits it all began "over a beer" a few years back, told Forum magazine. "Don't expect a traditional science centre, ours is a bit 'punk' with a D-I-Y approach: much of it was home-built - but I think it has heart and unique content and a visit will be a real thrill."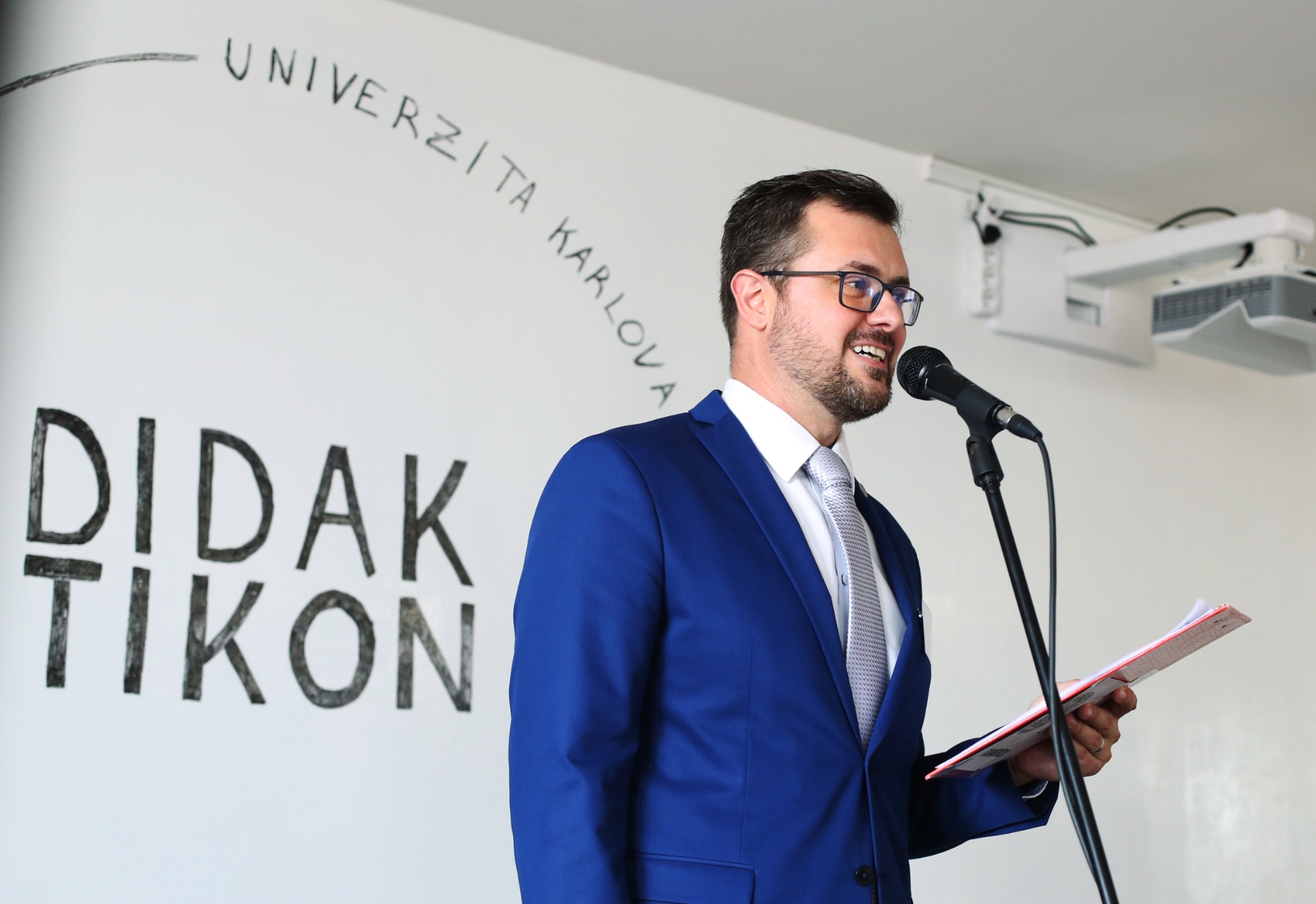 CU Vice-Rector Martin Vlach speaking at the opening of the Didaktikon centre on 6 September 2022.
The centre covers 800 square metres on the fourth floor of the "A" building of the Kampus Hybernská multifunctional space and currently offers ten installations and one escape game, a pastime that has proven hugely popular the last while. "The uniqueness of the exhibitions lies in the fact that they are truly interdisciplinary. Each of the exhibits has been created through the collaboration of experts and professionals from multiple disciplines at Charles University. We are all familiar with the various science centre exhibits, which, while interesting, are often focused on one particular phenomenon, one scientific field. We wanted to show that in the real world nothing works independently, but it is a combination of many scientific disciplines," says mathematician Tereza Martínková Bártlová, manager and expert guarantor of Didaktikon.
The inter-disciplinarity approach was also appreciated by Charles University Rector Milena Králíčková at the opening ceremony: "I am proud that Charles University and Prague have managed to build a truly multifaceted educational centre that is second to none and I believe that today's 10 exhibits are just the beginning. For me personally, Didaktikon is proof of what people at Charles University can do. They are not lacking in enthusiasm and determination to do their best."
What unforgettable and unique exhibits await visitors?
• Automatic philosophical theatre machine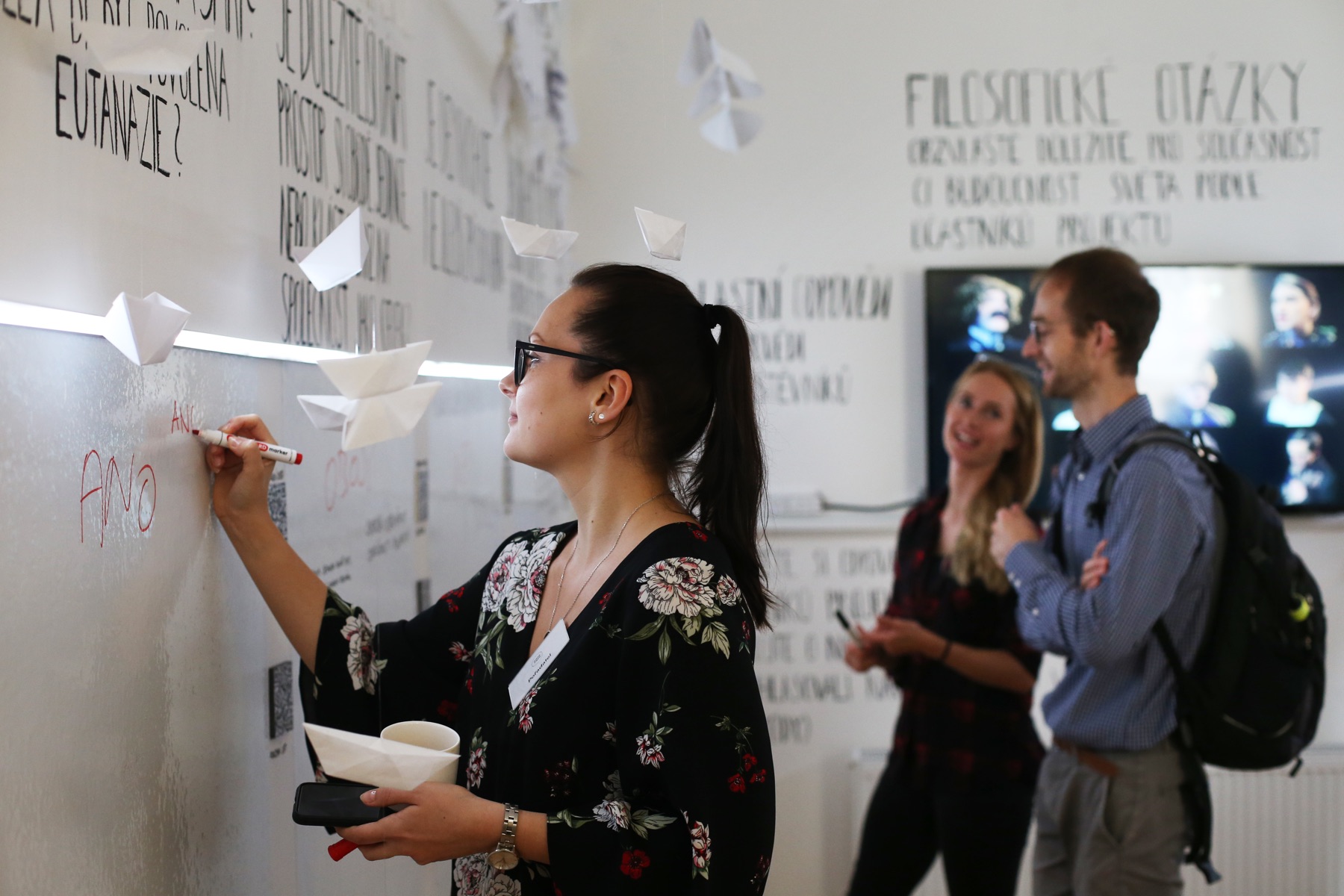 What is "good"? Is the meaning of life found in work? And is there any meaning to life at all? What is love and what is a "good" death? Those are just a few questions that students will explore as philosophers and scientists. The project is based on a problem-oriented approach to high school philosophy education. The goal is to develop students' thinking by thematising current issues across history and disciplines. The 10 most important questions for the present or the future of the world were formulated by the students of the Na Vítězné pláni Gymnasium, the Faculty of Arts, the Faculty of the Humanities and the Faculty of Mathematics and Physics of Charles University. Thanks to the concept of philosophical theatre, students develop the ability of interpretation, debate and discussion.
Matěj Král (Faculty of the Humanities), Jakub Čapek (Faculty of Arts), Veronika Kodetová (Faculty of Mathematics and Physics), Ondřej Kohout (DAMU)
• Symmetry and energy in nature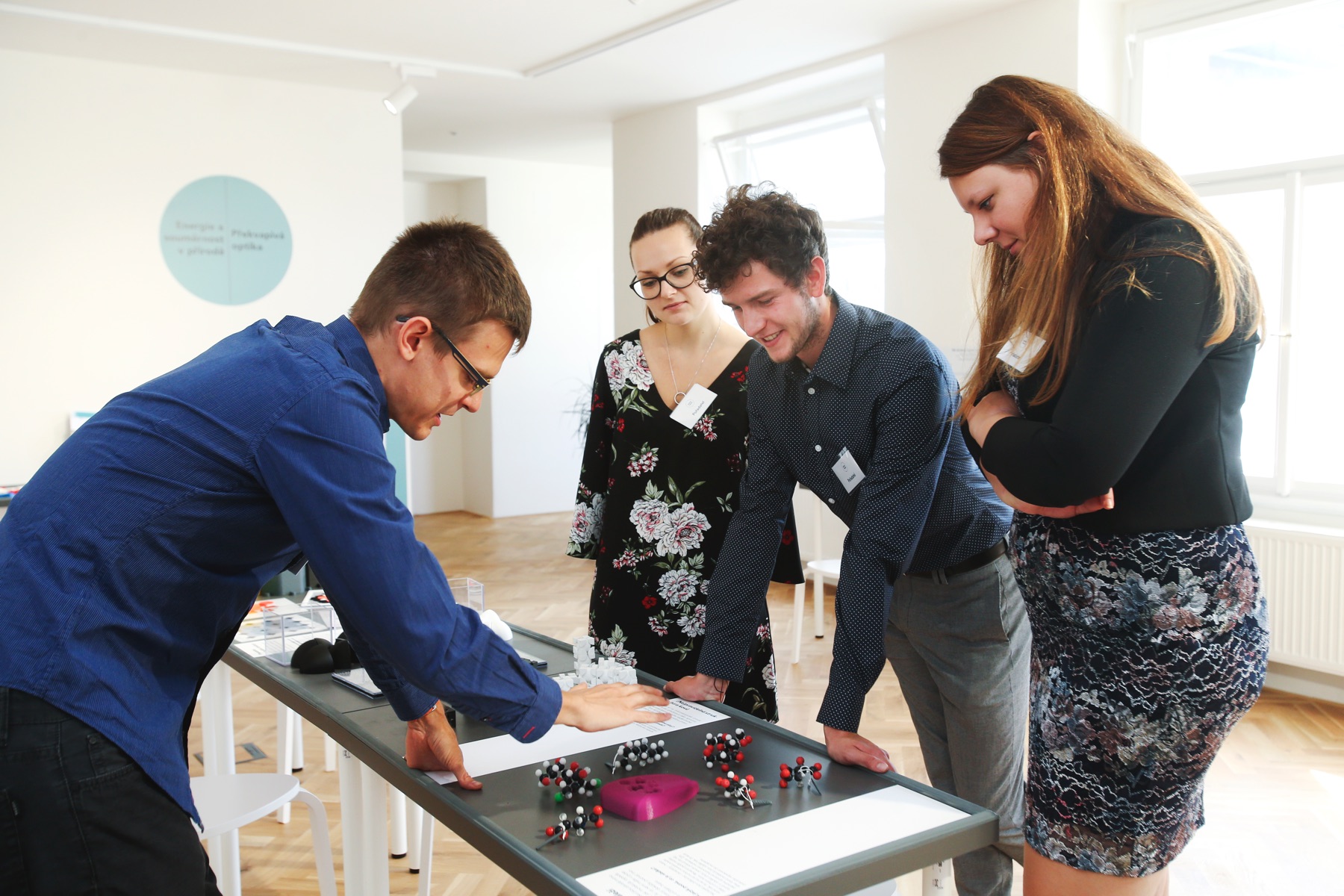 Didactikon launched central motifs of the exposition about living and non-living nature. The purpose is to introduce concepts that are relevant to all natural science disciplines and have significant overlap with other fields, such as the social sciences. Visitors will experience how the world of symmetry of molecules and crystals works. Or, for example, put together a 3-D puzzle of the Czech Republic.
Václav Martínek, Luděk Míka, Tomáš Matějček, Petr Šmejkal (Faculty of Science)
• Musical Worlds of a legendary Romani musical family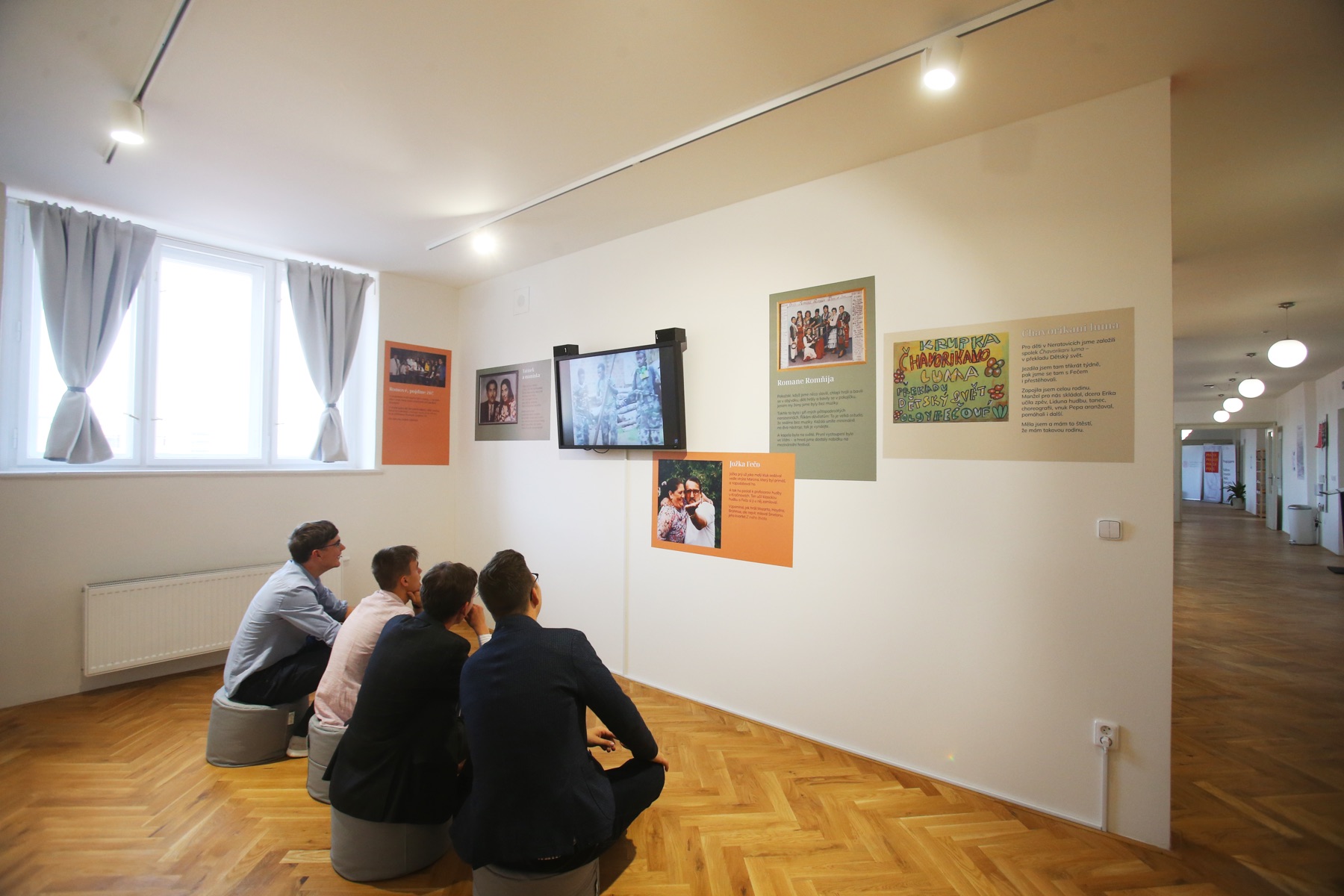 An interactive virtual exhibition using ethnomusicological and Roma expertise presents the remarkable musical family of Jožek Fečo. It captures the past and present of the complex world of this unique Roma musical family, its diverse creativity and social activities. The presentation of the musical world of the Fečo family offers an intimate insight into the transformation of the Roma musical tradition in 20th century Czechoslovakia and the process of "making music" as a profession, entertainment and service with overlapping community work and energy source.
Zuzana Jurková (Faculty of Humaities), Helena Sadílková (Faculty of Arts), Alena Libánská (Faculty of Humanities), Jan Mucska
• Life with Artificial Intelligence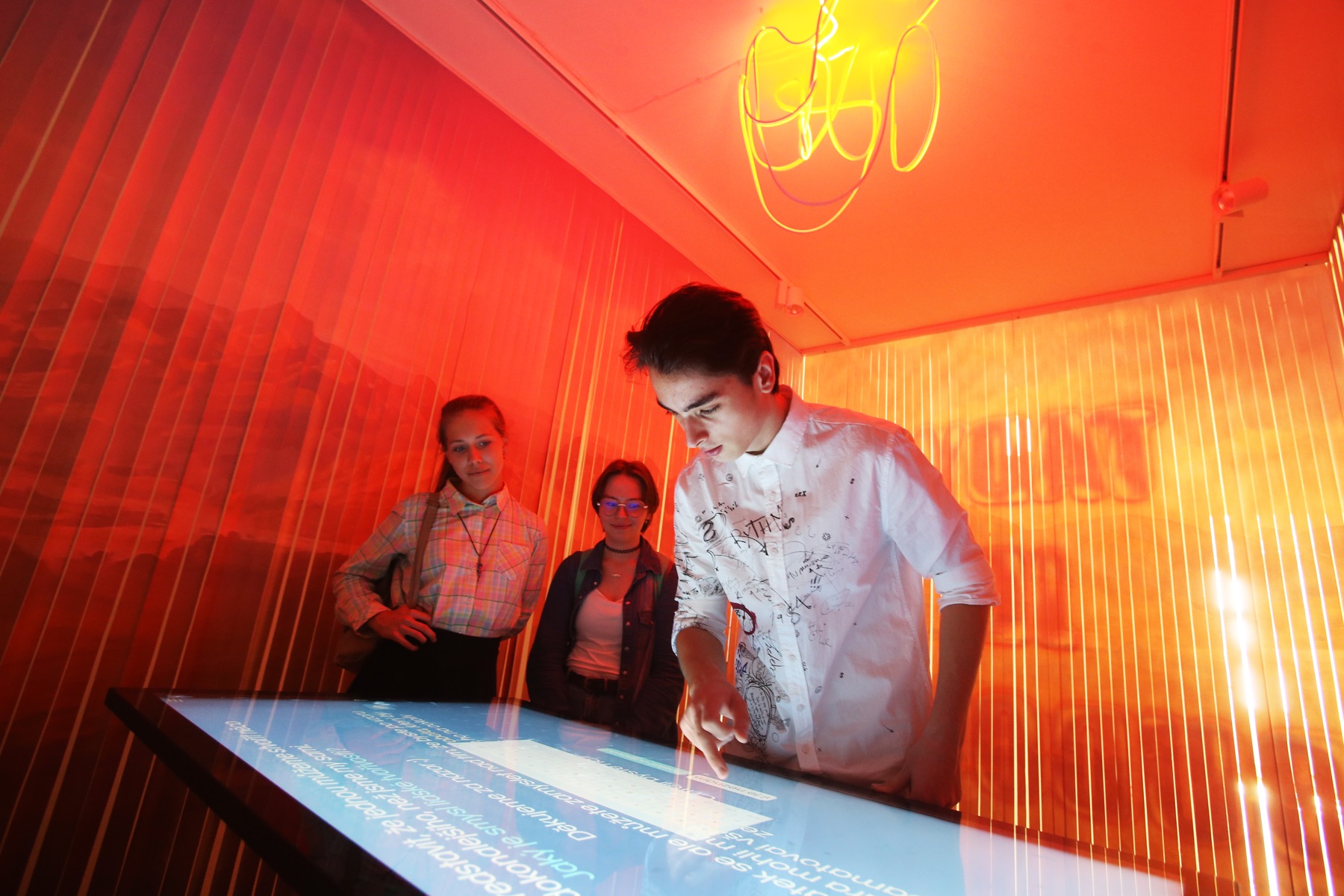 What does life with Artificial Intelligence (AI) look like, what will it be like in thefuture and what it actually is AI at all? An exhibition co-created by humans and AI will offer answers. "The landscape you see around you was generated by artificial intelligence, the light element on the ceiling is a human creation. The main element of the exhibition is an interactive table where we show artificial intelligence in the context of different fields of human activity, such as art, medicine, law or religion. We show what artificial intelligence can do, what it could do and where its limitations and risks are," says Rudolf Rosa, one of the authors.
Rudolf Rosa, Tereza Hannemann, Petr Kácovský, Jindřich Libovický, Michaela Mázná (Faculty of Mathematics and Physics), Nikol Kopáňková (Faculty of Arts), Petr Kajzar (First Faculty of Medicine), František Štěch (Protestant Theological Faculty)
• A Year of Distance Learning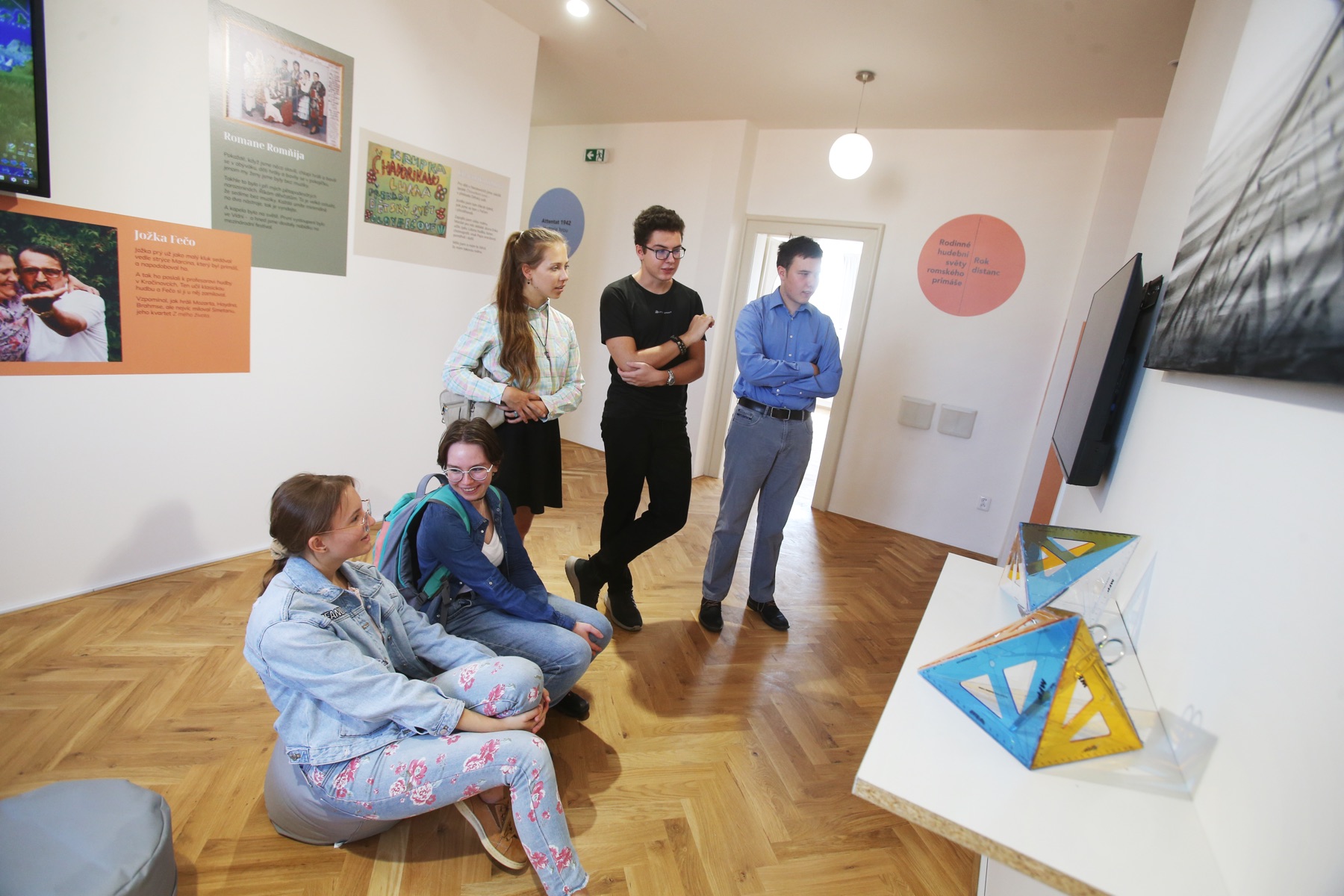 What did the Covid pandemic and related distance learning change? This interactive exhibition reflects on the year of distance learning in the creative industries. The aim of the project is to make available and present the know-how of individual teachers and educators (most of them also active artists) in the teaching of creative subjects. This is done both by presenting interesting works that have been created in the context of practical subjects taught online, but also by their testimonies as teachers and learners, relating to what shifts they had to make, what they themselves have learned from this situation and how the new knowledge can be used in the future.
Vendula Fremlová (Faculty of Education), Andrea Průchová Hrůzová (Faculty of Social Studies)
• Science in The Simpsons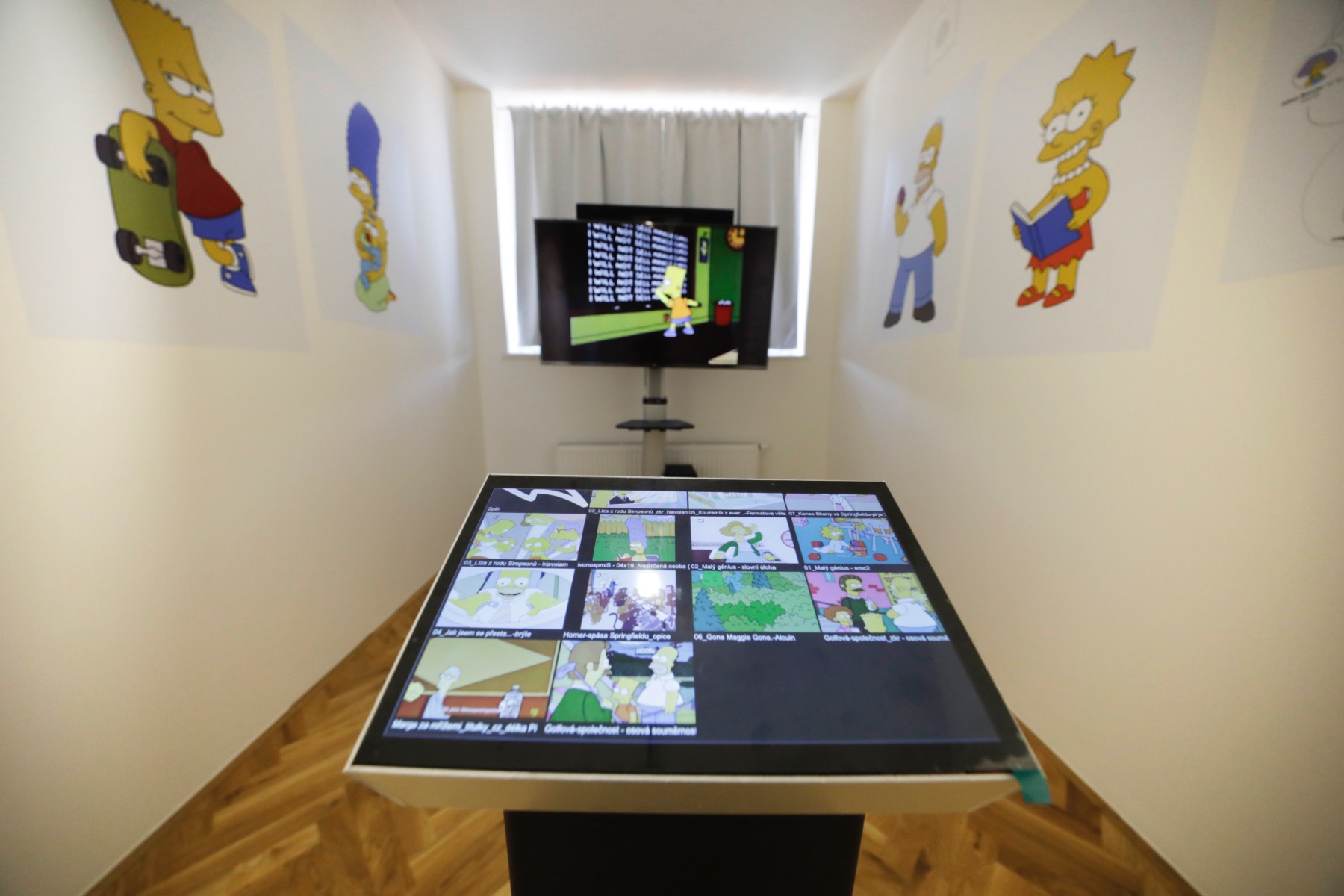 How much science is there in the popular Simpsons series? A number of (seemingly meaningless) allusions run through the series, but they often hide a deeper scientific point. Through specific examples and demonstrations, visitors will learn about some of the scientific moments of the series and get further explanations of the subject in a broader context.
Tereza Martínková Bártlová (Faculty of Mathematics and Physics), Eliška Selinger (Third Faculty of Medicine), Tereza Roznerová (First Faculty of Medicine), Ondřej Hoflerka
• Attentat 1942 – History through play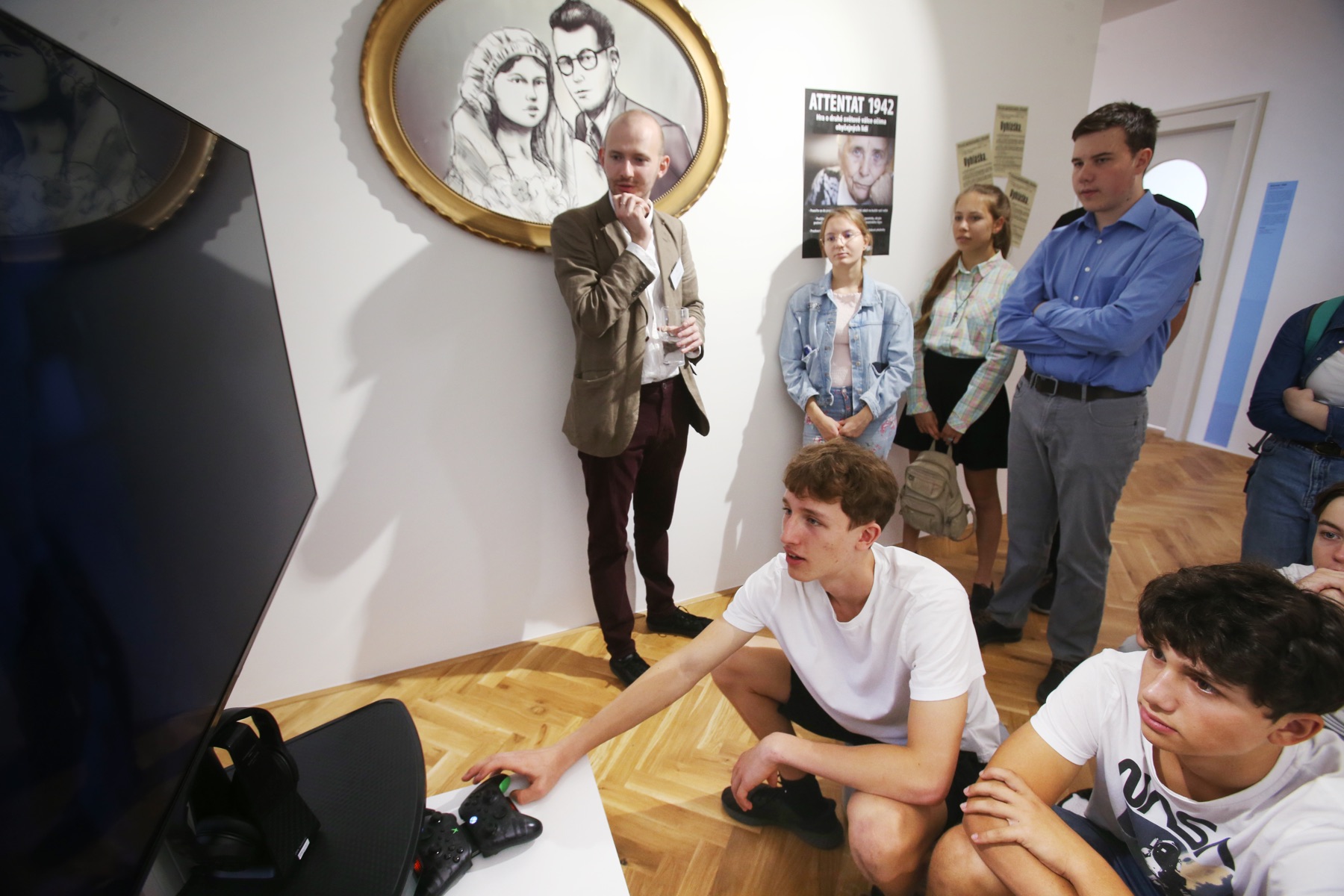 Charles Games create internationally award-winning historical educational computer games. Visitors to the Didaktikon Centre will be introduced to the game Attentat. The exhibition also presents games as an interactive medium for teaching history. It will also include mini-presentations explaining the interconnectedness of different disciplines in the creation of games and introducing games of different nature and focus.
Lucie Formánková (Faculty of Arts), Vít Šisler (Faculty of Arts), Lukáš Kolek (Faculty of Mathematics and Physics)
• Surprising optics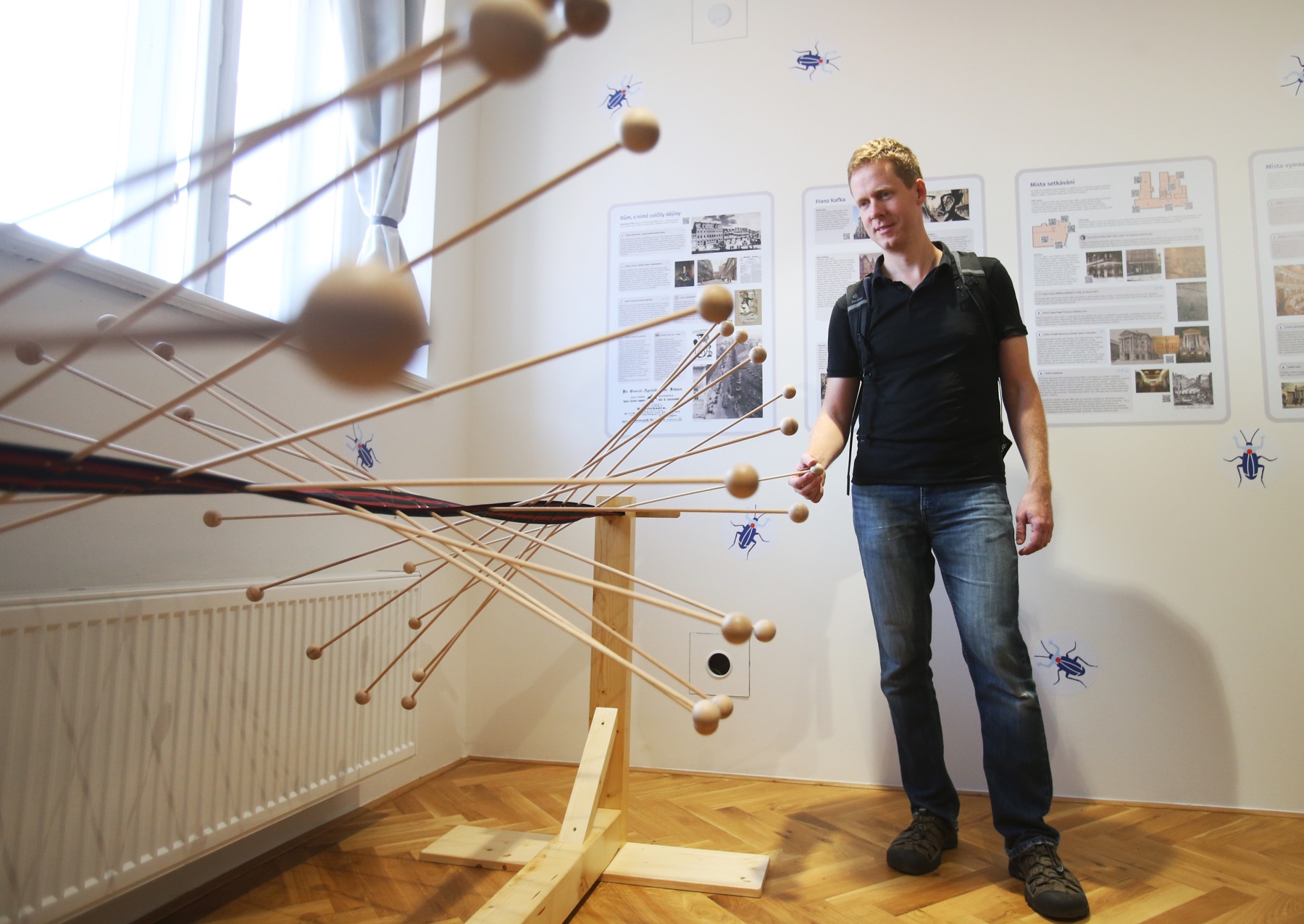 The project consists of several separate experiments that show optical phenomena in a not quite traditional way. It includes a demonstration of image deformation using cylindrical mirrors and a group of plane mirrors. Using a USB microscope, visitors will be able to view, for example, individual pixels on the screen of their mobile phone. Finally, they will exercise their brains with unconventional optical illusions.
Petr Kácovský, Věra Koudelková, Marie Snětinová (Faculty of Mathematics and Physics)
• Phonoscope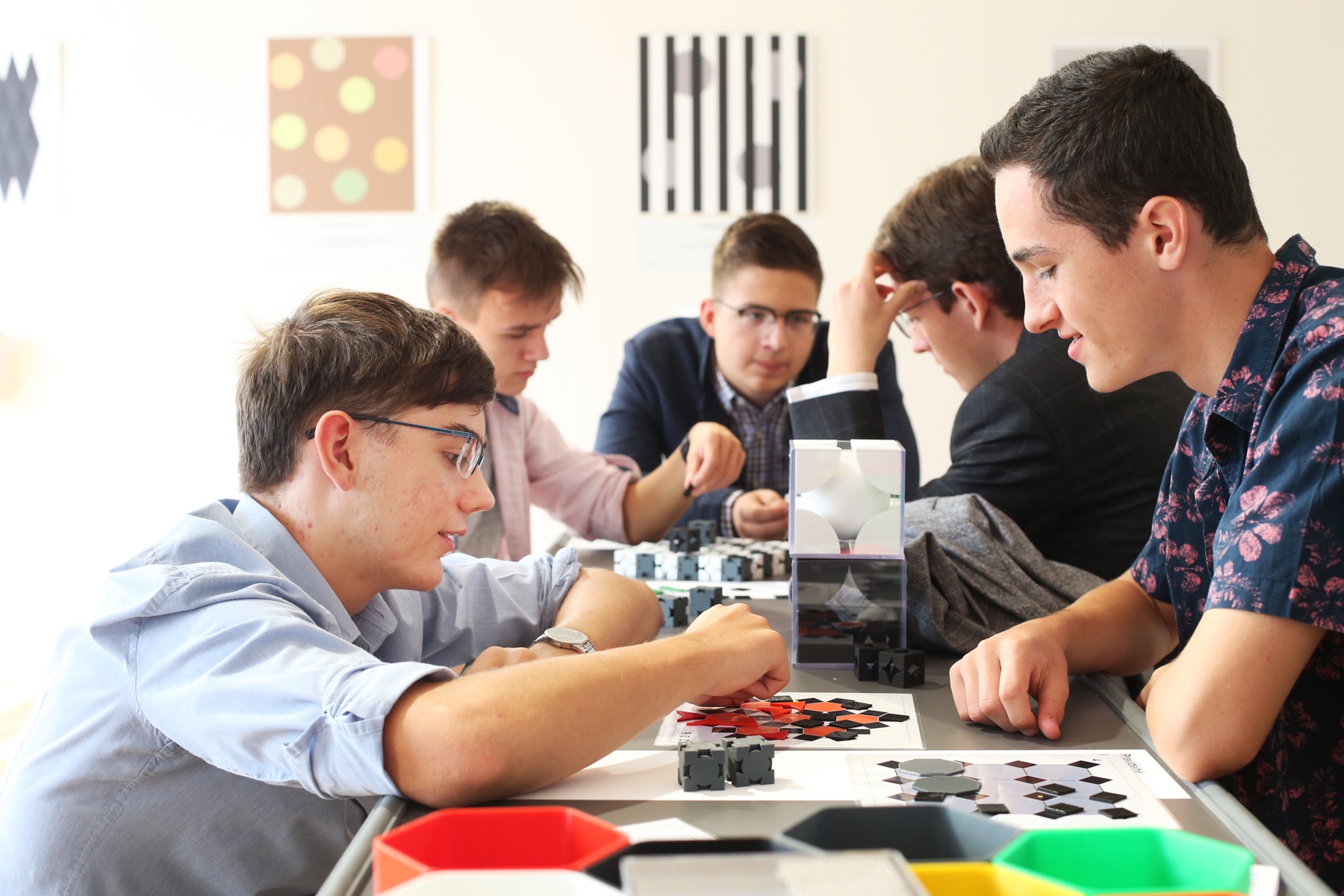 How does sound propagate? The exposition is based on the simple principle of visual and physical representation of acoustic waves as perceived by the human ear in the context of linguistic communication. Everything is demonstrated on physical exhibits mimicking the articulatory system or demonstrating wave phenomena. This principle is developed along several lines in the form of presentations, games and experiments, so that visitors get a comprehensive idea not only of the nature of the signal as such, but of its interpretation by the listener and its production by the speaker.
Jan Bičovský, Radek Skarnitzl, Tomáš Bořil, Kateřina Holubová (Faculty of Arts)
• SAMSA: German history of Prague through a mobile app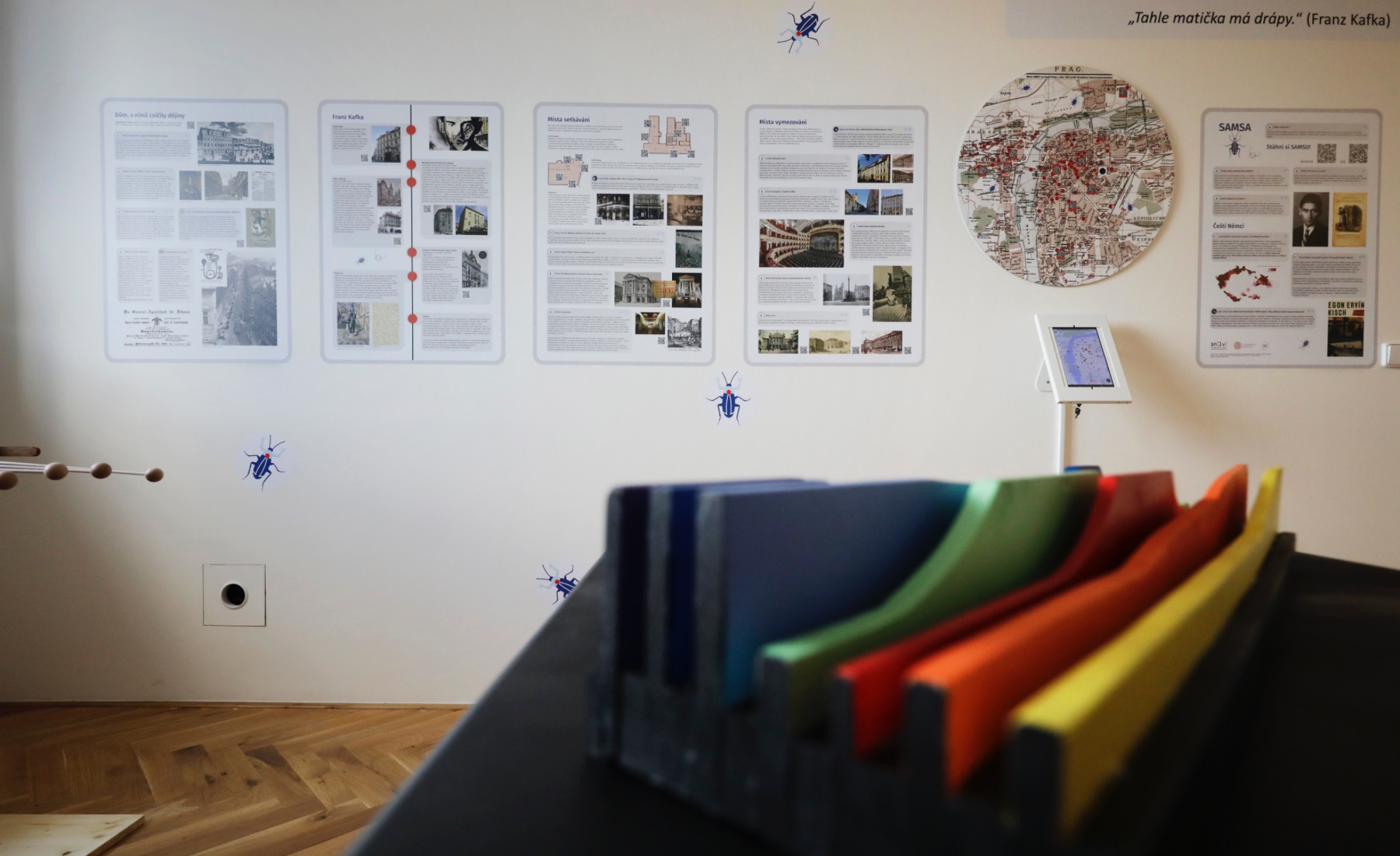 The history of Prague is inextricably linked to its German population, among other things. SAMSA takes users to places that bear the mark of German-speaking architects, artists, writers, musicians, associations, schools and other institutions. For each place, the app offers an engaging and interesting commentary on its development in the context of political history, architectural history and the role of the place in cultural life, as well as contemporary and historical photography. Reflection on the pluricultural and multilingual character of the history of the Czech lands still remains a challenge (not only) for history teaching in secondary schools. The project conveys the knowledge that is the starting point for such reflection and offers the lines that this reflection can follow.
Štěpán Zbytovský (Faculty of Arts), Lukáš Felbr (Faculty of Mathematics and Physics), Anna Glogarová, David Sogel, Hana Špačková, Barbora Talácková (Faculty of Arts), Mária Kristína Ďurková (Faculty of Social Sciences)
• A unique game: State of Emergency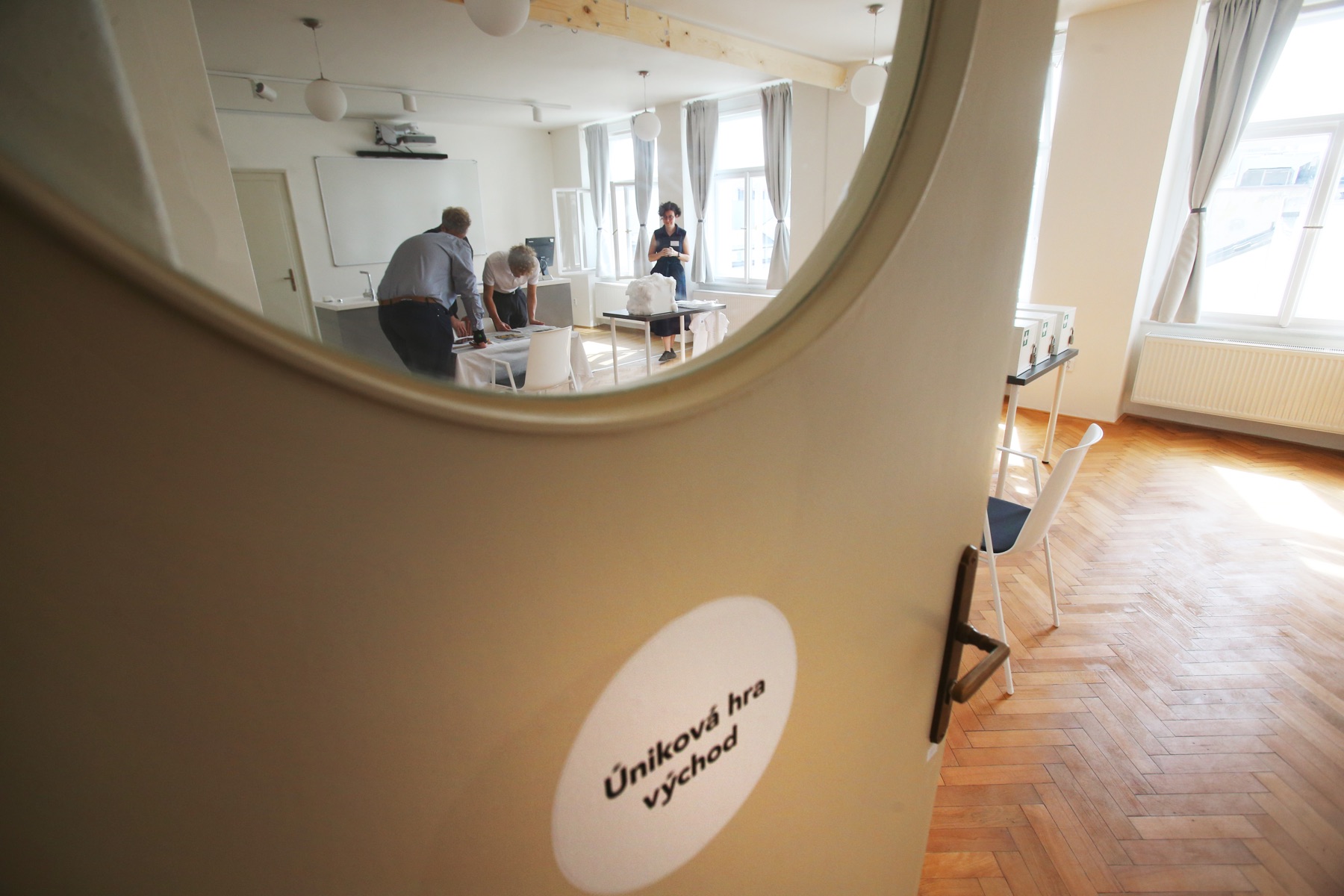 "For the opening ceremony we prepared a demonstration of an outdoor escape game called Emergency State, which is aimed at overcoming cognitive fog - a post-covid condition when a person has unclear thinking, cannot concentrate, etc. The game demonstrates and provides useful tips on how to overcome this state using languages," says Martina Vokáčová from the Faculty of Arts, one of the authors of the game.
There is also a game called The Last Speaker, which deals with the topic of linguistic diversity. By going through the game, visitors gradually understand the principles on which other languages of the world are based and why promoting linguistic diversity is useful and how it affects our view of the world and ultimately the world itself. The game will be available, for example, on 30 September during the European Day of Languages event.
Martina Vokáčová (Faculty of Arts), Jakub Jehlička (Czech National Museum), Jan Maryško (Quest Cafe)