Over three thousand visitors saw, heard, felt, tasted or touched science on Friday, 30 September, the day that Czech European Researchers Night took place. Charles University prepared 80 activities for children and adults. The night also saw the FameLab competition final - which was won by Eliška Jandová from CU's Faculty of Science.
"After two pandemic years, we finally returned to full form. We are very pleased that the programme attracted a record number of visitors," Miroslav Čermák, the coordinator of Researchers Night at Charles University; said.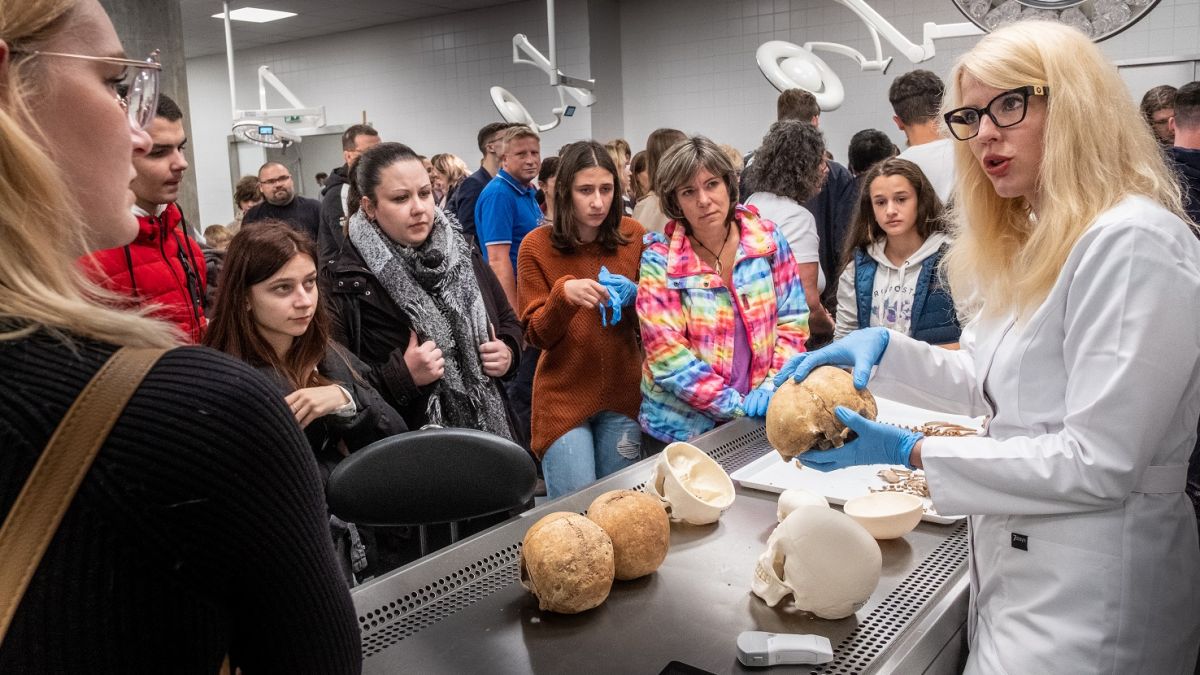 Crowds at tables, laughter and shouts of enthusiasm or amazement, this is how the corridors, classrooms and laboratories of Charles University looked during the triumphant return of Researchers Night – back after a two year layoff. This year's motto was "with all the senses" and children and adults could actually see, hear, smell, taste and touch science at Charles University.
Nature experienced by all the senses
The Albertov Campus (and the Faculty of Science of Charles University) has become a traditional venue for Researchers Night. This year, visitors tested their senses in chemistry, biology, anthropology and geography. They also found out how their senses compared to those of animals, discovered the world under a microscope and there was also the legendary molecular "bar".
Senses under the supervision of doctors
The usual attractions of the scientific night include queues to visit the autopsy rooms and the Anatomical Institute of the Second Faculty of Medicine at Charles University in Motol, Prague. This year, visitors were able to test whether they could recognise different types of bones by touching them, or got a sense of smells in that environment.
There was also a virtual autopsy table, which reveals the secrets of the human body and allows you to look inside a very convincing 3D model of a human being. Those who prefer real experiences could visit the live-figure station, where they learned a lot about the anatomy and physiology of the human body.
The Faculty of Medicine at Charles University in Hradec Králové had also prepared a number of activities for Friday evening. For example, visitors learned about the underrated "sixth sense", which gives us information about our body and musculoskeletal system. Computer game enthusiasts were able to put their console control skills to good use by controlling a robotic operating system.
Science through fresh fruit and vegetables
Visitors to the Catholic Theological Faculty in Dejvice tried their hand at putting themselves in the shoes of Italian Mannerist Giuseppe Arcimboldo and creating their own paintings from fruit and vegetables; young visitors could create works from prepared materials.
Those interested also found out where food stands in terms of modern ethics - how food and eating are related to human rights, sustainable development or relationships with animals. Art historians, in turn, invited people to an early Renaissance wedding feast and presented the eating habits of times long past through historical paintings. Those who hungered for more were able to attend a lecture by theologian Pavel Frývaldský on spiritual meals.
FameLab was won by a CU student offering hope in a drop of blood
The final evening of the Czech round of FameLab took place during Researchers Night at Kampus Hybernská. Eleven contestants competed for the win through three-minute scientific presentations. Think a kind of really short TedTalk. "For the jury, the decision was not easy at all. It was a very balanced and strong year. Each of the contestants deserved to win in some aspect - some stood out for their wit, others for their use of tools or explanation of scientific issues," the honorary chair of the jury and rector of Charles University Milena Králíčková said. She decided on the best entries together fellow jury members: former winner of this competition Eliška Selinger, epidemiologist Petr Smejkal and populariser of cosmonautics Jan Spratek.
• The winner was Eliška Jandová from the Faculty of Science of Charles University, who dazzled with her performance Hope in a Drop of Blood. She will also represent the Czech Republic at the international final of FameLab in Cheltenham, England, at the end of November.
• Second place went to Filip Kubeček from Masaryk University and the Institute for the Czech Language of the Czech Academy of Sciences with his performance Czech Dialects Yesterday and Today.
• Third place went to Hubert Beck from the Faculty of Mathematics and Physics of Charles University, whose presentation was entitled Invariance and Equivariance in Everyday Life and Physics.
• The audience was probably most impressed by Terezie Páníková from the University of Chemistry and Technology (VŠCHT), Prague and the Institute of Organic Chemistry and Biochemistry of the Academy of Sciences of the Czech Republic, whose presentation looked at improving life for people with diabetes.
The individual performances of the finalists will be available for viewing on video.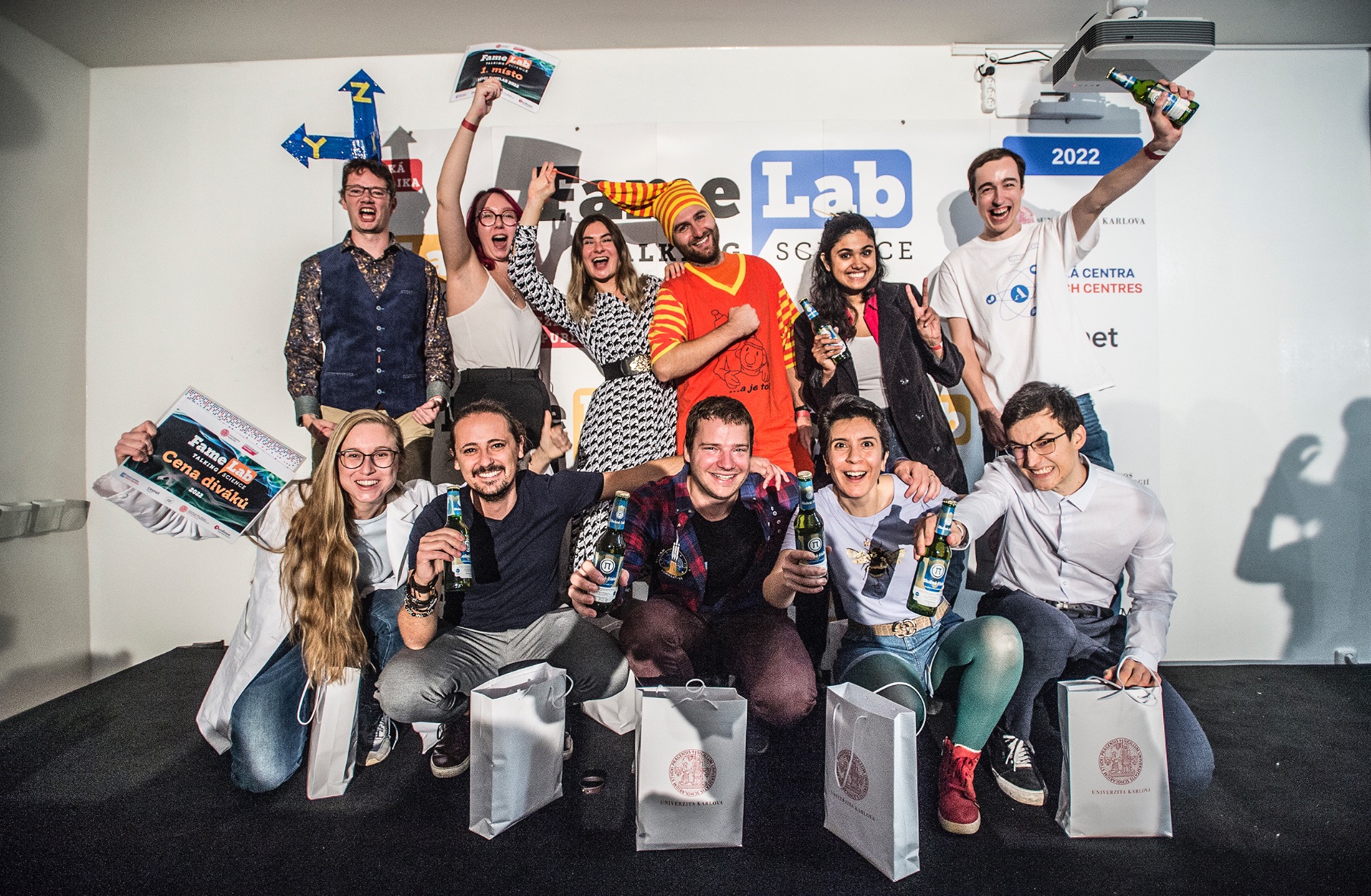 There was a great interest in this year's "sensory-filled" Researchers Night, as confirmed by Miroslav Čermák, the main coordinator at Charles University: "This year, after two pandemic years, we finally returned to full form. We are very pleased that the programme attracted a record number of visitors who were able to watch thematically focused workshops and lectures, including traditionally attractive science and medical activities. Above all, we are delighted that the programme was once again able to expand even further with elements from the humanities, social sciences and theology." Here's to next year being an even greater success!