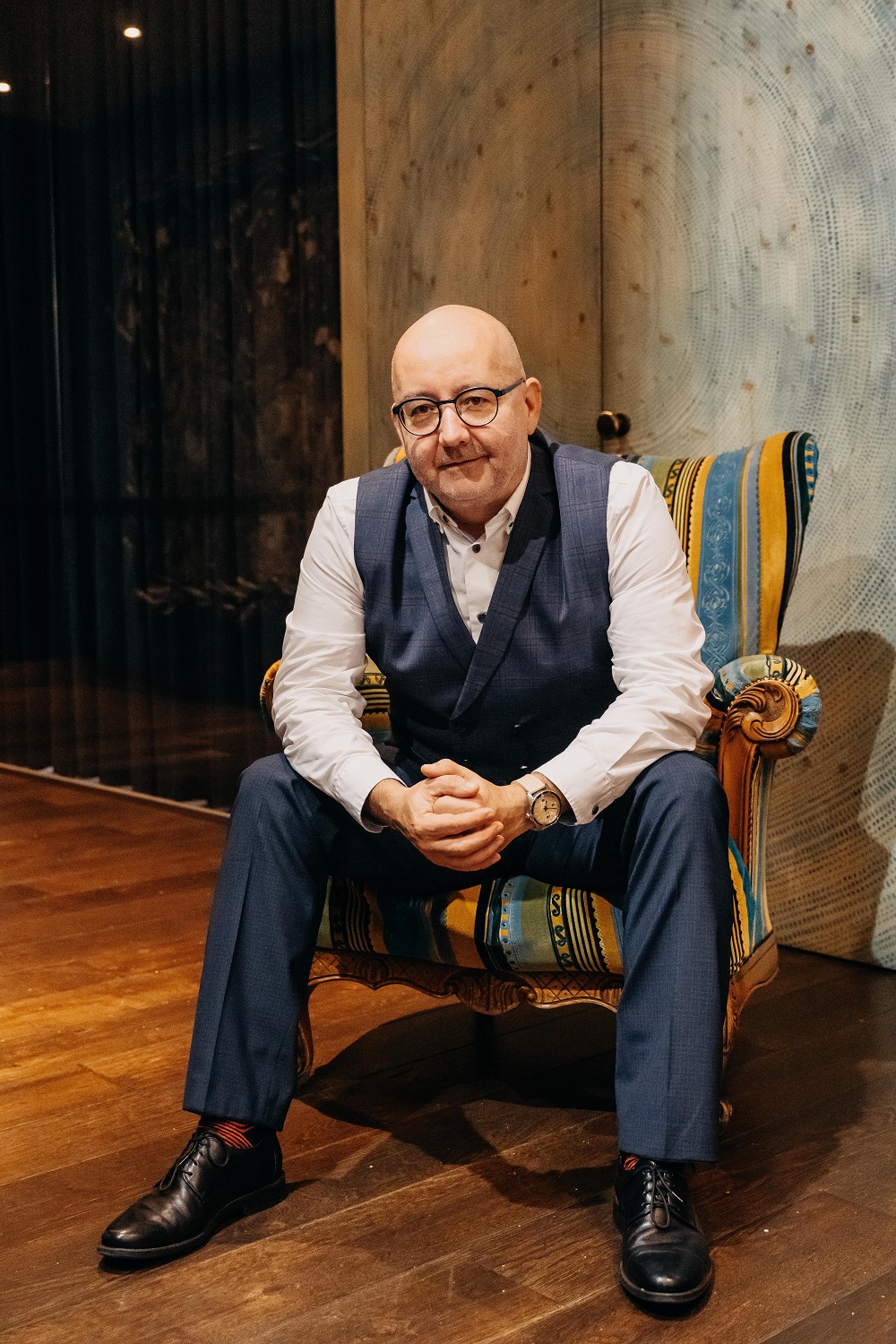 Miroslav Bárta from the Czech Institute of Egyptology, Faculty of Arts, Charles University, has received significant international recognition. Just a few days ago, the American Academy of Arts and Sciences (AAA&S), which has existed since 1780, invited a group of 40 new honorary international members, including Professor Bárta, to join. The news was published by the Faculty of Arts of Charles University at the faculty website. "The letter states that we were selected 'for our contribution to the advancement of science and knowledge of the world'. I can only assume that it was partly about what has been done so far in the field of Egyptology and expeditions, both to the Egyptian Western Desert and to the El-Haiz oasis, and especially in Abusir, where our team made a number of world-class discoveries," Professor Bárta, a former CU vice-rector for public relations told Forum magazine.
According to the US edition of Forbes, 269 new members were inducted this year; forty of them have international representation from 23 countries. The social and behavioural sciences section, which includes anthropology and archaeology, saw 58 new names added. Bárta may be the only Czech in the current AAA&S membership. "I wish as many Czech scientists as possible could join," says the well-known archaeologist and author, who in the past worked at the University of Pennsylvania (UPenn), has been a professor at Charles University (Egyptian archaeology) since 2009, and received the prestigious Czech Head Award (2019).
Forum: On April 19, you became a newly inducted member of AAA&S. This year those selected include many biologists, mathematicians, and Nobel laureate Emmanuelle Charpentier, who is credited with the discovery and development of the revolutionary CRISPR gene editing method. How did you learn about the decision?
I first heard about it by email, followed by a phone call from the United States. The next day, it was published on the Academy's website and in Forbes. A few days later, I received the official notification of the award, which came via Fedex. Now I have to confirm my membership by replying with a handwritten letter, a tradition since the institution was founded in 1780.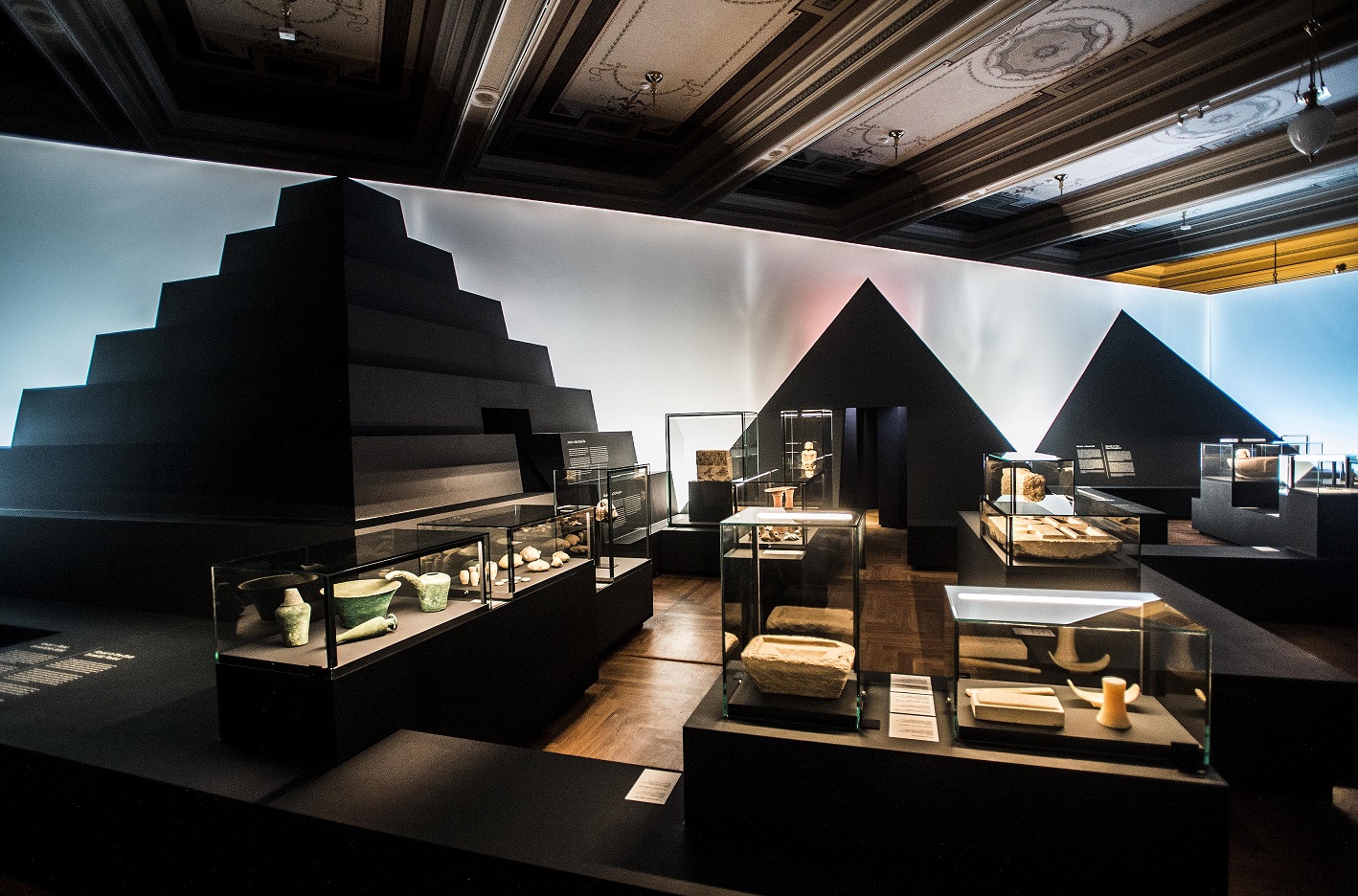 Handwritten!
It might seem a little old-fashioned, but I have to say I like it. It follows a tradition of genuine and honest handwriting from the days of the first members such as George Washington, Benjamin Franklin or Charles Darwin, to Albert Einstein and Winston Churchill, J. F.K., Martin Luther King - all the way up to Madeleine Albright.
An official membership ceremony has been scheduled to take place in Boston at the end of September this year. So I hope to meet many of the people on the list... Overall, AAA&S itself has had more than 250 Nobel and Pulitzer Prize winners, among others.
This year, the social sciences added 58 members. Do you know any of the others personally?
Not yet. I know earlier members like Manfred Bietak (an Austrian archaeologist from the University of Vienna who was working on an ERC Advanced grant – editor's note), who I worked with when I was still a research student, Kathryn Bard from Boston University, Thomas E. Levy from the University of California San Diego, or Israel Finkelstein from Tel Aviv University. But of course, these have been members for a long time. I do not know any of this year's members. Hopefully that will improve soon!" (laughs)
The AAAS has a history going all the way back to 1780, with the first members being historic US Presidents Benjamin Franklin and George Washington... In that context, how do you view your own invitation to join?
This membership is probably the highest honour ever for me. And its charm lies not only in the fact that it came completely out of the blue, but in the fact that it is a society of really important personalities who have influenced and are influencing the whole world. Each of them has not only fundamentally changed their own field, but they have also fundamentally contributed to the knowledge or positive changes to the world as well.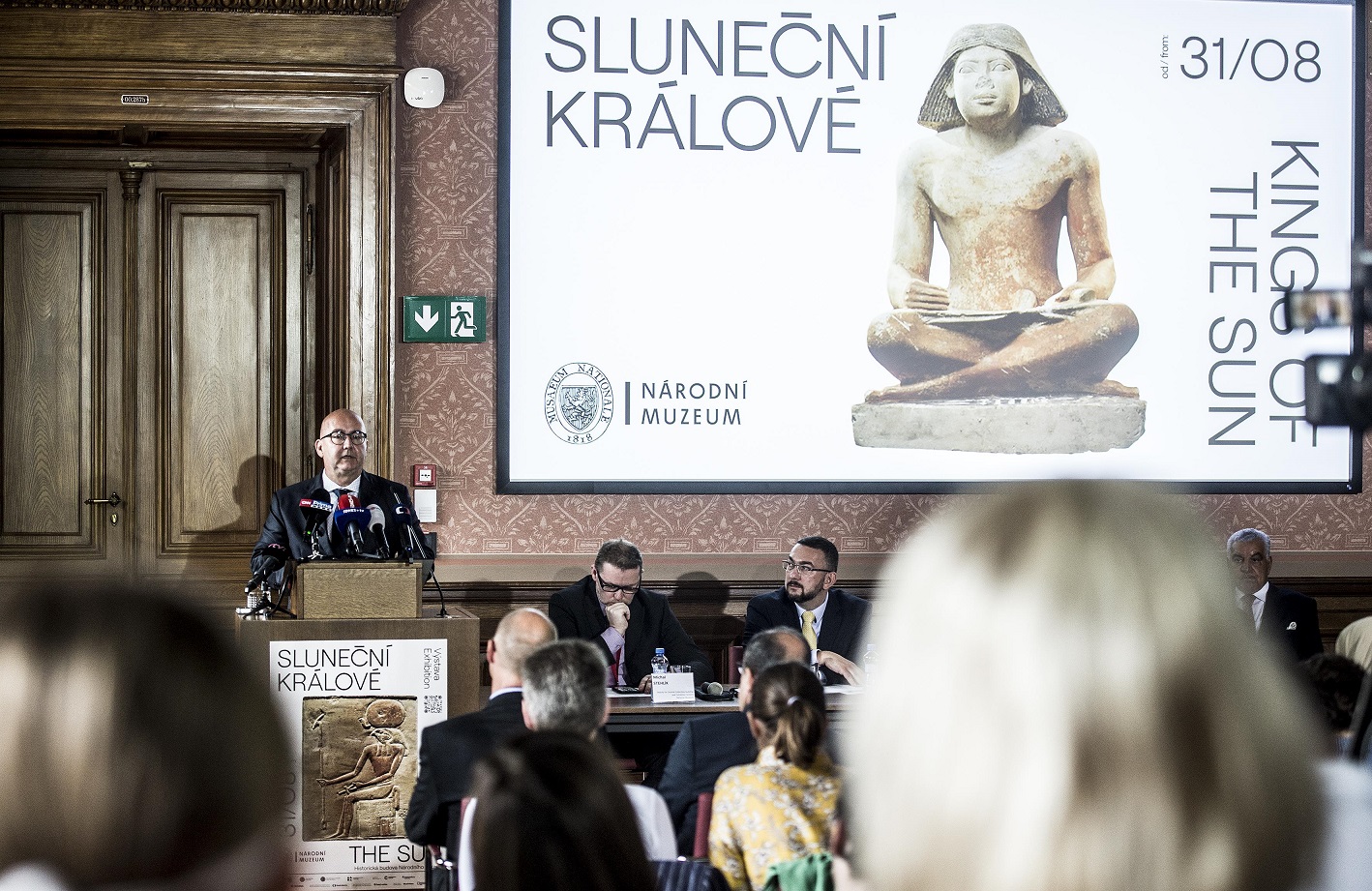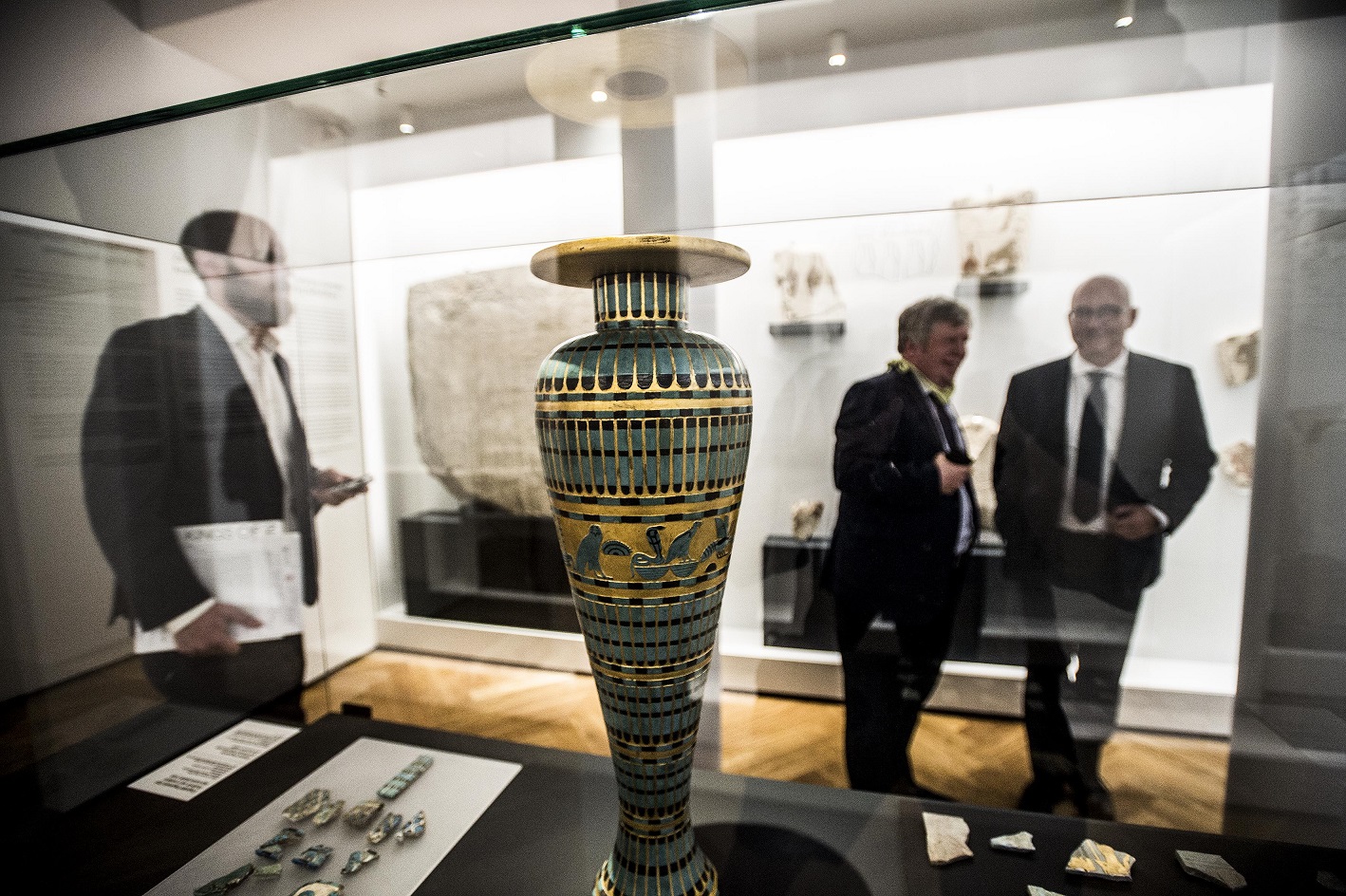 In 2020, Miroslav Bárta opened the highly-anticipated exhibition Kings of the Sun at the National Museum featuring valuable artefacts on loan.
Do you know of any Czechs or Czech-Americans who are currently members? I don't think there are any at the moment.
I looked at my archaeology and anthropology section and found none at the moment, but that doesn't mean there isn't someone in the sections for math, physics, chemistry, etc. I do know, however, that a member - and even its chairman - was the advisor to President Bill Clinton and the renowned historian Jaroslav Pelikan, but he was born in America, in Ohio (he was of Slovak origin, became a professor at Yale University and chaired the Academy from 1994 to 1997 – editor's note). However, it is interesting that, especially in America, one of the rankings of the quality of universities is also based on how many members they have in AAA&S. Harvard, not surprisingly, leads in that respect.
How does the admission process work?
As far as I know, the members of the American Academy of Arts and Sciences vote after receiving nominations in two rounds. That's all I know. And that's actually a good thing. It's not political.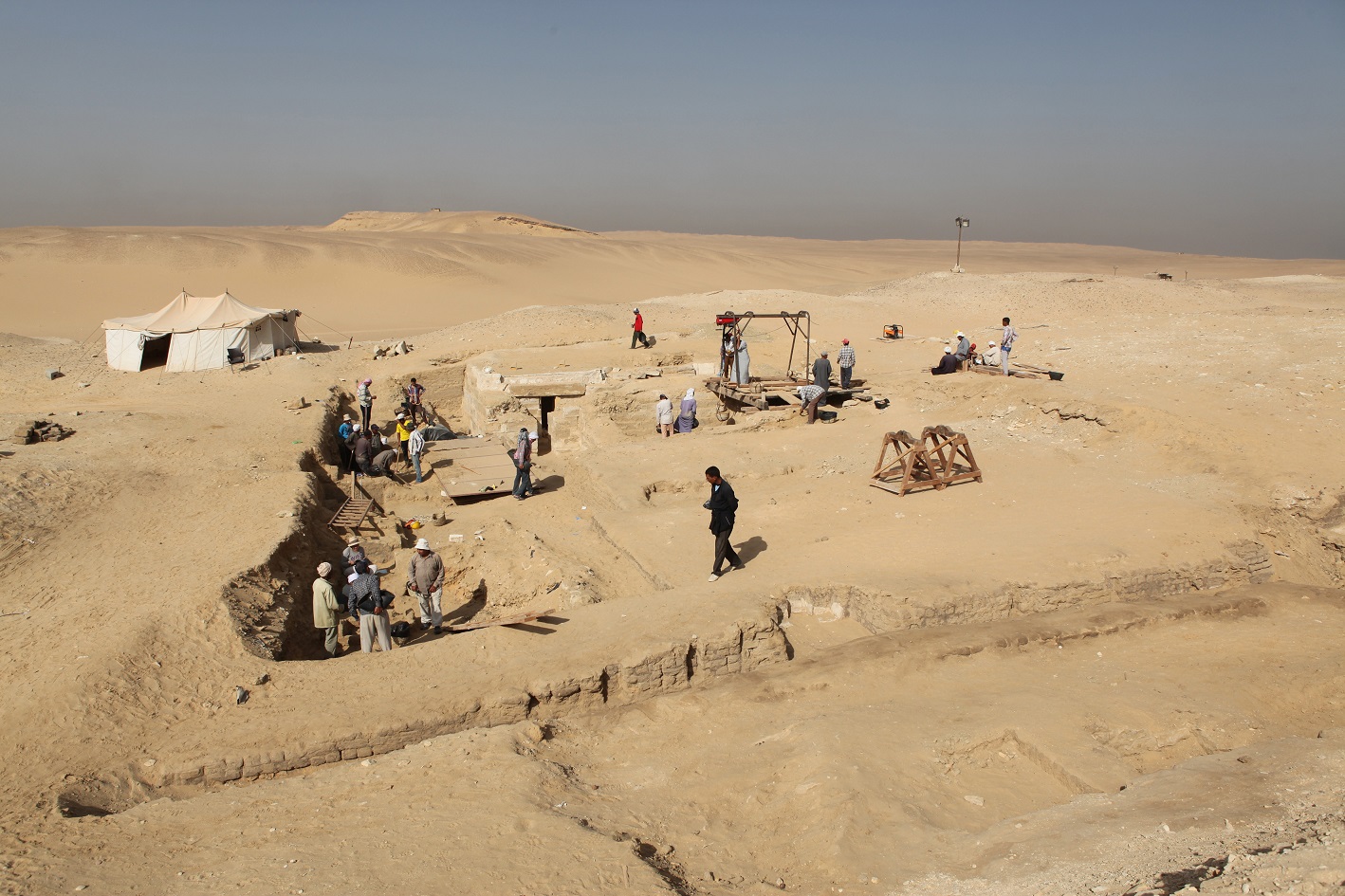 Czech scientists from the Faculty of Arts have been working at Abusir, a valuable site near Cairo, for many decades.
Do they disclose details behind the decision?
The AAA&S does not disclose specific reasons. The letter states that we were selected "for our contributions to the advancement of science and knowledge of the world." I can only surmise that this was in part due to what has been accomplished so far in the field of Egyptology and Czech expeditions, both to the Egyptian Western Desert and to the El-Haiz Oasis, and especially in Abusir, where our team made a number of world-class discoveries. The second part, I think, consisted of theoretical work in the field of comparative study of civilizations - including ours - over a long time series, as some new studies have emerged from this, especially in the USA.
Have you had a second to even celebrate the news?
Honestly, there hasn't been much time to celebrate yet, as the semester is underway, there are other activities going on in Abusir, and on top of that we are dealing with the unfortunate financial situation of domestic Egyptology... Sure, there were a few congratulations, quite a lot of responses on various social networks, but the greatest joy was of course at home; I also received a beautiful gift from my partner Olga.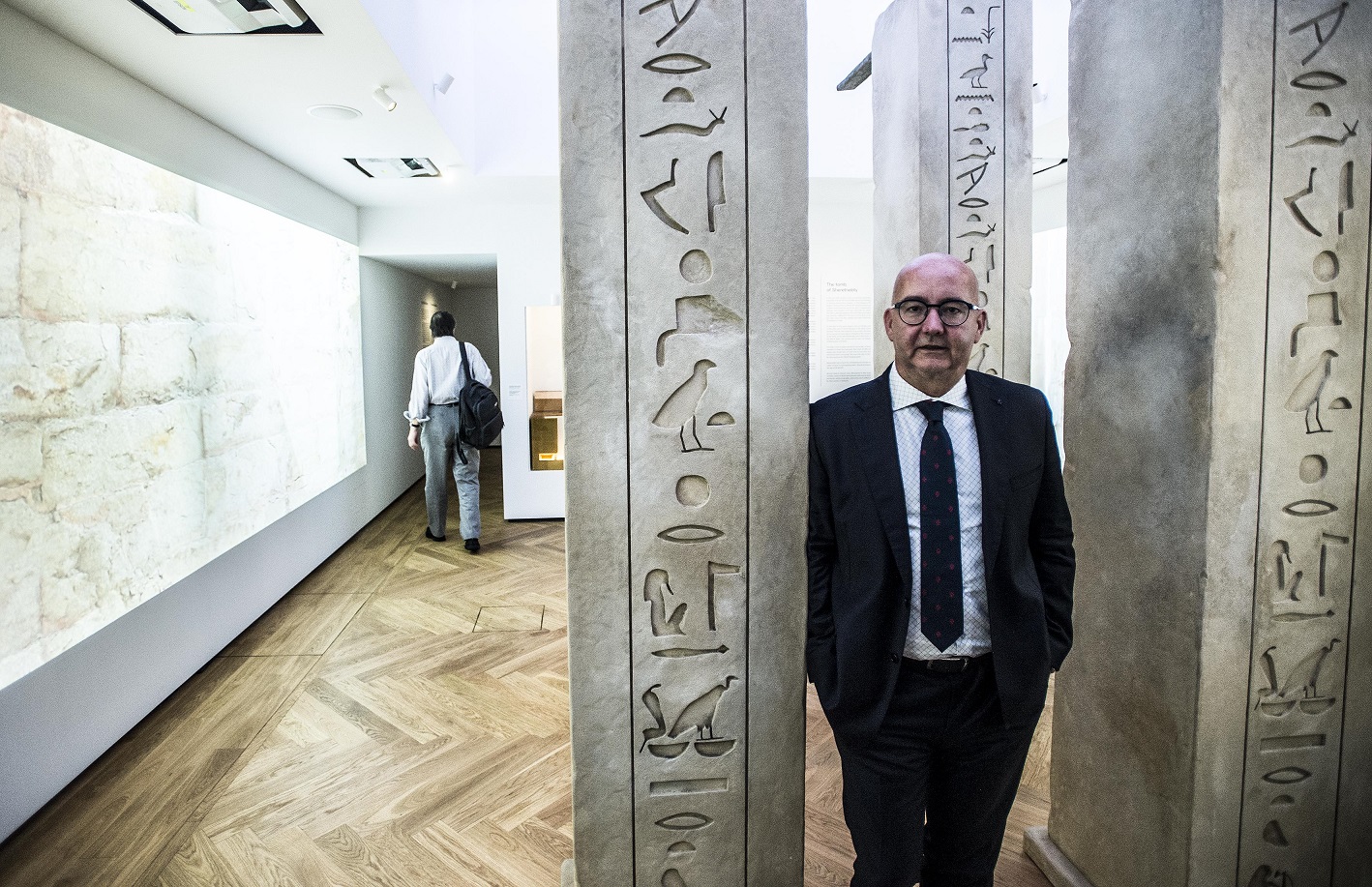 Miroslav Bárta divides his work between his office in Celetná Street, fieldwork in Egypt and public activities.
In which ways are such honours useful? Will you put it on your business cards?
I don't use business cards, so I don't know (smiles). I'm supposed to receive a diploma at a ceremony in Boston in September. So I'll have a diploma. But seriously, if it could help a little bit to better position and secure the field of Egyptology, which I represent, here in the Czech Republic, to secure scientific research in Abusir, Egypt, and to continue to develop the comparative study of civilizations, I couldn't be happier. And of course I wish as many Czech scientists as possible in the AAA&S.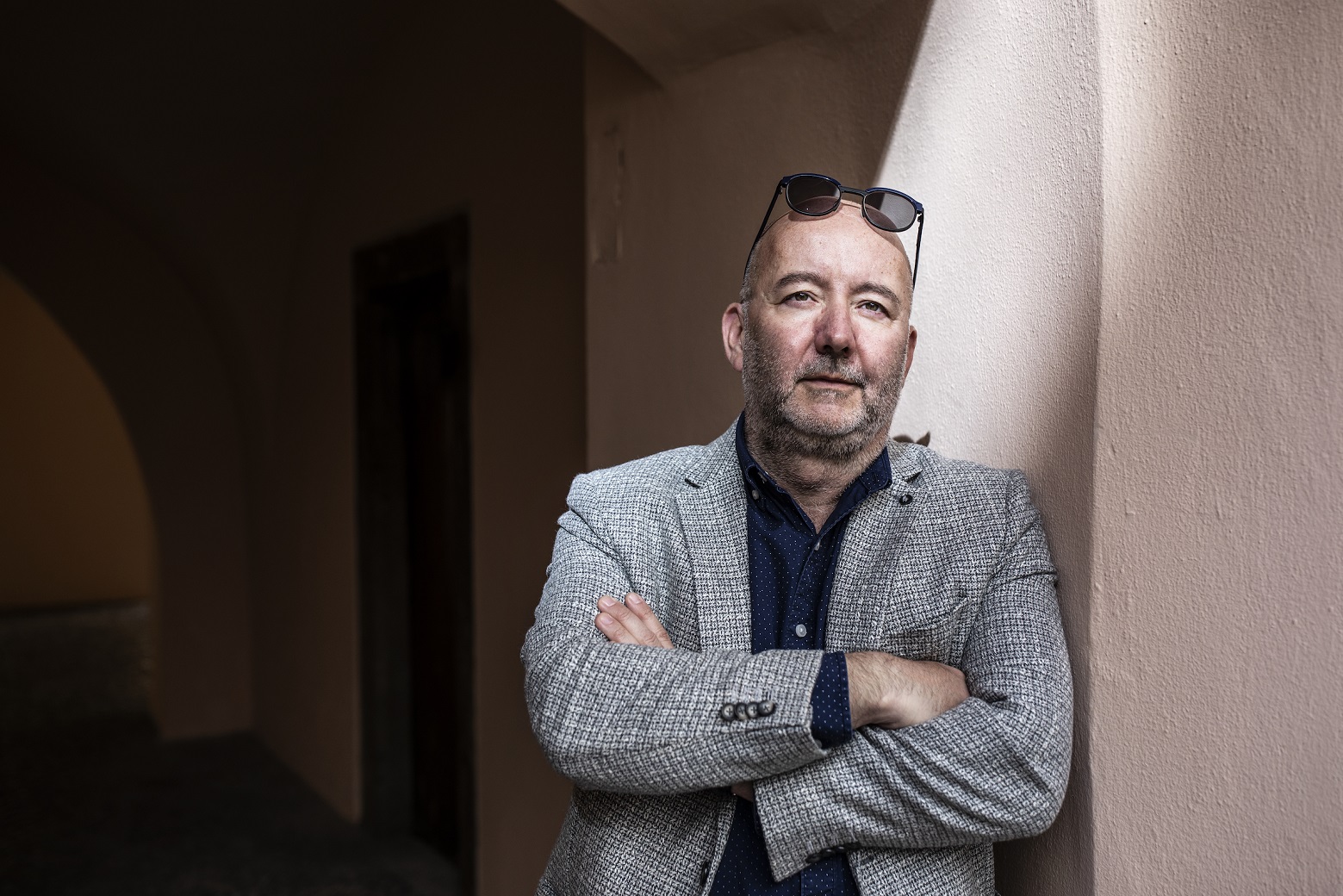 You're moving more towards popularising science, and you recently premiered a new film, Civilization. What are you planning next?
There's a lot coming up. The Seven Laws Theory, published in Czech in 2021, would deserve to be expanded to include what has happened to the world in the last three years; I'm looking for a publisher abroad. Hopefully we have archaeological excavations in Abusir this fall, and this year alone I should be able to manage at least one monograph and a number of articles - here I am thinking especially in Egyptology. We are planning a big international project on the archaeology of civilizations with the Italian company Laboratorio Rosso. It's quite a lot to tackle, but you only live once. Hopefully it will be worth it.
Professor Miroslav Bárta
Miroslav Bárta studied Egyptology and Prehistoric and Early Medieval Archaeology at Charles University in Prague. After studying Egyptology in Hamburg he defended his Ph. D. (1997), and in 2002 he habilitated for the field of Egyptology. Since 2009, he has been a professor of Egyptology. His main areas of research interest include archaeology and history of the 3rd and 2nd millennia BC. He is intensively involved in the relationship between humans and landscape in antiquity, and the rise and collapse of complex societies. He also coordinates research at the Czech Institute of Egyptology, Faculty of Arts, Charles University. In 2018, he received the Czech Head scientific award in the main category. He has written a number of studies, monographs and last year prepared the film Civilisation. He is the author of The Seven Laws Theory which looks at the development of civilizations.