Over the last few years, more and more young people in the Czech Republic have taken up longboarding, a hobby and sport related to skateboarding but different in many respects. Longboards, as the name suggests, utilise a longer deck but feel very different, offering a more stable ride on softer polyurethane wheels. There are decks for every kind of rider and for different uses: cruising (traversing park paths or getting around town), carving on hills, freestyle, dancing, slalom, as well as the jaw-dropping adrenaline sport known as downhill longboarding. Downhill, for short.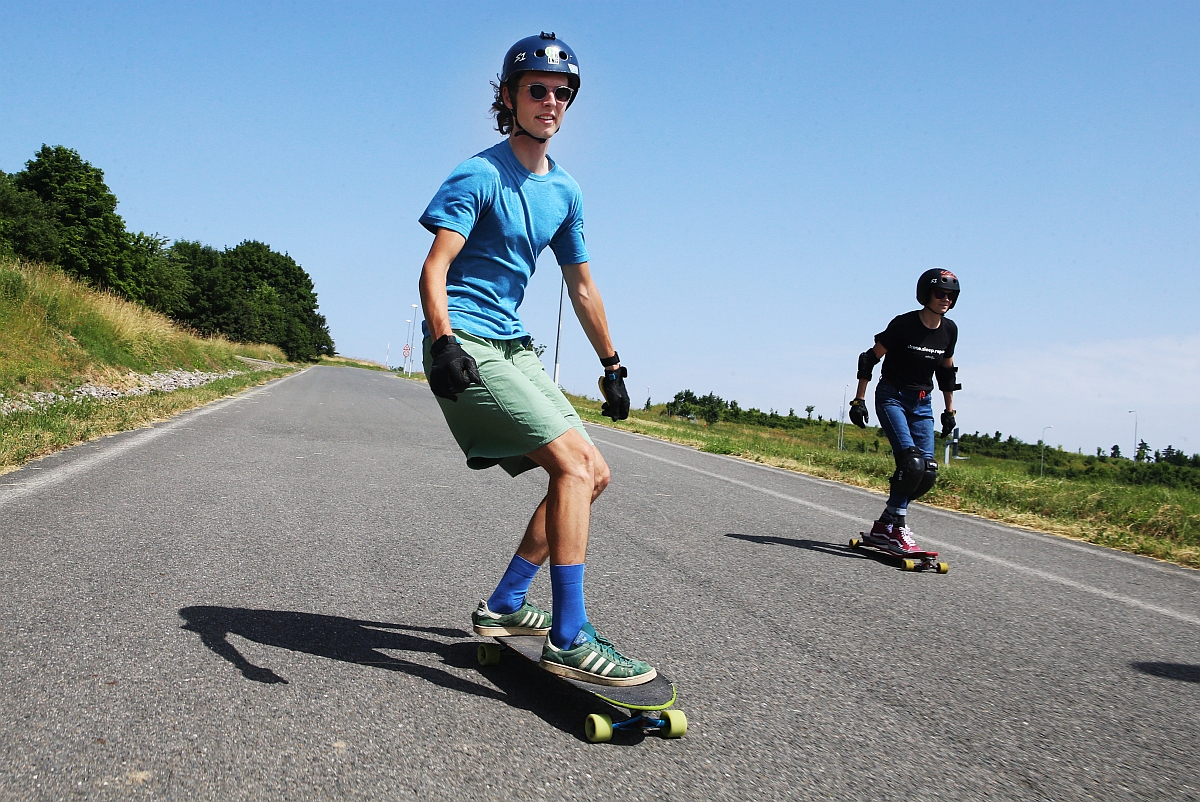 The first time you see someone flying down a steep incline wearing a full-face helmet, leather suit, gloves, and other protective gear, fighting for position against three fellow racers, you might think these competitors are from another planet. Leaning forward in a low tuck position, racers can hit speeds of 80, 90, or even 100 kilometres an hour. Going from a casual rider to a downhill competitor requires a lot of training. Experience counts and there is no way to become an expert overnight.
Apprentice to master
Max Odráška, an undergraduate at Charles University's Faculty of Social Sciences, says the more you ride, the faster you'll learn. At least, that's the way he did it. He got his first longboard ten years ago – when he was just 13.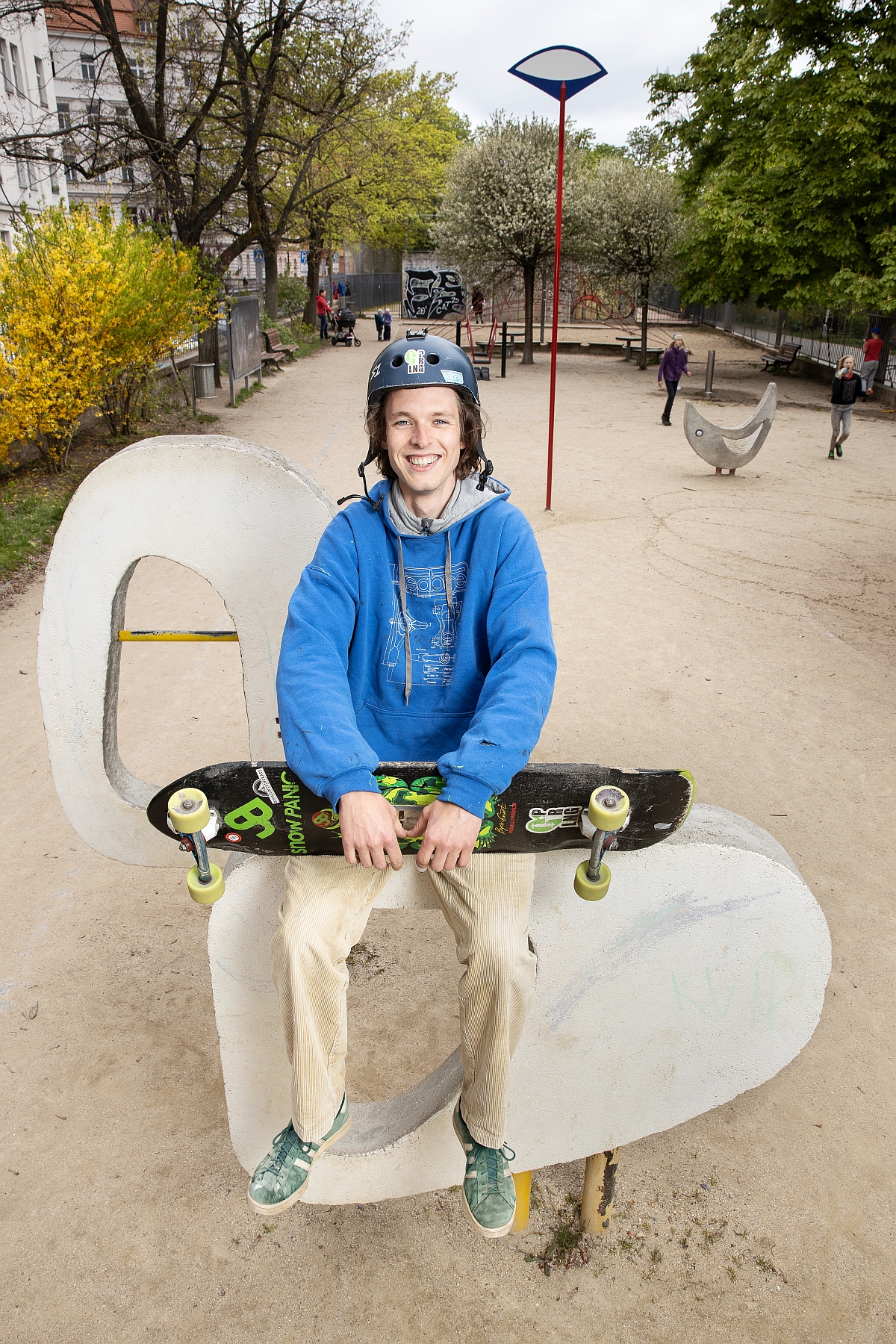 "I learned quickly because I really devoted a lot of time to longboarding. For me, I finally had my own world and a space in my life I could develop without my parents and with my friends. I also skated alone a lot, because I wanted to ride more often. But usually it is a very social sport and it is more fun and safer to ride with your friends."
When he first started, Max says, he wasn't interested in speed or downhill at all.
"I was happy cruising on the board in the park and just going for 'chill' rides and that was enough."
Eventually, he was inspired by videos of more experienced riders and began to learn slides. Foot braking, using the sole of one's shoe to slow down on a hill and slides (where riders shift weight on the board to their front leg and kick out with the back leg to cause the board to slide sideways) are two ways of managing speed, whether slowing down or coming to a full stop. In order to graduate to steeper runs, riders should preferably master both. As a rule of thumb, a rider should always feel in control. Max was a quick study and because he was so devoted, it was only a matter of time before he tried downhill as well.
"I went to an event where there was a fairly 'slow' downhill and it was pretty amazing; something like 12 minutes of riding with friends, communicating all the way down."
Speed
Max was hooked: downhill speeds were something new but also more dangerous. He admits he has always been naturally cautious so he took things slowly to build his confidence. Today, he credits the sport with helping him loosen up: "I think longboarding really helped me learn to take greater risks, both on the board and in life."
At 23, he is a familiar face on the Czech downhill scene, recognised for his crisp slides and riding style.
"Do I ever get afraid?" he thinks for a second, then replies: "Some runs on Tenerife are still pretty scary and there are all those cactuses around! Slides are crucial when you are learning. Once you know how to stop, you build confidence and you can improve. But even now there are times when it can be scary and you just have to suffer through it. There was one hill on Tenerife that was top speed, really long and straight on the way down. When you are going 90 kilometres an hour you have to hold your tuck and just hope it will end soon. You are trying not to move and trying not to upset the board, because even the slightest movement can cause deadly speed wobble. When that happens, the board just disappears from underneath you. You are without your board! And the board is your friend!"
In races, where four downhillers go all out to get to the bottom first, it is common to ask fellow racers ahead of time about their braking styles, to anticipate how they will behave on the road – to avoid taking each other down. Sometimes, though, it's unavoidable, Max admits.
"In racing, I have fallen a few times and most falls come in the turns. A lot depends on how you brake and sometimes you don't brake enough. It has happened that I collided or was taken down from behind."
Competition in the time of Covid
In the Czech Republic, Max Odráška regularly competes in the Kozákov Challenge, a World Cup event that takes place annually at the famous Kozákov hill in Český ráj (Bohemian Paradise). The race attracts competitors from all around the world; anybody who is anybody in Czech downhill will also be familiar with this mecca of Czech longboarding. Like other competitors, Max was looking forward to the 2020 season but everything came to a halt. Covid-19 saw all sports including downhill put on hold. As a student of communications, marketing and public relations at Charles University, he, like his peers, had to adjust to distance learning at the university.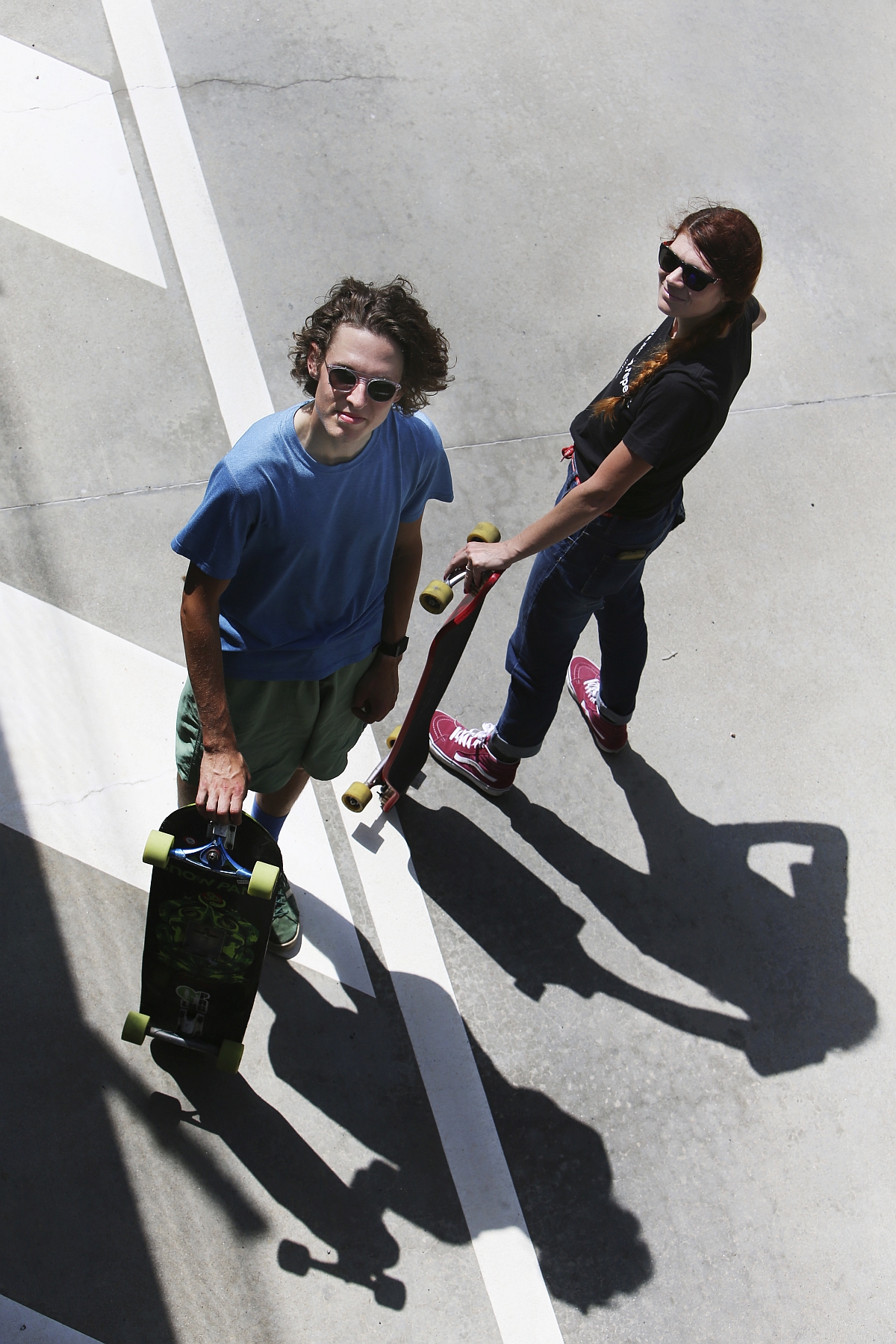 "I do think the university did a good job with distance learning. I have a comparison, because in addition I am also studying at a vocational school. The difference between the two when it comes to distance learning is quite high. CU organised this much better. The area I am really struggling the most with right now are team projects that are really hard to do at a distance. I only have four courses because I had plenty of time to complete my credits, but the problem is that people are tired and are losing motivation. Every minute you are not in an online meeting now, is a good thing."
Odráška is set on completing his Bachelor's, which he had already hoped to do before Covid struck. Why the backup vocational school? That is an interesting Plan B: in his second year at university, he realised that although he really liked criticism and analysis, for one reason or another he could not see himself ever actually working in advertising. In some ways he enjoys solving problems outside the classroom more.
"I always liked doing things with my hands and seeing the results of my work. In the intellectual fields, I have this huge problem that I always think it could be better and when it comes to manual work, I don't have that feeling. If you are talking about pipes in the wall, it's simple. Plumbing is either done right – or it is not."
Quick fix
The racer gets the same feeling about working as a bike courier, which he has been doing for four years alongside school. Bike delivery in Prague jumped in importance during the Covid crisis when it came to delivering food for so many people working from home, but Max was not new to the job at all. Not surprisingly, in the city the bike and not the board is his favourite form of commute. Prague has many barriers and many cobblestones. The bike, too, tested his technical skills.
"It used to be," he laughs "that I would try and fix something and it would become more broken. Then, I struggled and if I could get it back to the previous state of broken, I would be happy with that."
Because of the Covid crisis, his job, school and other responsibilities, months went by without any longboarding at all. The great thing about it? You would never be able to tell. Seeing him carve on an incline in Stromovka Park and doing a perfect toeside 180 with ease is, quite simply, inspiring. While the hills in Prague are easy for skilled riders, he does say he was surprised he did not feel rusty. Now he is looking forward to riding more again, although perhaps there is more freestyle in his future, given he has less time and the races themselves are fairly demanding.
"Races are harder to organise and are therefore expensive. The starting fee at Kozákov, for four days of racing – two days of freeriding, one day of qualification, and one day for the race itself – was around 5,000 crowns. When you think about it, it almost isn't worth it. There are 200 people there and everything takes time, you need the busses to take you back up. For me it just makes greater sense now to take the car and just enjoy riding with friends."
Community
A huge part of longboarding (and skateboarding in general) is the community, reinforced at schools, among groups of friends, as well as at a few local stores specialising in boards. As a rider, Max joined Snowpanic – a ski & longboard shop in Prague 7 that boasts a number of top racers and is a magnet for skilled riders as well as newbies looking to buy their first or second boards. Owner Jakub Janoušek, a graduate of the Czech University of Life Sciences, opened the shop in 2009 and has never looked back. Having a team, he says, is important, because it allows racers to share as well as to grow in the sport.
"The great thing about having a team is that it brings all kinds of different people together. When I am thinking about taking on a rider, it has to be someone who I can relate to or feel a rapport. Riding for a team is reciprocal: there is sponsorship, so riders understand they are also representing the team."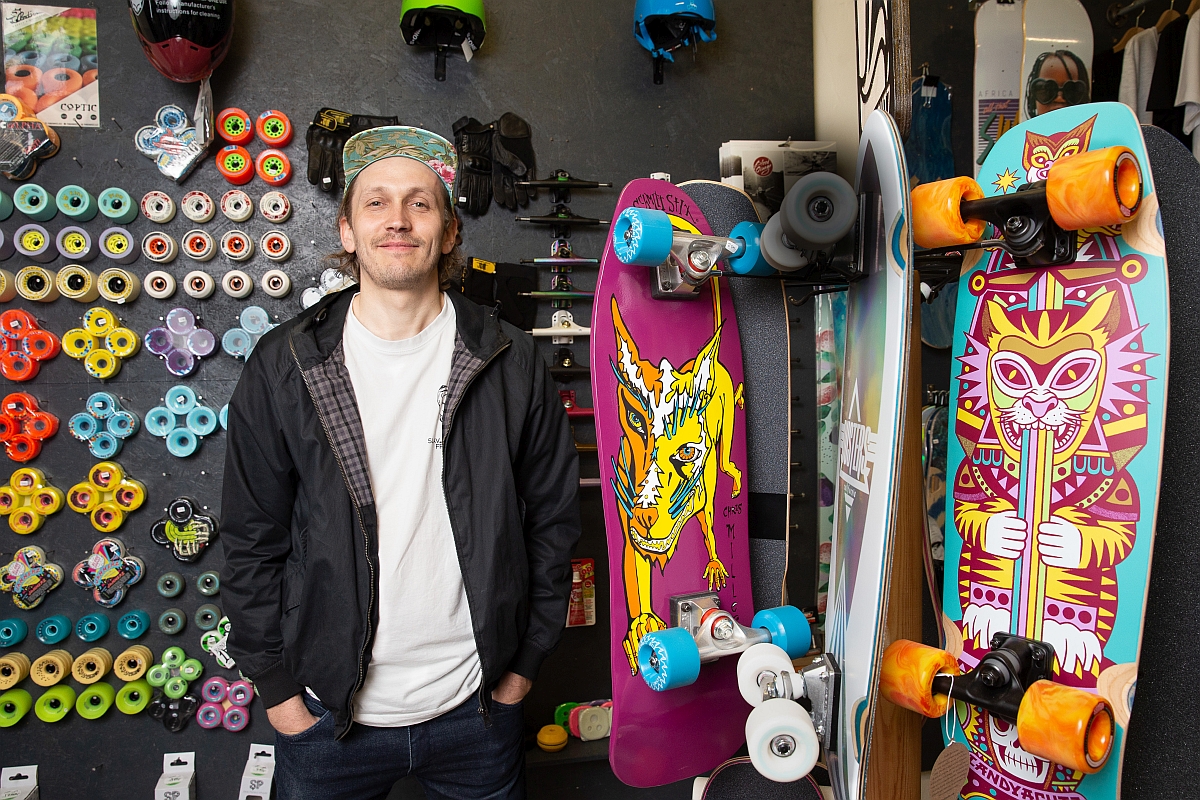 Have wheels, will travel! Snowpanic's Jakub Janoušek.
The relationship is mostly informal, says Jakub, and racers choose events they want to race in. There is no requirement, nor would it be realistic, to race in every event. Entry fees can get expensive and riders also have other responsibilities, like their studies at uni. Jakub Janoušek again:
"Most of our riders are studying and completing degrees and it's never been a problem to find time for both."
When it comes to team members, everybody's story is a little different. Many study, most love speed and fast hills, and each made it to the team through various nodes within the community. Snowpanic's top women's racer is Valérie Kindlová (maiden name Vitoušová). In 2013, she completed a Master's degree in communications at Charles University and today is a production manager at Czech Radio's current affairs station Český rozhlas Plus.
At 34, she also heads PR at the Czech Gravity Sport Association (CGSA) that oversees all official competitions and longboard events. She is an ambassador of the Longboard Girls Crew and, when it comes to riding, is one of the best. She is the two-time Czech women's downhill champion, winning in the last season that the event was held.
"The first time, in 2017, I won on points and the second time I won was in 2019 when the format had already been changed to a single race."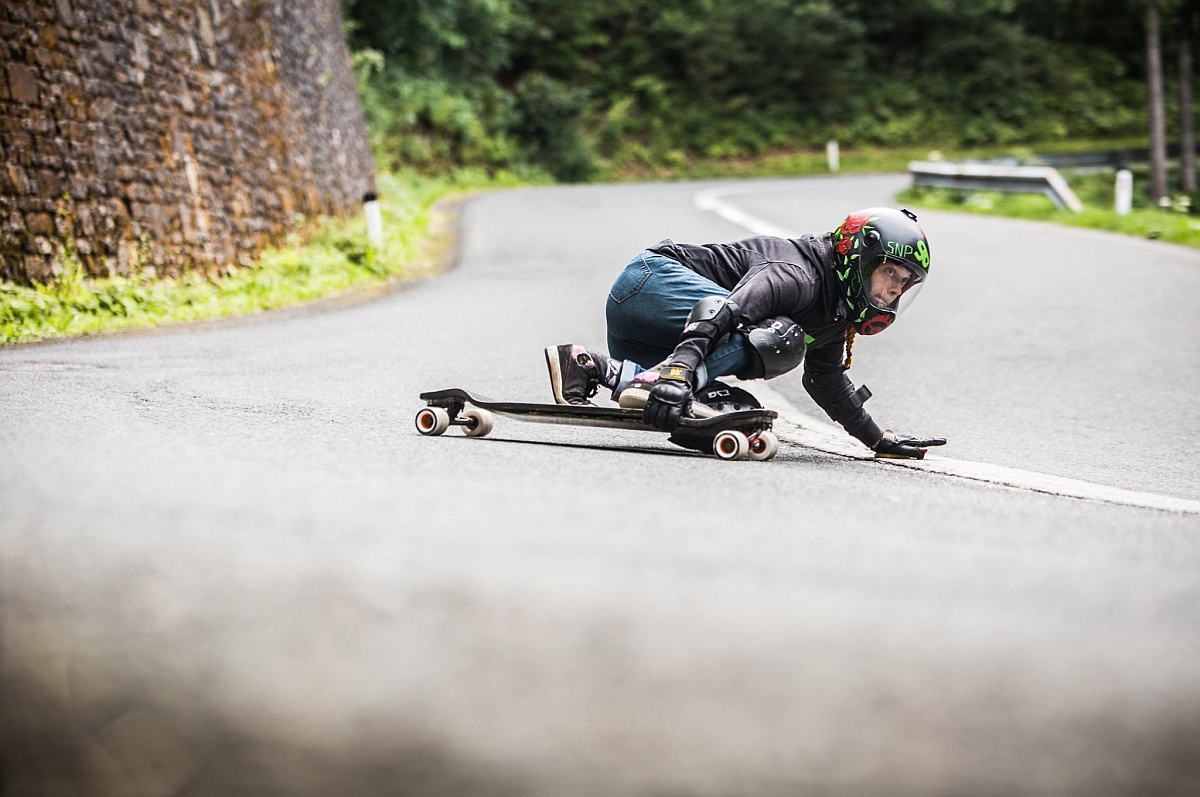 Valérie in action. Photo by @duckvaderphoto
Speed 2
Like Max Odráška, Valérie has also been longboarding for a decade. In competition, she relies less on slides but instead foot brakes as she "flies" down the hill on a drop-down board. Her board keeps her low to the ground and provides stability even when she hits top speed. Like other riders, Valérie confirms that downhill has risk baked in. You can mitigate danger through strong and smart riding but you can never rule out the unexpected. Not entirely.
"The fastest I have gone is around 80 kilometres per hour. I was always cautious and tried to discover my limits step-by-step. The worst thing that can happen at high speed is wobble, when you are making a transition over pavement surfaces. People don't realise just how difficult that can be and once it happens, you're doomed. Those tend to be the worst kinds of crashes because you can go from a stand-up position to hitting the road. That's why you have leathers, a full helmet, and that is why I use a spine protector and thigh protectors, because it just hurts when you fall."
Injuries are not surprising when it comes to adrenaline sport: both Valérie and Max have been lucky (knock on wood), suffering no fractures although there were concussions or suspected concussions in the past. Usually things go well. Usually, says Valérie, longboarding is perfect.
"From the very first time I saw a longboard I knew I would love it. My parents raised me to do all kinds of sports but I think I would still rank longboarding above the rest. When I first started I just borrowed a board for a day from the shop and – compared to classic skateboards – it felt like a cruise ship: wide and stable and I could go down and carve on small hills the same day."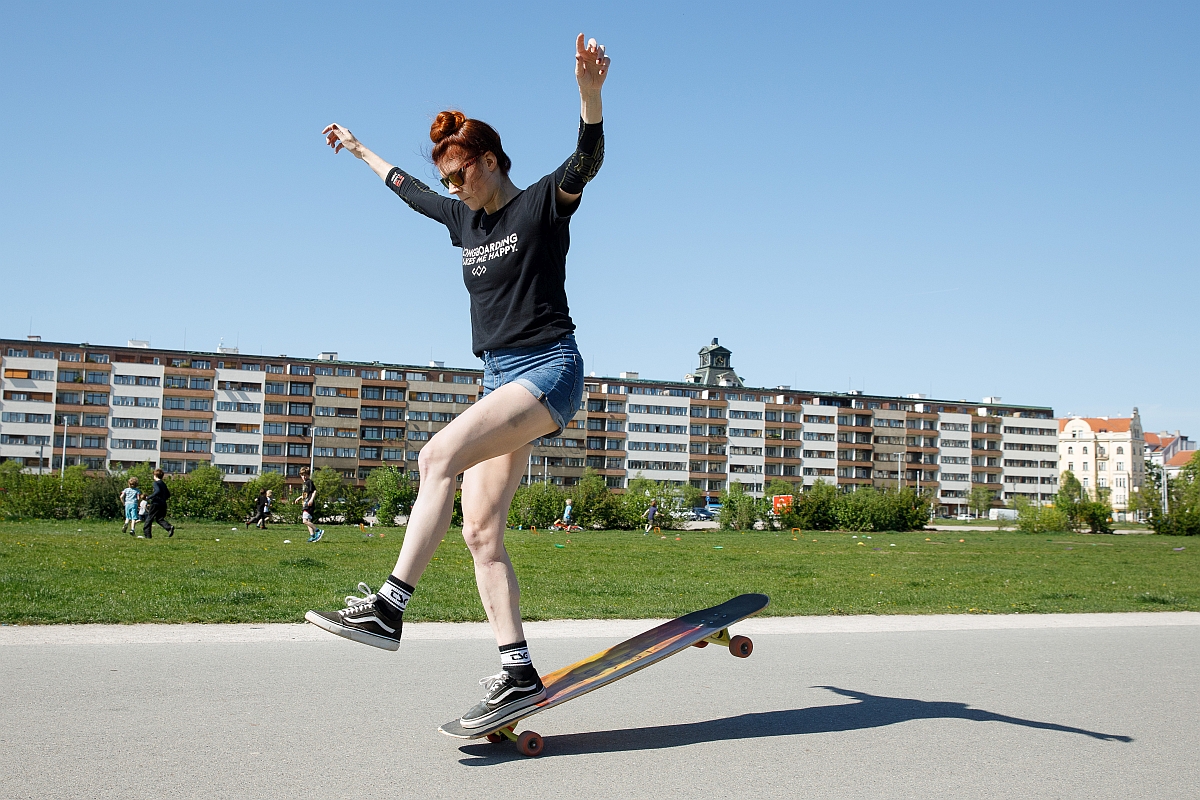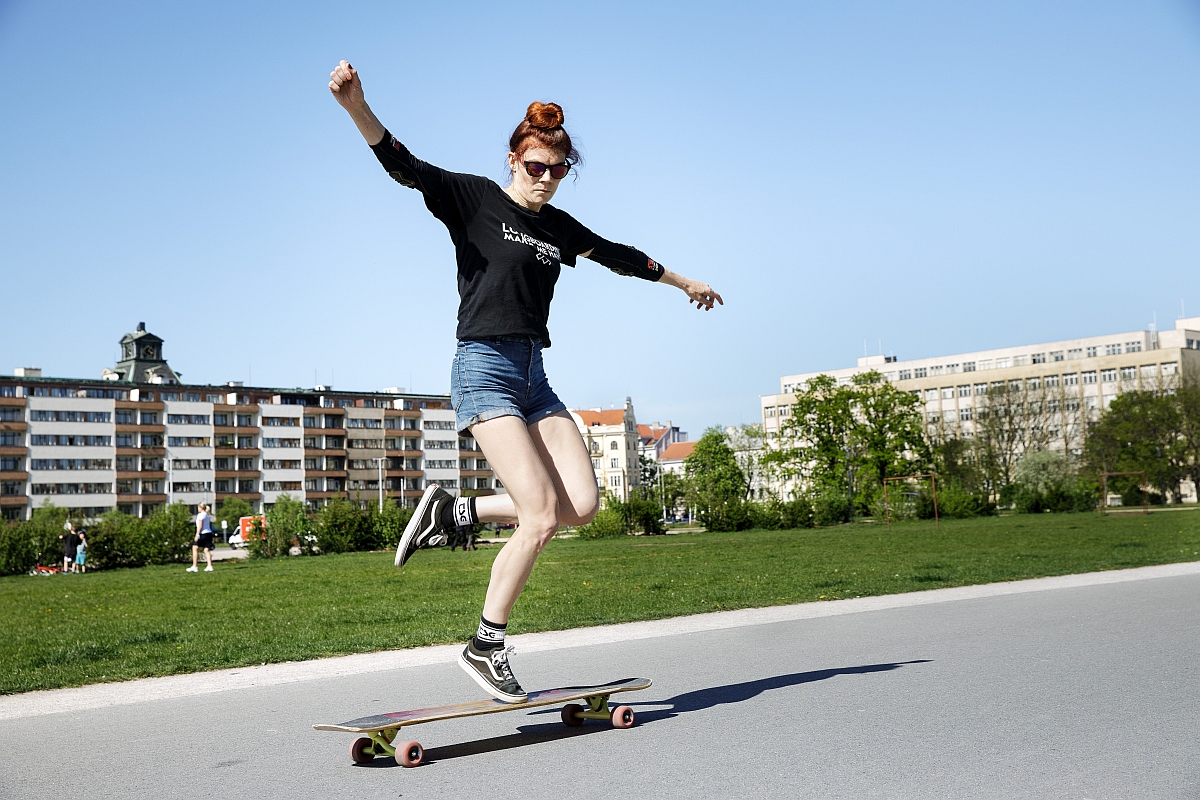 Valérie practices moves at Prague's Letná Park.
Dance, dance, dance
With the season cancelled last year and in 2021, Valérie still had options to choose from when it came to riding, namely longboard dancing, a discipline using longer symmetrical boards with just the right amount of concave to allow for all kinds of fluid moves and tricks. In downhill she's an expert, but as a dancer she's still in the learning stage.
"I started with dancing not long after downhill because there were too few hills in Prague and I wanted to ride longboards and still be into it. I still don't have the same feeling as when I race. There, I feel like I am flying. All the moves are connected. But in dancing I am still sort of a newbie. I have to focus on the tricks and often when I am trying to do a combo, I get stuck in the middle because I can't land the trick. It requires more of my concentration and it's obvious I am still learning."
Ur skateboard
Like many longboard riders, Valérie and Max both got into classic skateboarding before they ever heard of longboards. Skateboarding, more common and more popular, requires its own set of skills, repetition and diligence to learn tricks like ollies, kickflips, manuals or grinds. Valérie laughs and is unvarnished in describing her original skateboard skills as well as the reason she stopped: "I sucked."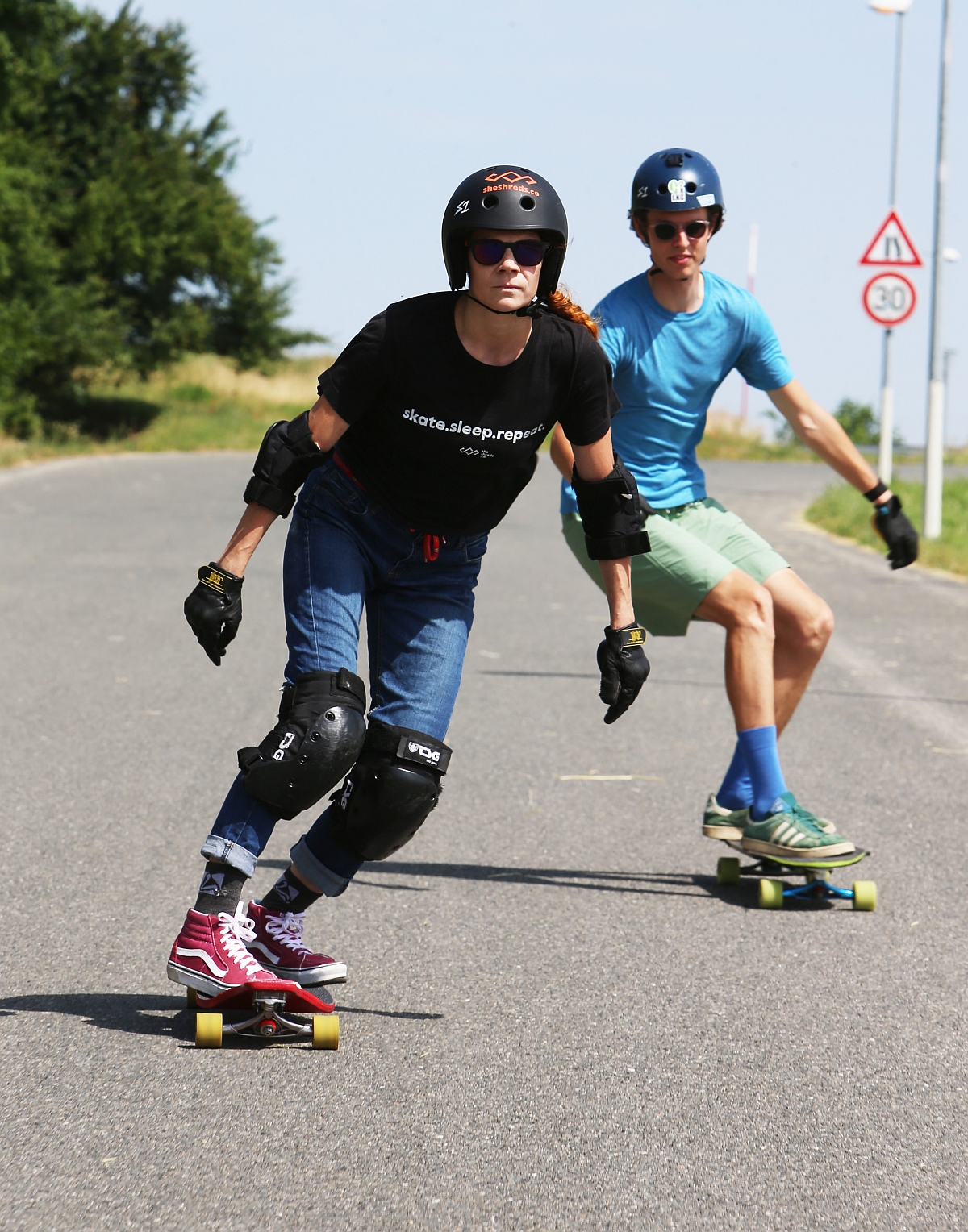 Both activities use a board, but otherwise aren't all that close. A marble square at Prague's Letná Park that used to be home to the world's largest statue of Stalin (a monstrosity demolished in 1962), is now a slightly dilapidated area used mainly for street riding and tricks. Skateboarders stick to Staliňák (Stalin plaza) while longboarders at Letná Park ride on a nearby speed track, weaving among inline skaters, runners, young couples, and parents with children. Do skateboarders consider themselves part of the same hobby as their longboarding counterparts? That is a question that makes Jakub Janoušek laugh:
"Some skateboarders joke that we ride 'wrongboards' – not the right ones. But my feeling is that they're still part of the same world: one board, four wheels, eight bearings. A lot of us started on longboards and moved into skateboarding for something to do in the city. Others started with skateboarding first. Some gave up longboarding entirely in favour of skateboards. But what is important is that you enjoy what you are doing… and have friends to ride with."
Board – not bored
If downhillers are in a category all their own, there also aren't that many of them in the Czech Republic to begin with, somewhere between 80 to 200 core riders who compete in downhill racing or also take part in freeride events, Jakub Janoušek says. You can't get more niche than that. Riders can race for a team and find sponsors, but Max, Jakub and Valérie all agree the sport remains pretty much under the radar. Are there any professional riders? According to Max, pro riders can be counted on one or two hands and none are from the Czech Republic but from countries like the US or Brazil. They are the ones who can eke out a living and attend most or all World Cup races.
When it comes to downhill's popularity (or lack of it), the final nail in the coffin, Max says, is that longboarding is just not that fun as a spectator sport.
"It's like cycling. Lots of people like cycling but don't watch races. At most I'd watch the highlights, otherwise it's really boring."
It makes sense: watching a heat or a final race in person means picking a spot along a mountain asphalt road, flanked by hay bales and protective netting, and waiting for the riders to emerge from around the bend at high speed. "You hope," says Max, "to see something exciting. Maybe somebody falls." That the riders are fast is a given, but if you blink you can miss them. In a second, they are gone and there is no way for attendees to get a sense of progression in the race or the scope of the hill itself. It is like trying to make sense of a story by watching only a few frames from a feature film.
But if it's more fun to do than to watch, Max Odráška says sometimes it makes more sense to just go and freeride, rather than to compete: to get back to basics. Jakub Janoušek agrees there is a lot to be said for going out freeriding. To rediscover, what attracted the rider to the board in the first place.
Summer days
The days of summer are here and with it the promise of lazy afternoons in the sun (with Covid numbers thankfully continuing to drop, at least for now). In the old days, back in the 1970s, now legendary magazines such as SkateBoarder featured pioneer riders dropping into empty pools or skating half-pipes in sunny California. Fast forward 45 years, skateboarding is of course still around. "Skate or die" the famous saying goes. But longboarding has caught on and carved out a niche as well. More people than ever are riding longer planks.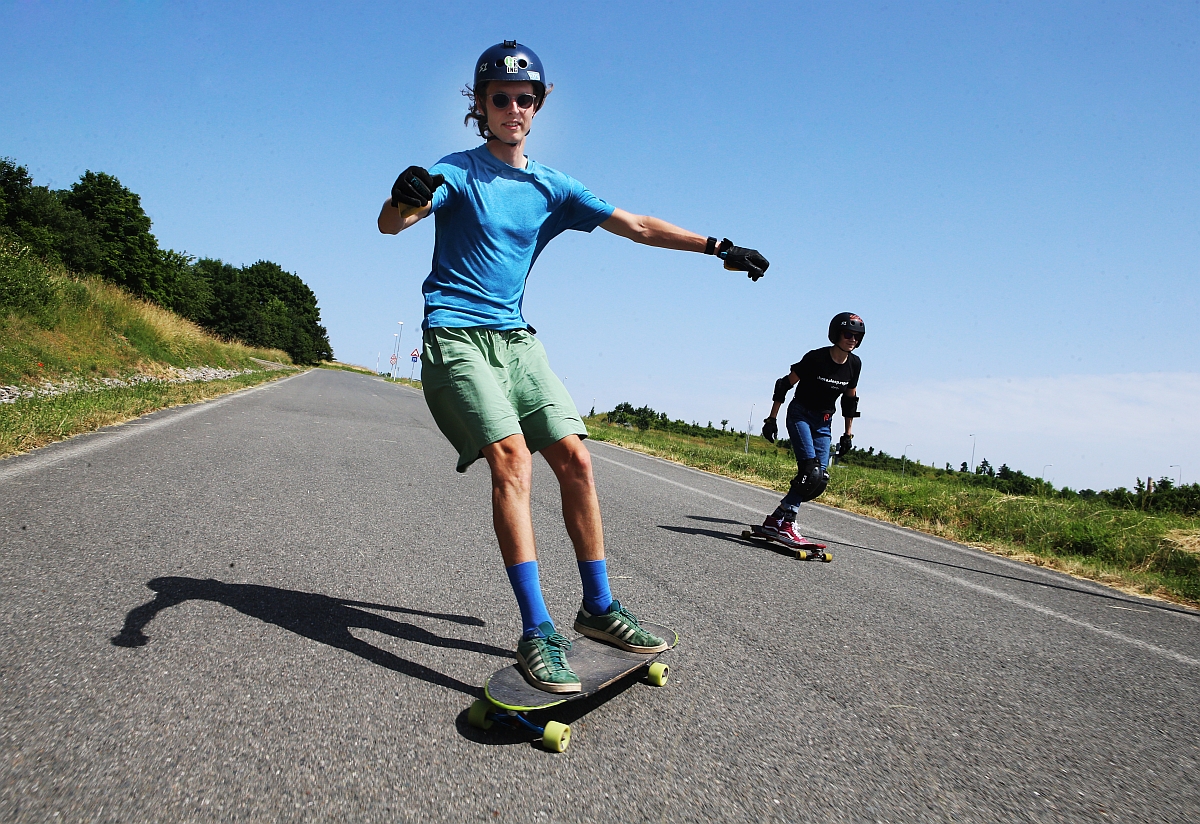 Cruisers, dancing boards, longboards, motorised boards: you'll see any number of those any given day at Letná Park and other parts of the city. Top riders like Valérie and her crew also ride at Letná on occasion while Max sometimes takes the biggest hills down into Stromovka Park (easy for him, Everest for the rest of us).
A word of advice for anyone interested in taking it to the next level: when you set out to ride your first hill, don't make the mistake of starting at the top.
"If you want to go from cruising on pathways to small hills and then steeper runs, there's only one way: to start at the bottom," both Max and Jakub say emphatically. "Start at the bottom and after you have mastered a few turns and have a feel for the board… then go a little higher up the hill, come down and repeat. Bit by bit."
Once you learn how to slide, Jakub says, longboarding is a sport that will "never let you go." Longboarding is so much fun, you'll never want to stop.
Valérie Kindlová
Valérie Kindlová is a Charles University graduate, an ambassador of the Longboard Girls Crew, and two-time Czech women's downhill champion. She works at Český rozhlas Plus in Prague. Valérie owns boards for dancing and racing; her drop-down deck is one of the most recognisable boards ever produced.
Max Odráška
Max Odráška is an undergraduate student at the Faculty of Social Sciences at Charles University and is a top competitor in Czech downhill racing. He loves training on Tenerife and once saw a race cancelled in Romania thanks to a bear on the road.