Displaying items by tag: Jan Kalfus
Monday, 17 May 2021 08:14
From outside it has barely been audible but the last few weeks the historic Carolinum has echoed with the sounds of construction. Not just hallways but also a part of the Great Hall itself is being renovated, ahead of the installation of a new pipe organ.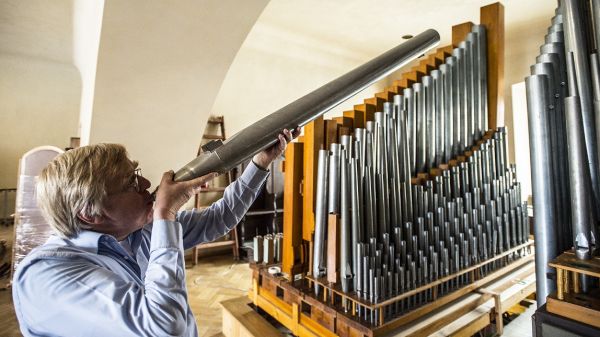 Wednesday, 12 May 2021 09:26
Zvenku to možná není až tak znát, ale už pár týdnů je cvrkot v Karolinu upozaděn hemžením stavebně-rekonstrukčním. Zdaleka to nejsou jen chodby a kanceláře, jež procházejí změnami. I ve Velké aule je živěji než jindy, zvýšený ruch doprovází přípravné práce pro instalaci nových varhan.
Wednesday, 13 November 2019 11:22
Ví se o něm, že netoleruje chyby a hymnu zásadně hraje podle not. Snem "neviditelného" varhaníka jsou nové varhany v Karolinu...