This Saturday saw a major meeting of rectors at Charles University discussing EU funding within Horizon Europe as well as the importance of research universities and basic and applied research in a time of multiple crises, from the war in Ukraine to global warming. Twenty-three represented schools that are part of LERU (League of Research Universities) and an additional seven were from the CE7 (Central European Universities that includes Charles University). The meeting was launched by CU's Rector Milena Králíčková, welcoming esteemed guests and participants at the Patriots' Hall at around 9 am local time.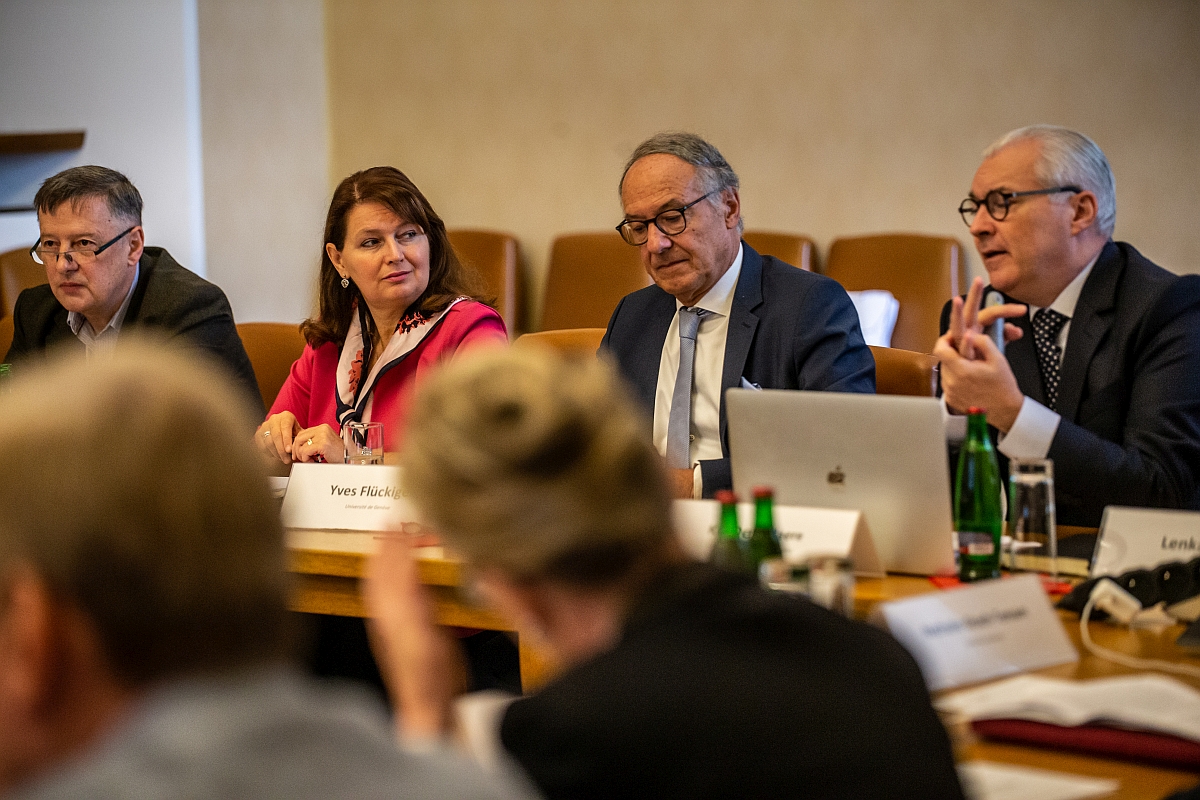 Charles University Rector Milena Králíčková looks on as Kurt Deketelaere speaks. The Czech education minister, Vladimír Balaš, is on the left.
What followed were presentations by and discussion among attendees (including the Czech Minister of Education, Youth and Sports Vladimír Balaš who expressed enthusiasm and pledged support). On the agenda, was the signing of a new partnership agreement between the two networks, broadening and deepening the contours of cooperation by LERU and CE7.
Cooperation between LERU and CE7 goes back some six years: in the past there were Prague Declarations I and II but the pandemic largely derailed face-to-face meetings, and impeded further progress. The meeting at Charles University (attendees arrived Friday evening) aimed to examine key question including the financing of research and cooperation among European universities at a time when cooperation is arguably more needed than ever.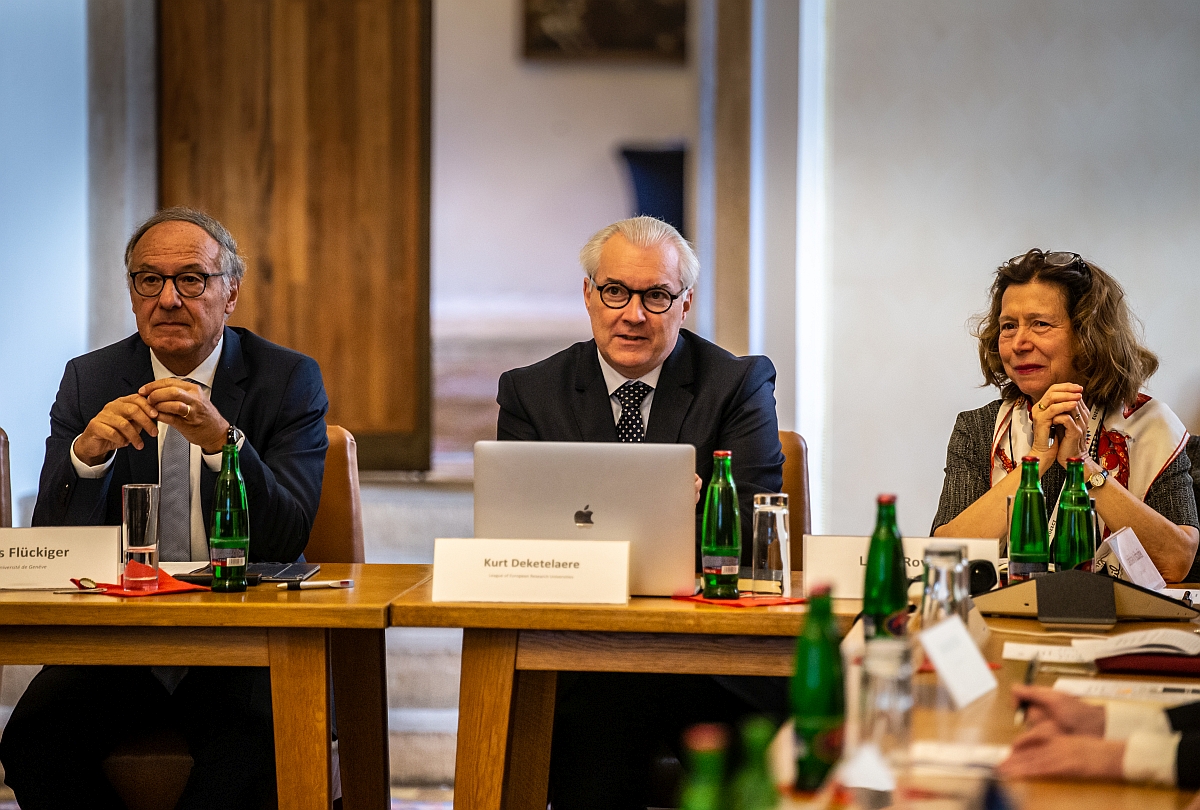 The secretary-general of LERU, the University of Leuven's Kurt Deketelaere, spoke at length about the multiple challenges we now face – from climate change and famine to the energy crisis and war in Ukraine, as well as potential geopolitical flashpoints such as China and Taiwan. The Czech Republic, holding the Presidency of the Council of the European Union, has put strong emphasis on research infrastructure, something welcomed by LERU. Prof. Deketelaere pointed to areas that had been a success when it came to policy and support and outlined areas where further progress was needed. (Photo: LERU's Kurt Deketelaere in centre).
He spoke to Forum at CU on Saturday in between presentations.
JV: In your presentation, you began with the problems we are facing now, where the situation appears more and more acute... but solutions are not always quick in coming.
"I would say that the problems that we saw two or three years ago have become much more visible over the last two or three months. We are now suddenly confronted with an energy crisis, which is primarily focused on Europe. We are confronted with a food crisis, which is situated in Africa and not Europe but because of the war [in Ukraine]. We are confronted with an enormously warm summer and for anybody who still doubted climate change – it is now clear that these things are happening at a much higher speed and are much more visible. As far back as year ago, before the war, we knew that we had to act… but the sense of urgency now, these last few months, should have increased very significantly at top levels in the EU and its institutions and member states. And my worry is that the sense of urgency is, in some areas, not as high as it should be: there is still a lack.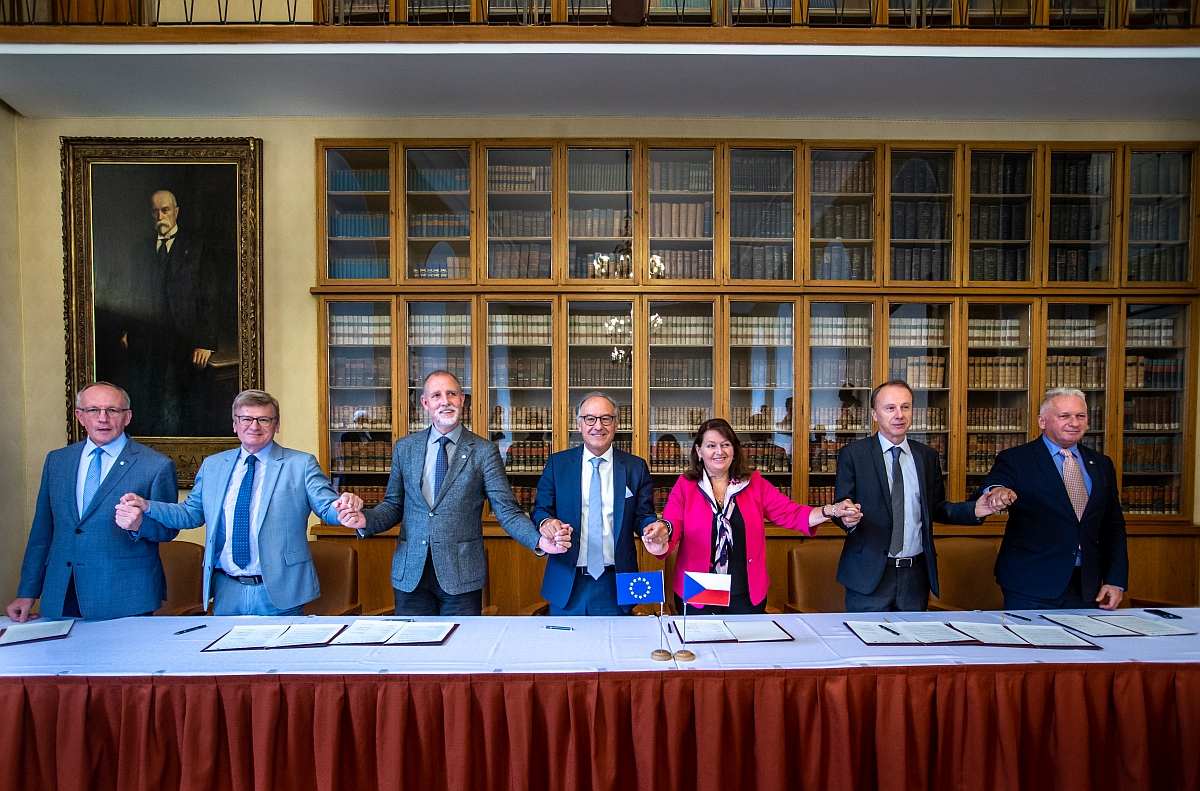 Rector Milena Králíčková and colleagues after the signing. Centre: the rector of the University of Geneva, Yves Flückiger, the new chair of LERU.
JV: Regarding drivers of research and innovation, you mentioned a measure of disappointment in the new official EU strategy when it came to universities. Start-ups were mentioned… but it seems that the key contributors were missed…
"It is clear, in this period of urgency, that we need all actors to join forces to tackle the problems we face. So it was a little bit regretful when the EU's new strategy on innovation focused on Big Tech, start-up companies, making sure that that research done translates into a public benefit and component but seemed to forget universities completely. Research-intensive universities such as my own the University of Leuven which over the last three years has been the most innovative in Europe. And it's clear that in Brussels that there is still this idea that universities can do fundamental research but it stops there. And, that is completely wrong. Modern research-intensive universities like Leuven, Oxford, Heidelberg from LERU or Ljubljana or Charles University in the CE7 all deal with fundamental research, applied research, innovation, and we do the whole 'pipeline'…
JV: And have the technology transfer offices to facilitate development for markets…
"Exactly. We are making sure research goes to the market, that companies are created, that new products and services are developed, so it's too bad that the strategy 'misses' processes or approaches that have been in place already for years."
JV: Not to be cheeky, but isn't it the task of organisations such as your own to avoid exactly that kind of outcome? To change the old thinking?
"Old thinking, that's it, spot on, not really being aware what modern research universities do, and a need to build greater awareness. We communicate a lot, we have consultations within the Commission, with member states, but if this awareness is still not enough, then it is clear that we still have a job to do. Which is why we are reacting quickly to new policy developments, especially when it comes to innovation, to remind the commission to count on us, to remind them we are here."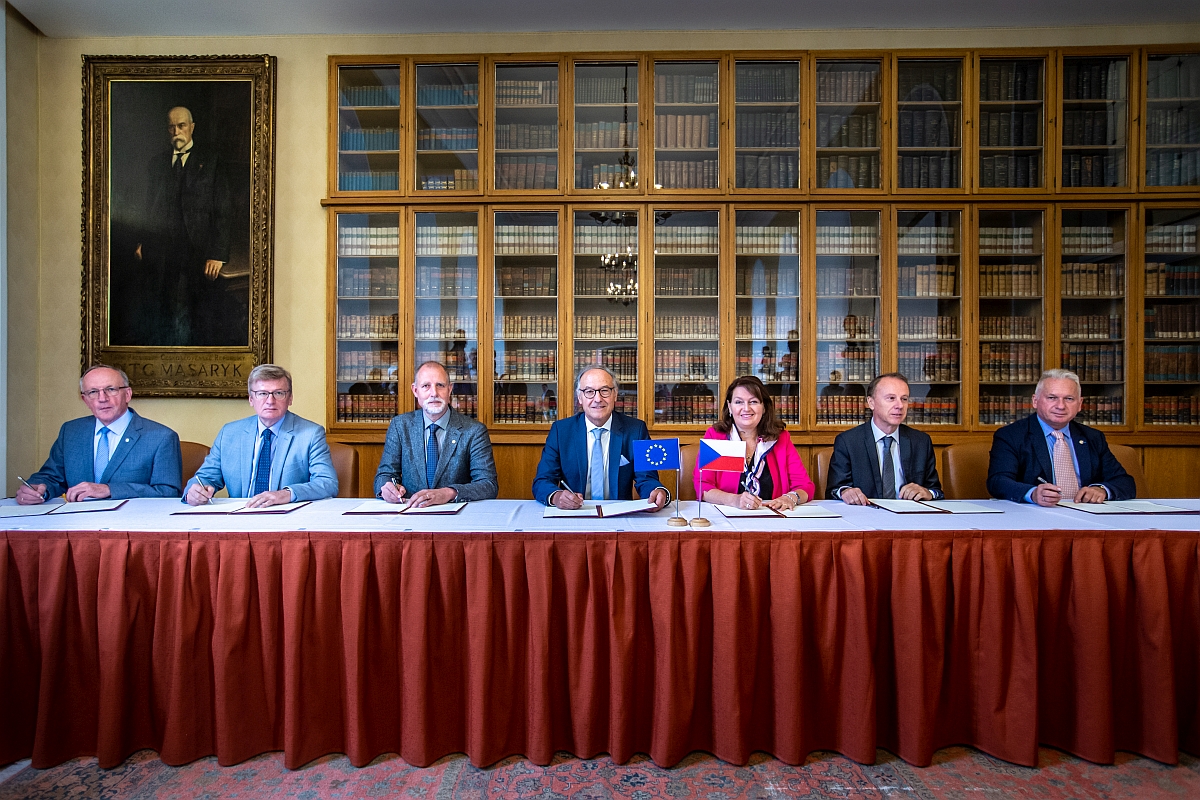 New partnership agreement signed between LERU and the CE7 at a special meeting of rectors at Charles University on 10 September 2022.
The cooperation between LERU and the CE7 goes back some six years, bringing together more universities into the fold. How does today's partnership agreement differ from the earlier declarations and steps?
"In 2016, we created this connection between networks, it was clear we had to get to know each other, we organised meetings of the rectors from the two groups every six months. We organised seminars so that people from the different universities could get to know each other, and exchanged views and expertise on different topics. The difference now is we are taking our cooperation a step or two further: we won't limit things to just an exchange, we know each other quite well by now, but from 2023 on we will create concrete initiatives, concrete activities, which should bring much more than in the past. To involve CE7 rectors, vice-rectors, management, in our own activities. We will provide a stage so that Brussels will see universities from Central Europe, and highlight that things are happening here, which are not present enough today in the environment in which all of these policy decisions are made or developed. This should lead to more visibility, more cooperation, more output. We laid the foundation for that a number of years, then the Covid crisis hit or we would have started sooner. But now we can meet [again] together to develop joint initiatives and projects.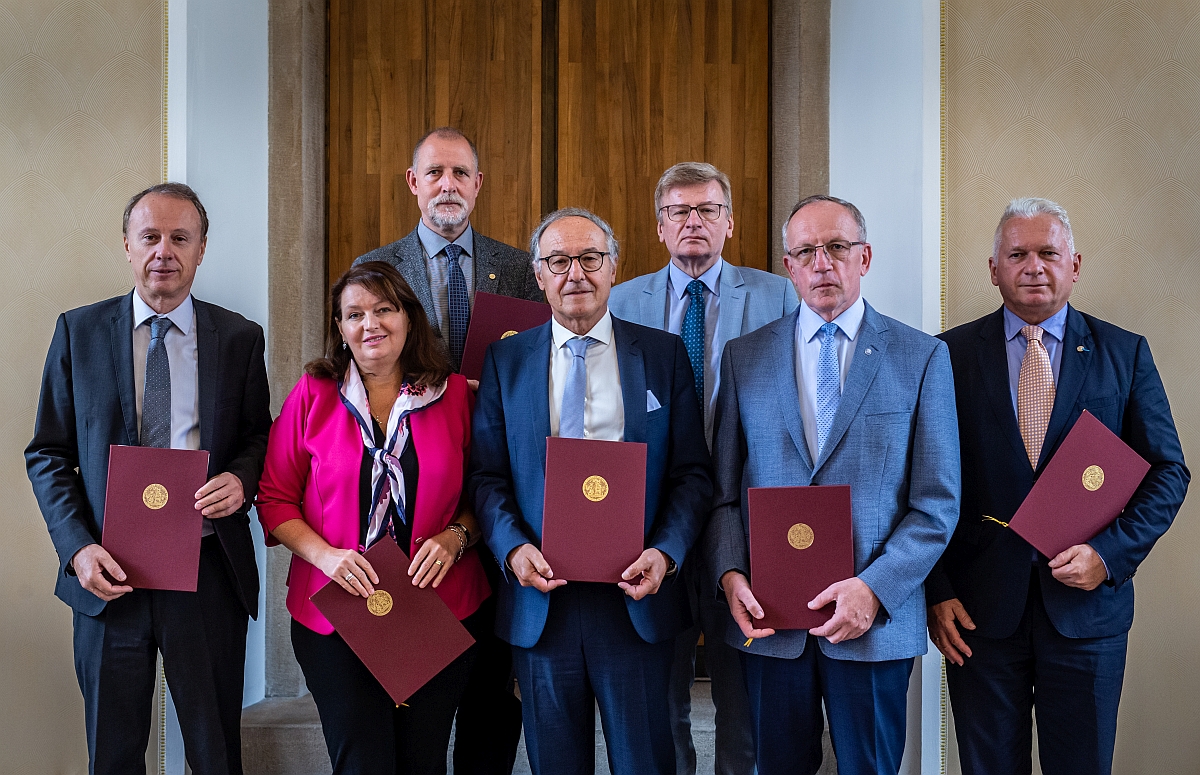 CE7 signatories or representatives in the back row, from left: University of Ljubljana Rector Gregor Majdič and University of Warsaw Vice-Rector
for Research Zygmunt Lalak. CE7 signatories in the front row, from left: University of Belgrade Rector Vladan Đokić, Charles University Rector
Milena Králíčková, University of Tartu Rector Toomas Asser and Rector of ELTE László Borhy. In the centre, LERU chair Yves Flückiger.
You can learn more about the new LERU and CE7 Partnership Agreement here and past cooperation by clicking on this link.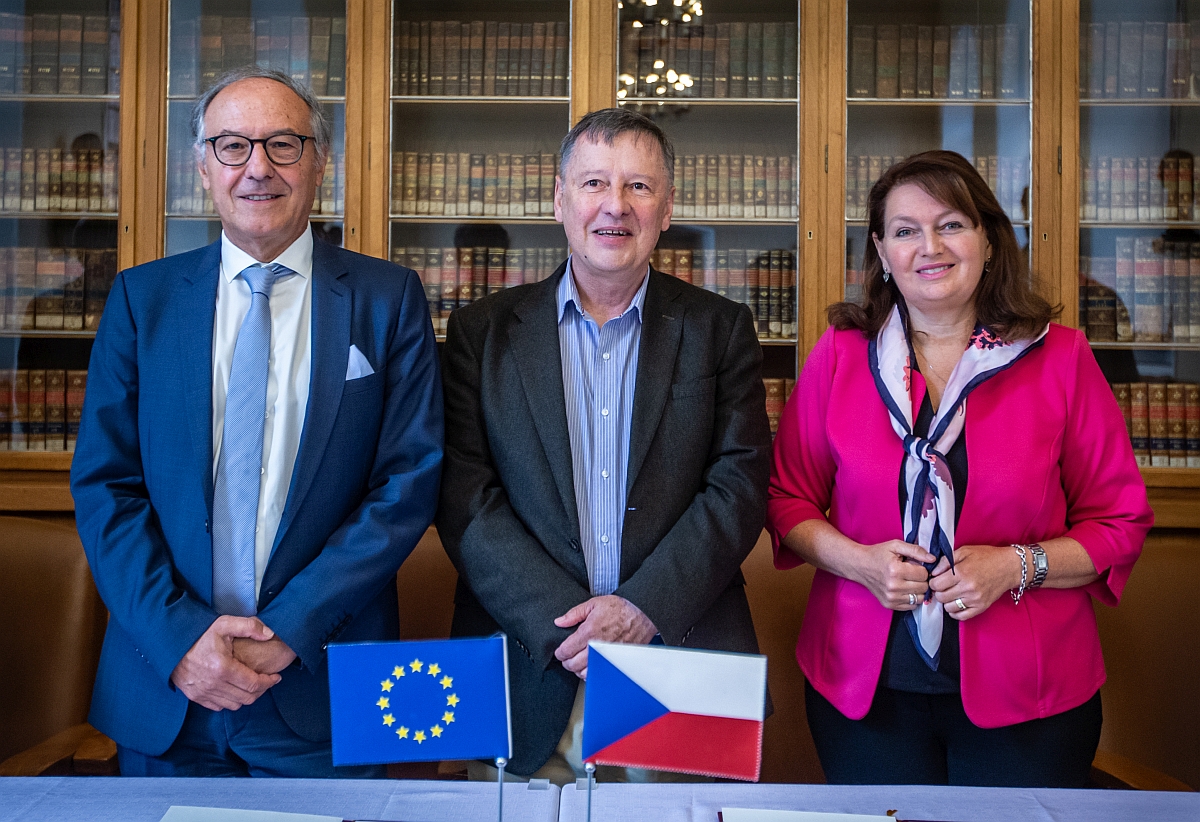 From left: LERU chair Yves Flückiger, the Czech Minister of Education, Youth and Sports Vladimír Balaš, and CU Rector Milena Králíčková.