On Tuesday, 10 October, Charles University hosted an international Czech-American conference on the topic of "Value and Quality in Healthcare: Czech and American Perspectives." The event was co-organized by Lahey Hospital & Medical Center (LHMC).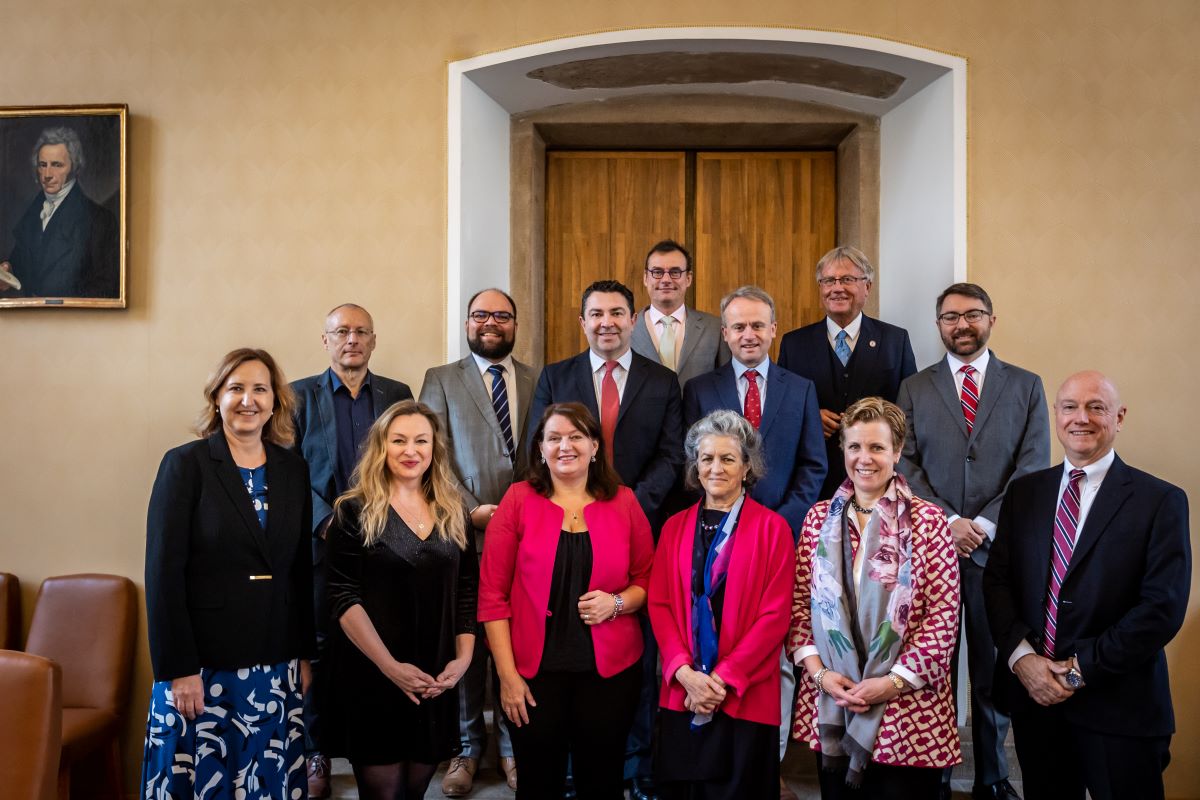 History and the future
Milena Králíčková, the rector of Charles University, welcomed the participants in her opening remarks. She not only reflected on the history of medical education at the oldest and largest Czech university, emphasising its contribution to medical fields on a European and global scale, but also stressed the need for the development and support of the Czech public healthcare system. She stated, "I believe deeply in further cooperation. We will meet frequently and effectively, and the theme of healthcare cooperation will be our shared future. I look forward to this collaboration." Professor Králíčková also addressed visiting colleagues including Susan Moffatt-Bruce and Anne C. Mosenthal, the president and chief academic officer of Lahey Hospital & Medical Center (LHMC, a part of a healthcare system that includes academic medical centers, teaching hospitals, and community and specialised hospitals, which have as their mission the provision of accessible care and integrating scientific advancements into medical practice).
Quality and safety first
The conference at Charles University was also attended by public figures such as Tomáš Fiala, the vice-chairman of the Senate Committee on Healthcare. Fiala's speech highlighted the need for the development and support of public healthcare in the Czech Republic. He noted, "The quality of healthcare is discussed in various aspects, and it's possible that everyone has a different idea of what quality healthcare means. It would be interesting to conduct a survey to understand what people associate with the term 'healthcare quality.'" Fiala also revealed that the Hospital in Strakonice, of which he is the director, successfully passed an accreditation audit by the United Accreditation Commission of the Czech Republic in 2010, meeting rigorous standards for quality and patient safety.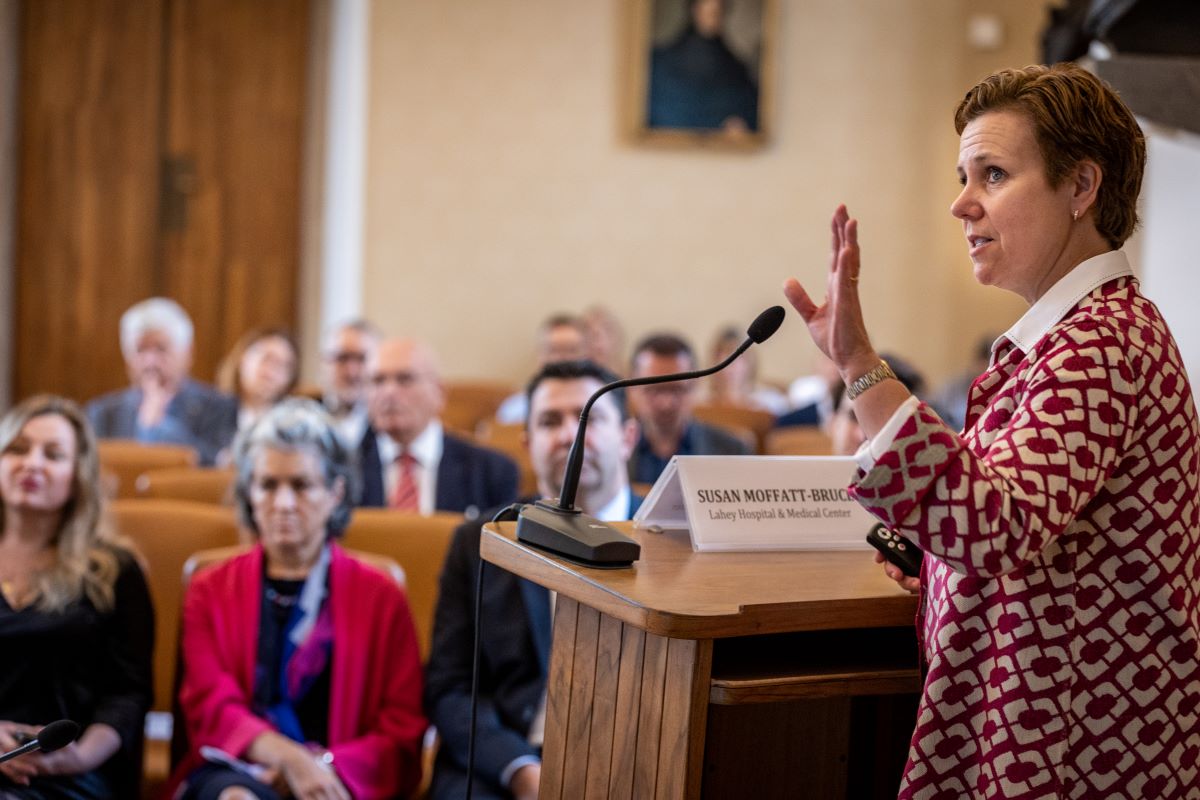 Anne C. Mosenthal speaking at Tuesday's conference; Lahey president Susan Moffatt-Bruce, right.
Lessons and benefits
"I believe that such events can lead to improved cooperation among nations. Healthcare is a global issue, and each country has specific problems. When they come together, one can take innovative ideas from another and learn from negative experiences. It will bring immense benefits to both sides," suggested Diana Apetauerová, the main organizer and driving force behind the entire conference, and the director of the Department of Extrapyramidal Diseases (neurological disorders characterised by impaired coordination of movements and muscle flexibility) at Lahey Hospital & Medical Center.
Innovations in education are for everyone
According to neurologist Apetauerová, the Czech Republic is one of the countries that others can learn from: "Look at the data from American healthcare. There are many problems, from the uninsured to the extremely expensive healthcare and disparities in it. In the Czech Republic, we do not have such issues - we have universal healthcare coverage, and there are no people for whom healthcare is inaccessible, left literally on the streets. Not to mention other social aspects," the doctor, who has been collaborating with Charles University for years, explained. She expressed the certainty that innovations in medical education should not only affect experienced physicians but also the emerging, younger generation. She reflected on the possibility of including such events as part of the medical curriculum to increase interest among medical students.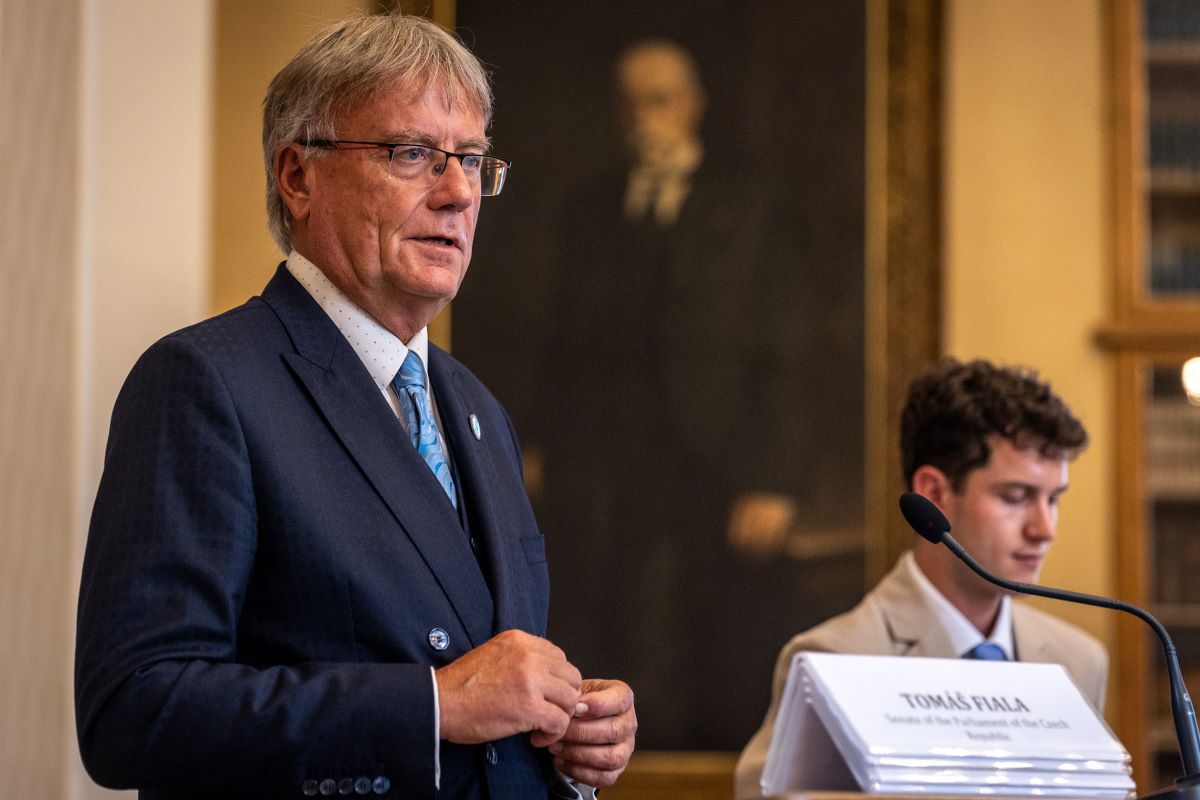 Tomáš Fiala, the vice-chairman of the Senate Committee on Healthcare, was one of the high profile speakers at Charles University on Tuesday.
Her view was echoed by Susan Moffatt-Bruce and Anne C. Mosenthal, both of whom spoke to Forum magazine on the transformation medical care had seen over the last ten or fifteen years, where attention had refocused significantly on the patient experience and doctor-patient communication.
Interview with Susan Moffatt-Bruce and additional comments by Anne C. Mosenthal, Lahey Hospital & Medical Center (LHMC)
Forum: What are some of the drivers behind the change in medicine you described today that put the patient more front and centre?
Susan Moffatt-Bruce: "The transformation has been at least a decade in the making and part of the drive has come from data and part came from patients. The data does show us that we can do better, that if we measure the outcomes the results are fabulous. But in some instances we found that we had not delivered the care we had wanted as providers for our patients. So the data drives us. That's not to say that the data can't in some cases be wrong or misinterpreted, but if you marry that with the patients' stories, you hear their side, [you get a more complete picture].
The patient's voice has become more and more important. If you go back more than a decade, before, we probably didn't listen to the patient as much as we do now. This is so important, in every country: how we care for people, they know, and they have a personal sense of the care they have received, and we need to embrace that in order to do better."
It's quite hard enough for patients to be going through the medical situation they are facing so obviously they want to feel not only that they are getting the best care but also that they are not alone…
"That's right. We used to talk about patient 'experience' and today we talk about patient 'engagment'. How do we work with them to ensure the best care? There are questions about access, inpatient care and the follow-up – the relationship is not transactional aby longer, it is truly an engagement."
Generally-speaking, how difficult is it to change the mindset? I imagine that you have medical professionals who have been doing it a long time and I imagine that in some cases there might be some resistance.
"Well change is difficult. Many of us were trained in the volume paradigm: the number of surgeries, the number of patients and the number of clinical appointments, but when you add the measurement, I mean, we are being measured all the time, whether we want to be or not. And that is where the information needs to be used to get to the hearts and minds of providers, physicians, nurses, that we need to be part of the solution and part of the equation. We also need to outline the parameters of ranking how we do."
That was a key point you made in your presentation: all these different metrics, badges of honour, consumer reports…
"Everybody is doing it and offering assessments. I always say there are 700 top one hundred hospitals! Depending on who is measuring you – and this is true in every country."
To come back to becoming more data-driven: did the data reveal blind-spots then that could now be addressed?
"Yes, most definitely. More than a decade ago the Institute of Medicine published its earthshattering report about how many patients had registered errors during care and made clear we had to do better. That raised the alarm."
Things like someone went in for surgery and caught a secondary infection…
"Or they fall while in hospital or suffer some sort of event that was outside what they had gone to the hospital for."
The flipside, as you pointed out, is resilience and pressure so as not to wear out medical professionals themselves. If we expect the best treatment, they need to work in acceptable conditions. The Covid pandemic was an exceptional case but really showed how difficult conditions can get…
"That is a quality indicator. We need to make sure our doctors and nurses are resilient and take care of them. In the US, the ACGME, which is the accrediting body overseeing learners put in place a work hour restriction: they can only work eighty hours a week. That's still a lot, but before that there were no restrictions. Now they are looking to reduce that to sixty and in many European countries they have pushed it down to what we would call a normal work week. So learners – the residents - can only be in hospitals for a certain number of hours so they can assess and invest in their own wellness. That is entirely different from when I trained."
How important is this kind of conference and sharing of information, of goals, of best practices and cooperation?
"I think it's very important. One thing that has is clear is that individual countries we still have so much work to do and so much to learn. Therefore, we must assume that collaboration and cross-communication is the only way to go forward. In healthcare environments we are more similar than we are different, no doubt about it. I expect when I visit the university hospitals during my stay here there will be many similarities to hospitals I saw in Singapore or most countries I have visited over the last thirty years. We learn collectively and take back practices and that allows all of us to elevate the way we take care of patients."
The sentiment on improved care and cooperation was shared strongly by Anne C. Mosenthal who also stressed that the benefits affected not only patients but doctors, nurses and other medical personnel themselves:
"It's a long process of culture change. In the US, we saw a lot of emphasis in the past on volume and that took away from the traditional human part of caring, the physician-patient relationship. That's what we are trying to bring back in the context of very fast-paced changes in the field. It is a challenge. Lahey is a multi-speciality clinic and it is very collaborative: I think we are the right place to try and shift the transformation. [Improving things] ultimately makes a difference for physicians as well. It's the human side: helping people and seeing your patients flourish over time is part of the gratification."
International connections are essential
During the conference, essentially all the participants emphasised the importance of mutual international exchange of experiences. "Any contact between Czech healthcare and western countries is of great benefit, even though many might argue that America is not the right example and not a completely representative model for us. Frankly, I don't know why. We can draw inspiration, for example, from the education of young doctors, which was mentioned several times today," said Petr Smejkal, an infectiologist, and epidemiologist who also works at the Institute for Clinical and Experimental Medicine (IKEM) and at Mount Desert Island Hospital in Bar Harbor, Maine, in the United States. Smejkal believes that the next Czech-American conference focused on healthcare values and quality will attract more medical professionals and young doctors than this year.
Two blocs
The full-day event was divided into two sections. In the first part, speakers primarily focused on increasing the efficiency and quality of the Czech healthcare system (among others) and discussed various ways to measure the quality of healthcare systems. They also addressed the significance of international accreditation for medical students and healthcare facilities. The second part of the conference was mainly devoted to new scientific findings in neurology, presenting the latest research in neurodegenerative diseases, neurointensive care, movement disorders, and cognitive neurology.
Participants of the first-ever conference at Charles University on the topic of "Value and Quality in Healthcare: Czech and American Perspectives" left on Tuesday evening with the understanding that forging close international cooperation will enhance healthcare quality and promote the development of healthcare systems in both Czech and American educational and medical institutions.