Charles University Rector Tomáš Zima and the president of the Czech Chamber of Commerce Vladimír Dlouhý have signed a memorandum further strengthening cooperation between both institutions.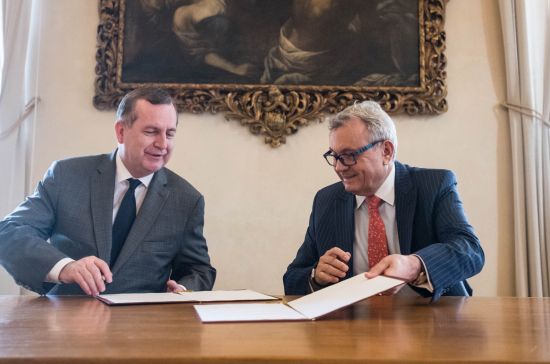 The document was signed by the two representatives at CU's Carolinum on Friday. The agreement will see both institutions deepen cooperation in the areas of student internships and technology transfer.
The agreement covers the period from 2019 to 2023.
CU's Rector Tomáš Zima and the Czech Chamber of Commerce president both expressed an interest in greater cooperation in cultural, scientific and educational events organised by the university as well as support in the area of student internships at firms represented by the Chamber.
Within the partnership, both institutions want to streamline effectivity in the area of technology transfer; the Czech Chamber of Commerce also expressed interest in CU domestic and international projects such as the university alliance 4EU+, an ambitious joint project between Charles University, Heidelberg University, Sorbonne University, the University of Copenhagen, and the University of Milan.
"Meeting between the two entities at different events, where we also communicate with industry about the possibility of CU involvement in numerous projects across the Czech Republic, has yielded results," Rector Zima said.

Czech Chamber of Commerce President Vladimír Dlouhý said he considered cooperation between the two institutions especially important "given coming changes in the Czech economy such as digitalisation, robotics, and artificial intelligence, requiring the business sector to tap into advances in scientific research."
By Petr Podzimek
Translated by Jan Velinger
March 25, 2019