Professor Miroslav Vlček was highly-respected as a professor of applied mathematics at CTU (Czech Technical University Prague) but his contributions went much further. He was the vice-rector for international relations there and was dedicated to providing a strong platform for international students in Prague. Study in Prague, dedicated to making the capital an ideal study destination, was launched in 2015. The prgramme brings together international students from seven elite schools.
Following Vlček's death two years ago, a special scholarship was established in his name to recognise the extraordinary commitment and talent of the very best international students who had made a difference at Czech schools. Last Friday, these scholarships (which carry a financial award of CZK 30,000) were awarded for the first time in a special ceremony at the Lord Mayor of Prague's official residence. Present were the recipients, their friends, in some cases family, as well as professors who had backed their nomination.
One of the first to speak was a colleague of Miroslav Vlček's, CTU professor Oldřich Starý: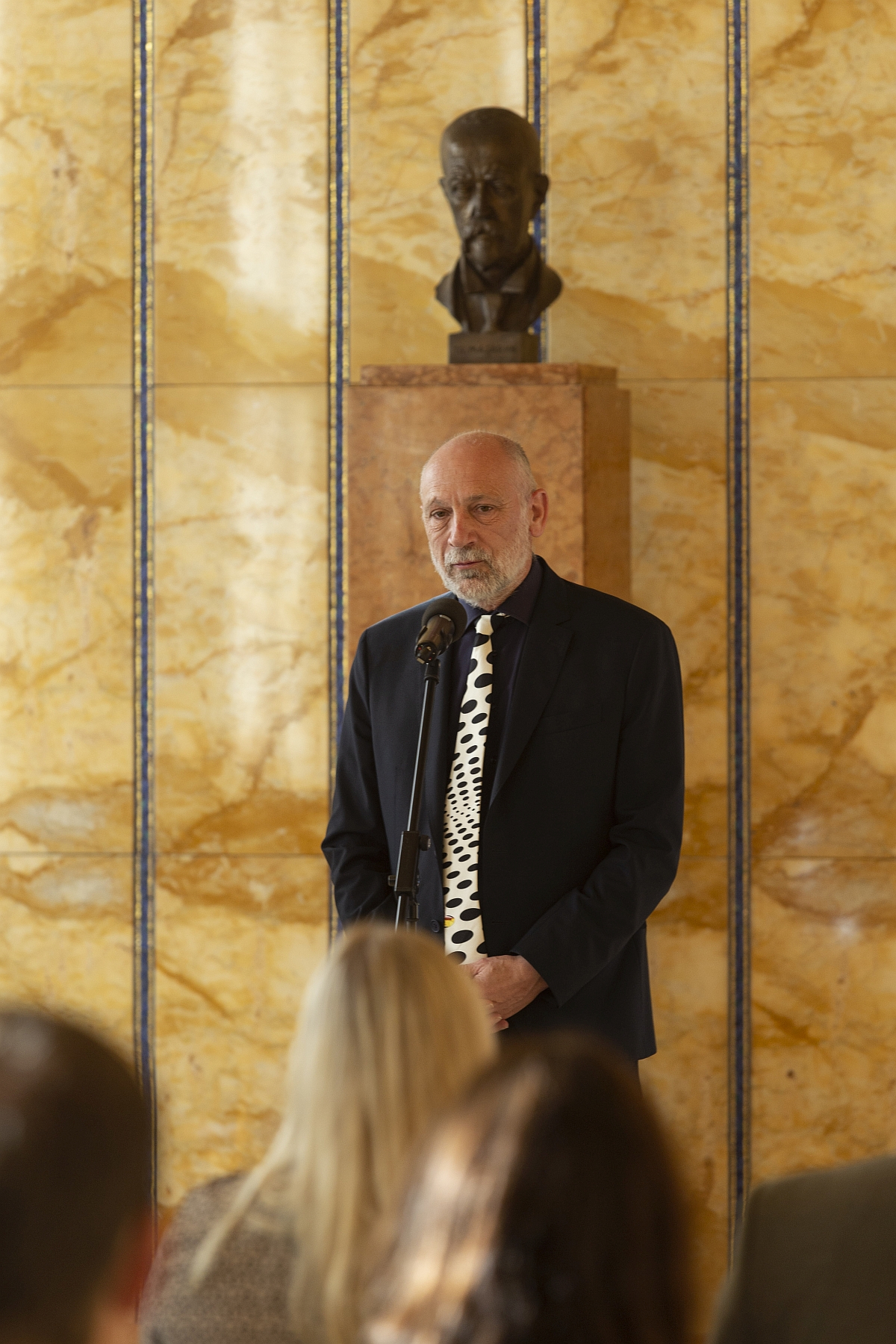 "It's a great honour for me to be here. I still remember my first meeting with Prof. Vlček who was a very distinguished person. He was very much "old school" in the good sense of the word, a real gentleman and he gave me a lot of advice that I have followed until now. What was really impressive was his vision and his ideas. I remember when Study in Prague began: I couldn't imagine all these universities would all get along without bickering, which at the time was fairly usual.
"But today we are here and we see that the idea worked! Professor Vlček was really very 'human' in the full meaning of this word, and being here shows how much we appreciate this cooperation. Not only education but also this kind of cooperation… internationalisation... makes the world better. In my view, the world is a little bit 'mad' just now but these students who are here today – and not just them – are proof that we have a chance to change the world."
Students recognised for excellence in their field included Charles University's Christian Joachim Entenmann, a sixth-year about to complete his studies at the First Faculty of Medicine. Christian is very much the model of a perfect student: straight 1's (or straight A's) on all of his exams, a teaching assistant who organised numerous lectures in everything from histology to anatomy, the president of Medsoc (international med student body), a Covid coordinator during the pandemic and more. In short, someone who knows how to prioritise, to make the most effective use of their time.
The recipient, as he came up to accept the award, was as gracious as all of the students and speakers present; although from Stuttgart in neighbouring Germany, he said Prague was also home after almost six years and said afterwards even if he goes back to his homeland in the future, he has ties to the international student community here and abroad and is not about to lose touch now.
I spoke to both Christian and his partner Veronika Bártová, also a med student, after the official ceremony wrapped up and attendees sipped wine or had coffee at the official residence. Christian said this:
"It's a big honour and it was little bit unexpected. I am very happy that the university, through this project values its international students, at the faculty, not only myself but many fellow students who were also very active."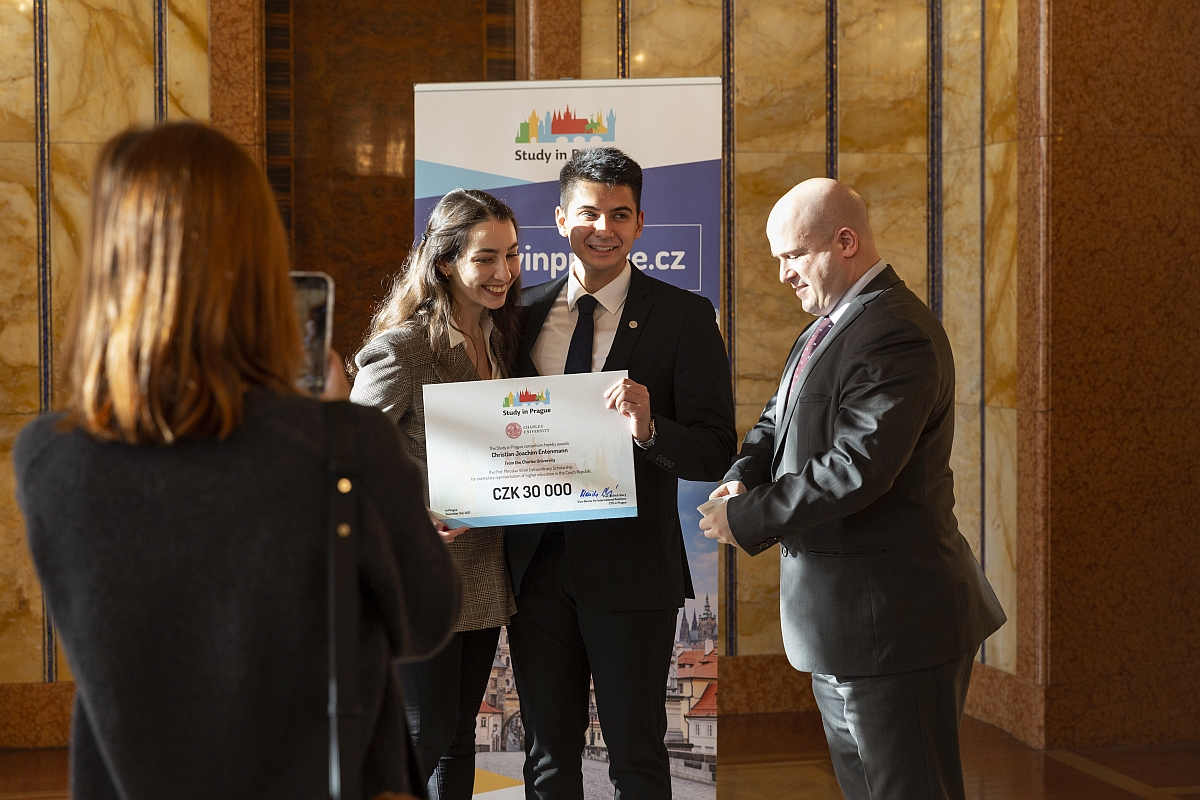 Christian Joachim Entenmann and his girlfriend hold scholarship cheque and pose with First Faculty of Medicine Vice-Dean Eitan Brizman.
He said one of the things that attracted him to the Czech capital and to Charles University initially was the cohesiveness among students from the international student body. From his first week as a freshman, he was hooked.
"We have over 70 countries represented among our students and I thought that was quite unique and something that didn't exist almost anywhere and I directly felt at home. It was very nice."
His girlfriend Veronika has just a little longer to go before she completes her studies at CU as well.
"I am a fifth-year student and I am incredibly proud of my boyfriend and that he accomplished so many things. He really mastered time management and only about one percent of his time is for procrastination, when he chills out (laughs)."
Forum: I know a lot of people, from researchers to professors, who are so active, often escape to the countryside or to nature to get away. Is that the case with the both of you?
"Veronika is smiling inside now because she knows I am not the biggest nature fan but that's because I am inherently allergic to everything that is green! But of course, it is important to try and relax sometimes so we go to the cinema, visit different cities, walk around…"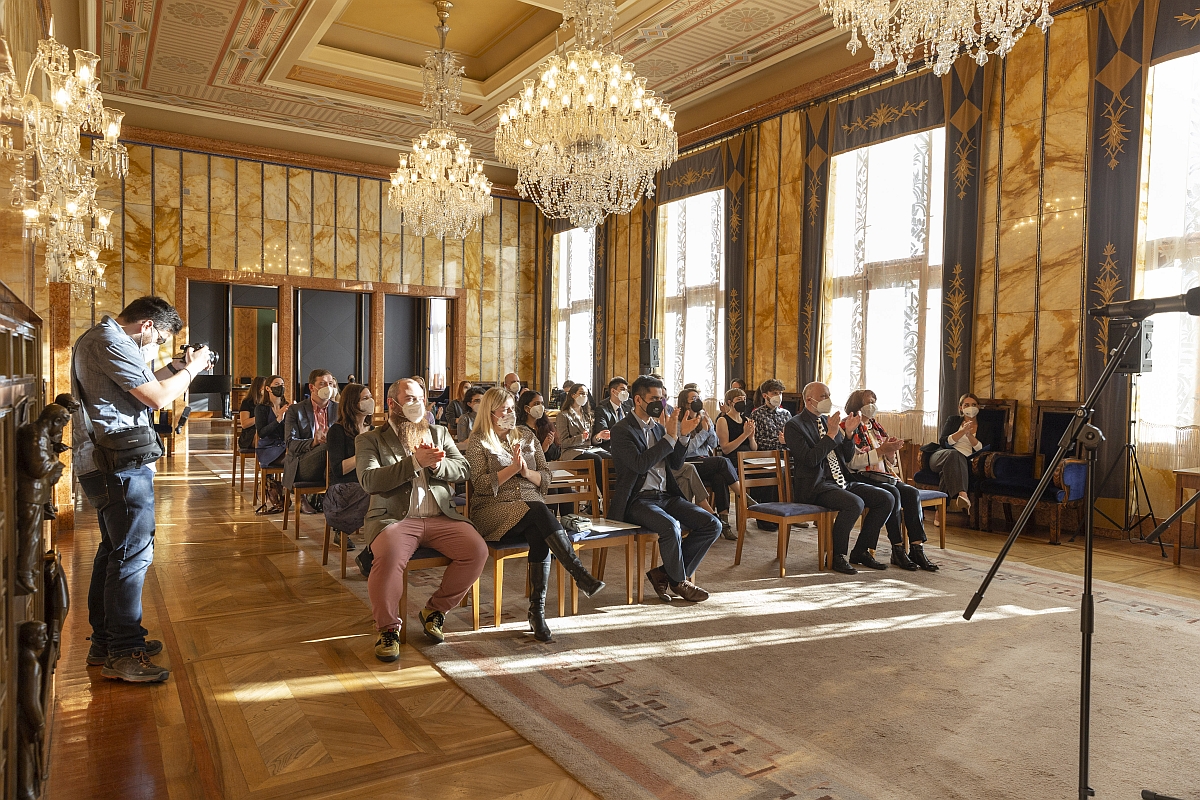 AMU's Ševčík Quartet performed works by Mozart to conclude the official ceremony at the Prague mayor's residence on 3 December, 2021.
"I always try and show him some Czech cities, towns… I do like Brno, which is where Veronika is from. Brno and Plzeň. They also had a lot of character."
Eitan Brizman, the vice-dean for international students and social affairs at the First Faculty of Medicine at Charles University, also spoke at the ceremony and with Forum afterwards.
"I have known Christian for a long time, I have worked very closely with him for four or five years now. I was his tutor in the hospital and he is a very special character who not only has maintained the highest of grade averages – he is on track to graduate with honours, a red diploma, which is extremely rare – but he also worked on behalf of students through Medsoc as well as a representative in the Academic Senate. There was his care work during Covid, he has done research and publications, and has been involved in helping me with the creation and organisation of the international undergraduates' job fair, where we had thousands of people attending, looking to get medical experience in hospitals abroad.
"Beyond that, he has worked with me on even strengthening international relations, so we have strong ties with hospitals in Germany. This [kind of commitment] was why we put him forward for this award. Charles University has around 50,000 students across 17 faculties and we are so proud of him. He is a very special character. Congratulations is also deserved by his partner, because one can only achieve this if they have support from their partner. So congratulations to the both of them. Christian, I am sure, will go on to achieve wonders as he has for the university and for Study in Prague."